Please, if you have not already done so, go and check out
Scriptor Senex's blog
from yesterday, for - Bless him - He was kind enough to pick up the Meme I set on choosing the 4th photo from your fourth album... etc.
I love Scriptor's daily rambles on a variety of subjects, stemming from years of experience and marking life's moments to treasure; His photographs have inspired me to do more to capture my own life's moments in the near future... when I am fully fit again and can tout a camera about!
~ For your perusal today, I have pinched, er selected, another Meme from the pages of Lynne Ede.
The idea being to select only six words that will encapsulate your memoir!
I thought this would be a shorter piece to do, some hope for me, eh?...
I was led to Lynne Ede's
Things UK
blogspot, by the Maestro,
David McMahon
via Friday's post of the day nominations and awards. Bless you!
Lynne has some interesting paintings and accounts on her
site
, and she kindly offers all up for viewing and I hope borrowing, rather than stealing, so I hope this is okay!
If you were to write your memoir, how might you describe your life in so few words?
How would you want to be remembered?
Should you wish to tag along, mes bloggeurs, the Meme instructions are as follows:
1. Write your own six word memoir.
2. Post it on your blog; include a visual illustration if you'd like.
3. Link to the person that tagged you in your post, and to the original post if possible.
4. Tag at least five more blogs with links.
5. Leave a comment on the tagged blogs with an invitation to play!
And, ta-da... The six word memoir I came up with is:
Mad, Bad And Dangerous To Know......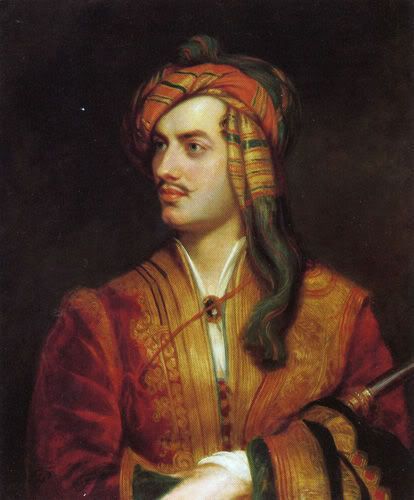 but I know that already 'kind of' belongs to the Byronic Lord Byron, as he was famously described by his one-time paramour, Lady Caroline Lamb.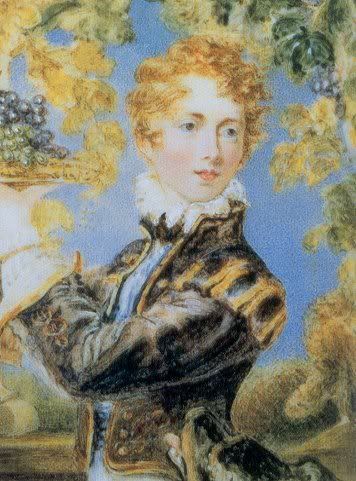 Lord Byron famously wrote of one of his many lovers,
She walks in beauty, like the night
Of cloudless climes and starry skies;
And all that 's best of dark and bright
Meet in her aspect and her eyes
In this early scandal, which in Byron's life was but one of many, he embarked on a well-publicized affair with the married Lady Caroline Lamb, which shocked the British public. And from la Goddess Wiki: "Byron eventually broke off the relationship, but Lamb never entirely recovered, pursuing him even after he tired of her. She was emotionally disturbed and lost so much weight that Byron cruelly commented to her mother-in-law, his friend Lady Melbourne, that he was "haunted by a skeleton".
I sometimes think David Beckham might one day say the same thing...
Ahem!
"She began to call on him at home, sometimes dressed in disguise as a page boy, at a time when such an act could ruin both of them socially. One day, during such a visit, she wrote on a book at his desk, "Remember me!". As a retort, Byron wrote a poem entitled Remember Thee! Remember Thee! which concludes with the line, "Thou false to him, thou fiend to me".
As a child, Byron had seen little of his half-sister Augusta Leigh; in adulthood, he formed a close relationship with her that has been interpreted by some as incestuous".
Byron went on in life to scatter loves and offspring, illegitimate and adopted, throughout Europe, but not before, he courted Lady Caroline's cousin Annabella Milbanke, who refused his first proposal of marriage but later accepted. They married at Seaham Hall, County Durham, on 2 January 1815.
This is a picture of Byron's home, I think, in Venice...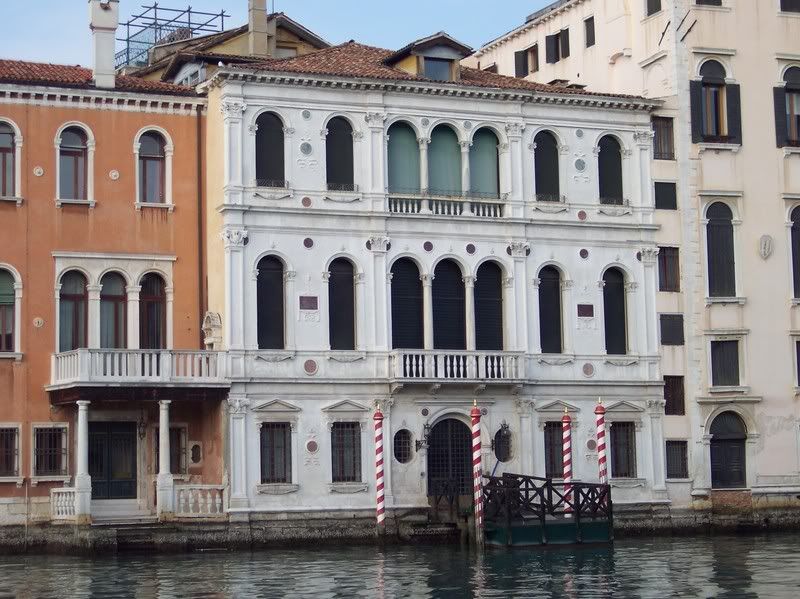 but the hall where they married is not far from my home, and is once more a venue for weddings and conferences - It's a lovely Georgian house, now a hotel, part of some international conglomerate group, Von Essen, which includes Cliveden House, which you might have heard of, where "Guests have included every British monarch since George I as well as Charlie Chaplin, Winston Churchill, Harold Macmillan, President Roosevelt, George Bernard Shaw, John Profumo and Christine Keeler, and many other well-known names from the past and present", but not Lord Byron apparently!
Seaham Hall: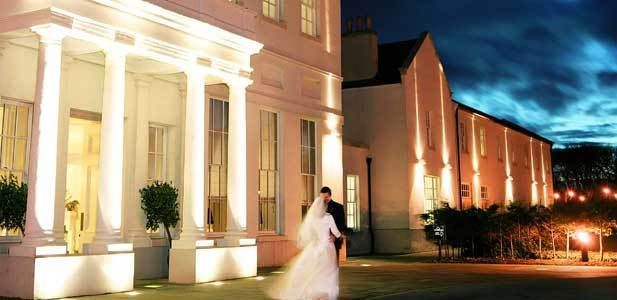 And so as to try (in a really futile way) to out-Braja
Braja
, here is a pic of the wonderfully tranquil (and hideously expensive!) spa at Seaham Hall:
I might return to Byron's life on another day, for I find that period of literature and art fascinating, and what a way to be remembered as, 'Mad, bad and dangerous to know...' but today I am supposed to be thinking about mine own memoirs from an altogether different era!
The Eighties - A decade of ra-ra and unwearable puffball skirts, footballer's perms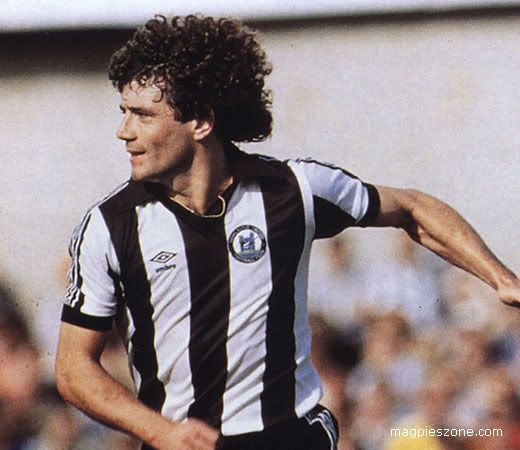 and outrageous shoulder pads!
My early thoughts on this are:
And In Her Mouth An Amethyst...
which was inspired by lyrics in a song by the eighties band, Wang Chung. From the band's own website,
"... the most common explanation of the band's name is that it meant 'perfect pitch', which neatly summarized the tie-in to a Chinese musical philosophy.
It's also sometimes explained as being the sound a guitar makes when you hit the strings down then up, with 'Wang' being the sound on the down stroke, and 'CHUNG' being the sound on the up stroke". Simples...!
Romantically, the vision of being held tightly and swished across a crowded dance floor, for the song from which the lyrics come is called, "Dance Hall Days", was enchanting to me in my youth, and particularly in the summer I spent in France, in Normandy in fact, as au pair to an aristocratic family, who could trace their humble origins back to the Norman Conquests... So, "And in her mouth an amethyst..."
Back to Wiki, this time on amethysts: "The Greeks believed that whoever wore an amethyst or drank from an amethyst cup would not become intoxicated. The word amethyst is derived from the Greek word "amethystos," meaning sober. The gemstone was associated with the god of wine, and it was common to serve wine in Amethyst goblets to prevent overindulgence.
It was also claimed that amethyst had a sobering effect on those "drunk" on love's passions..."
In crystal therapy, amethyst is considered a stabilizing crystal, has a calming and tranquil influence symbolizing peace. Amethysts can bring on pleasant dreams, and allow you to channel positive universal energy. As a result many people place an amethyst under their pillow before going to sleep at night to enjoy sweet dreams throughout the night".