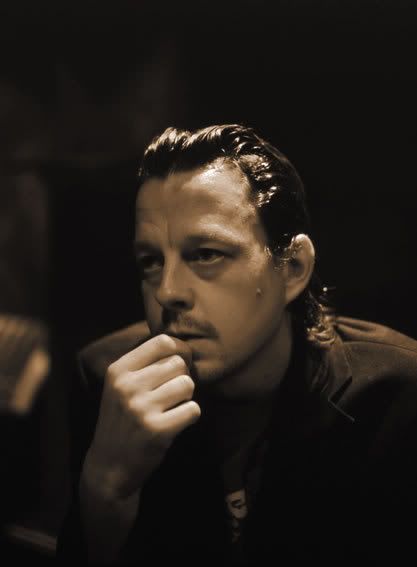 Ian Siegal (born 1971) is a British blues singer and guitarist, whose style reflects the more rootsy side of the genre, drawing on influences such as Howlin' Wolf, Muddy Waters, Bo Diddley, Junior Kimbrough and Tom Waits.

This is the second track of his 2008 album 'Swagger', and it's called Groundhog Blues.

(...My thoughts are with troubled musician, Michael Jackson - for the child that was, and the man that failed to be...and his children - With hopes for those children's futures...)



And here they are playing live with Mortal Coil Shuffle...
You might remember... La Fhina went with her family a few weeks ago, to see the Johnny Winter band at the Opera House in York.
And they were totally blown away by the performance of this support band, with Ian Siegal at the helm...
Ian, up close, (because I did get relatively close to the band - We were in the front row, and then I bought a CD, which neither of my men were brave enough to go up and have signed during the interval - So that task fell to moi! More of that jape laters!), reminds me of a young Mickey Rourke, and what a talent that actor had, demonstrated for me very much in the shocking movie Angel Heart...
When the band first came on stage and Ian addressed the audience, my husband, GJ, and I both believed that they hailed from the banks of the Mississippi, so cool did they look, so world-weary and road-worn-ragged-weary - Dolled up convincingly as age-old and timeless, American blues artists...
And then the veneer began to peel away, like the layers of an eye-wateringly ripe onion, and we learned that Ian is from London, and Andy Graham, a man who moves his body and shimmies - magically, mesmerisingly - across the stage like a bass-player who was born to play the blues for his bread and butter, is an osteopath, who puts people's backs right for a living..., and who keeps a Great Dane who is frightened of thunder... And I think the drummer is Danish.
I am coming back to music again, mes bloggy blues-notes..., after years of raising Grizzler, we now have some time and a little spending money, (very little, such is the shame!), to trot off to see bands play live again...
I am becoming the ageing rock chick I always feared I might, and although I won't be taking any plaster casts of musicians' extremeties, Pamela des Barres is one of my favourite women!
I hope Ian and the band have a big future ahead of them. One that does not involve drugs and drink, boxing, tiny dogs, (no disrespect to tiny dogs anywhere, of course!), and allegations of violence and madness...
If you enjoy the blues, do look out for Ian and his band - They have la Fhina's rollicking and rocking blues-groupie stamp of approval...