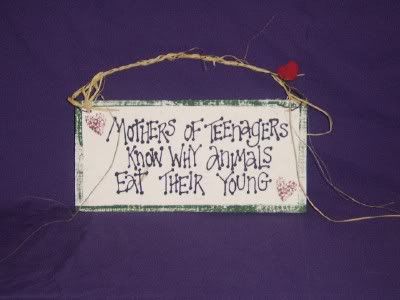 Saz has been really clever, and picked up on the germ of an idea, and we now have a new blog-sanctuary, a bolt-hole, a hidey-hole...for moms/mums and dads of teens and tweens!
She's made us a padded cell, er blogspace, to go when it's all getting too much - When you feel your life-blood slipping from your fingers - Our youth slipping from our weak grasp on the reality of what we have created...
'Coz I know full well that my youth is being sucked from me, crow's foot by wrinkle, by this Motherhood of Teenage Terrorists Lark!
Here
, we can be safe from prying teenage eyes that miss nothing... You know, those eyes that look you up and down disdainfully as you're leaving the house for work in the morning, clad in your finest ribbons and rags...
You've chosen a colour that suits you, which just so happens to be orange, and you feel that it is flattering to your pre-or-post-menopausal flushed complexion, and camouflages your lumpiest bits.
And he casts his heavy-lidded, half-closed eyes your way, for he's been up for most of the night, wibbling to his friends, and now he's scrunching his way through practically the entire pack of Kellogg's Cornflakes and a cow-full of milk, and he mutters,
"FFS mum, you're not going out in that are you?!
My friends might see you when you're dropping me off at school!
Honestly, you're such an embarrassment..."
So come along with us, to our safe haven from Napoleon Dynamites, our harbour from the Teenage Sturm und Drang... I swear you'll love it!
It's for any or all of us
Mad Manic Mamas
. ...I'll bet there's even room for the dads, the gramps and grumps, and anyone whose ever had the (dubious) pleasure of surviving Teen (- and those Tricky Tween-) Terrorists...
Please come in and have a chat and a laugh with us... United we stand. Come join us if you've still got the strength to post!
Don't let the buggers get the upper hand!
They can smell weakness, I swear...

Sshhh! Don't tell them where we've gone!