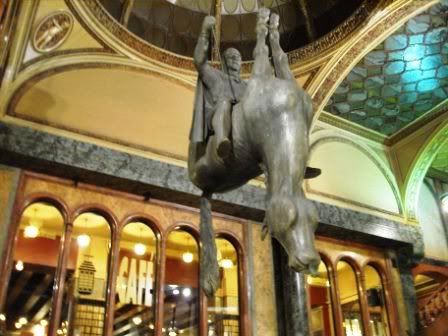 I first posted this over at my other blog-share,
Mad Manic Mamas
back in early August... I know some of you might not visit it, for you may not relate to our horrific tales and manic celebrations of Parenting Teens, so I hope you don't mind me re-visiting this subject here because I liked the post, and I was doing the wailing banshee thing again a short while ago, when Grizz failed his driving test for the second time, and came in to the house furious, and punched the fridge...
Still, and bizarrely, the light within the fridge started working again for the first time in six years, so 'Every cloud has a silver lining...', eh??!
You'd like living with me, you would...
There's never a dull moment in the Fhina household, I should cocoa!
"Teen Terrorists turn your life upside down... They do!
One morning you are pressing out Playdough shapes with a cookie cutter, and pretending to have a tea-party with a woodland full of stuffed bears and rabbits....
...You are wondering when the next episode of Postman Pat is on TV, or Thomas the Tank Engine with Ringo narrating - Because it is the 'be all and end all' of their wonderful, energetic, fabulously adorable little lives...
The next moment, you are SCREAMING LIKE A BANSHEE out the back door after them, as they run for the school bus, late as usual...
You're reminding them, albeit FAR FROM GENTLY, that they ABSOLUTELY MUST go to the Sixth Form Study Centre TODAY to register for UCAS, or else they WON'T HAVE A CAT IN HELL'S CHANCE of ever getting a place at University next autumn; Even if THEIR will IS strong enough to win against the establishment through SHEER STUBBORNNESS...AND they don't even CARE that you got a LETTER home from the Head Teacher saying that this was IMPERATIVE, and that YOURS was THE ONLY CHILD IN SCHOOL STILL TO REGISTER!
...And just the other morning, when you were putting in your new daily contact lenses at the kitchen bench, because it offers the best light in the house, and you blinked the liquid away, and you focused on the middle distance, and suddenly you realised that he was standing right next to you, silently, in all his naked glory, waggling an ear-bud in his ear, dampened and glistening from the shower...
Quickly, you check that the New Mum Milk Lady isn't outside on your doorstep, copping an eyeful of his man-like, David, beauty, while waiting for her payment for the week's milk delivery, juggling the bairn with the semi-skimmeds! ...And you thank the angels that the neighbours aren't gawping at the soap-drama unfolding before them through your (unusually for you, Fhina!) fantastically clean windows...
And you comfort yourself that no stray country birdwatchers ('Twitchers') have their high-powered lenses trained on your kitchen window...
Because there he is, in all his glory... As naked as the day he was born...
And what goes through your mind is whether you could still pin a nappy (diaper /napkin for our Over the Pond listeners!) on his ass - The great 6' 4" galoot that he is!
Oh, life was far simpler then... Wasn't it? When you could exert a little more control over their lives... And they weren't continually 'upping the ante'...
And you looked more like this... 'Armless...

...and far less like this veritable banshee..."