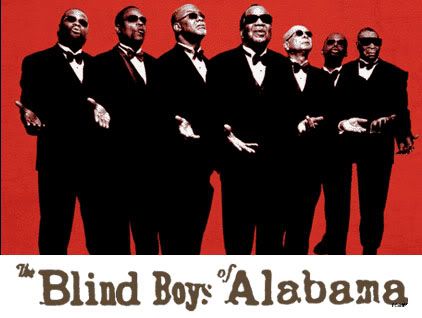 Ma soeur, the Wikidly Wonderful Wiki told me, 'Since 1939, The Blind Boys of Alabama have sung a fervent blend of traditional and contemporary Gospel music. Much has changed during these seven prolific decades. Stylistic phases have waxed and waned; personnel has come and gone. 78 r.p.m. records have given way to LPs, followed by eight-track tapes, cassettes, and CDs. The Blind Boys' audience – once rigidly segregated and confined to traditional Gospel venues – now reflects the group's eclectic, global following, while their repertoire has expanded to embrace secular songs with a strongly spiritual message. Such wide acceptance is also evidenced by four Grammy Awards, an honor that didn't exist when the Blind Boys started out. Even so, the Blind Boys' lengthy saga remains a steadfast testament to constancy. Singer Jimmy Carter, who was there when the group was first formed, leads the band today with the firm conviction, joyous commitment, and gravitas that befit an elder statesman'.
I am not religious, in spite of being given my name in the Church of England church and having my child baptised there... Y'all know I have Pagan and Mother Nature-style leanings instead, and yet there is something about the wonderful Blind Boys of Alabama that speaks to the channels of my heart and the depths of my soul...
"What would I tell young people who might think about singing Gospel music?," Carter concludes. "Well... I'd tell 'em that The Blind Boys had to come up through certain degrees.
Sometimes it was rough. And if you're going to go into Gospel you're going to have to do the same thing. To stay in this field, it takes dedication, you have to be dedicated, because there's a lot of wear. And I thank God that the team I got now is dedicated. We want the people of New Orleans to be dedicated, too. And, like that Mahalia Jackson song says, if we could help somebody in New Orleans – help them by singing a song, help them by recording ­this album – then we will feel blessed."
Snippets borrowed from Ben Sandmel...
You may throw your rock and hide your hand
Working in the dark against your fellow man
As sure as God made the day and the night
What you do in the dark will be brought to the light
You may run and hide, slip and slide
Trying to take the mote from your neighbour's eyes
As sure as God made the rich and poor
You gonna reap just what you sow...