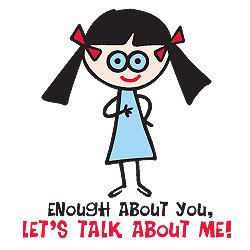 Pinch me, dahlinks!
It is me, after all... I'm not ghost-posting, as such - You know, heating posts up in the microwave until they go ping, and appear of their own accord in Bloggerdom... Been there, done that, got the T-Shirt and the stains!
Ouch, no need to pinch so hard,
French Fancy
! I've promised you and myself that I will not go over-board, and post like a loon... I shall be restrained, post less, read more of your blogs, and be happier in my own skin, 'bien dans ma peau', as the French (and Saz) have it...
Well, you all know too well that
Saz
from never Fat, Frumpy and Fifty, and I share the same mind here over the Pond, much like my lovely American sisters under the skin,
Bloggus
Sanitus
and the beautiful
Diane
of Addledom do? (Do go visit this panoply of lovelies if you long for sense, sensibility and straight-talking, my
bloggy
gooseberries - Do!)
Well,
Saz
has come up with a Wonderful Weekly Wizard Wheeze, which is called 'Let's Talk About...", except I can't copy over the picture, proper like, (So sorry -
Mwah
!), and I thought I would take part this week as the subject up for discussion is...
'Happiness'
.
And, given as I have been full of
wailings
and
gnashings
upon the subject of happiness (or not) lately, it was time for me to come down from the
pantile
roof... 'Ta-
da
!', and pick up my quill pen again... Well, my HP laptop these days - You just know that Jane Austen would have been doing the manic '
tippy
-
tappy
' into the Wee Small Hours were she alive today, non?!
So, just what is hap-hap-happiness?
We search for it all our lives, while it continues to scamper away from us, just out of reach, skittish and coquettish, vanishing like the Cheshire Cat... S
crabbly
claws trying to gain purchase on the, polished to mirror-smoothness, wooden parquet in a far-away room that we long to live in forever. That's happiness.
I think I've already had cause to tell you about my own thoughts on that state... That it is fleeting; B
onheur
is never a constant state. Being sad sometimes and having 'black dog days' is all part of Life's Rich Tapestry.
...I cannot wholly trust those who are ever-happy, gleaming through life, waving flags to semaphore their blissful good fortune. My belief that those who are endlessly happy with their partners, jobs, their families and friends, must really be hiding something. Deluding themselves. Putting a brave face on things...
Because, for most of us, life just isn't like that. Of course, there
are
happy moments, when the feeling of basking in a slanting shaft of bliss and warmth transcends an ever-present inner-voice of disquiet. But those moments don't come if you call them, purring at your feet, lapping contentedly at a beckoning saucer of milk...
Ooh, and now for some cookies, to go with that saucer of milk...