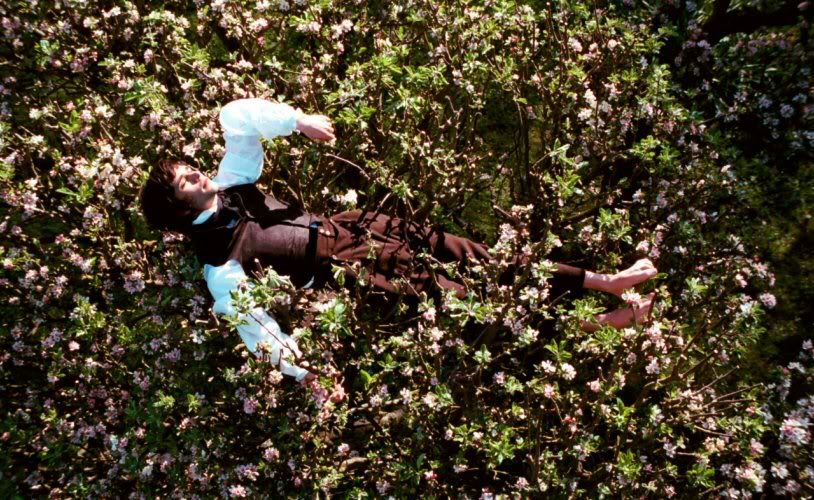 I just discovered - Yeah, I'm something of a Culture Vulture, but occasionally I lag a little behind the times! - that Jane Campion (director of my belovedly cinematographic, The Piano) has set her sights on one of the greatest and most poignant love stories (to my mind) of all time...
That of John Keats and his one-time neighbour, Fanny Brawne. The film is called
Bright Star
, and I really long to go and see it.
Much has been writ about their love affair. It was controversial, with some of Keats' friends blaming Fanny for the illness (attributed at times to heartache) that carried him off... Fanny's family probably felt that Keats should be in a better financial position to marry their eldest daughter, so he worked feverishly on his writing and poetry, when his growing tuberculosis permitted, to enable himself to become a published (and paid!) author.
Given the social mores of the times, requiring courting couples to require a chaperone, often Keats could only get a glimpse of his love through a window, while she promenaded past the end of his garden of an evening...
His letters to her remain and, of course, his beautiful and revelatory poetry.
This letter offers, I feel, something of a tangible insight into their youthful feelings:
'My dearest Fanny,
I read your note in bed last night, and that might be the reason of my sleeping so much better. I think Mr Brown (Keats' best friend) is right in supposing you may stop too long with me, so very nervous as I am. Send me every evening a written Good night. If you come for a few minutes about six it may be the best time. Should you ever fancy me too low-spirited I must warn you to ascbribe it to the medicine I am at present taking which is of a nerve-shaking nature - I shall impute any depression I may experience to this cause. I have been writing with a vile old pen the whole week, which is excessively ungallant. The fault is in the Quill: I have mended it and still it is very much inclin'd to make blind es. However these last lines are in a much better style of penmanship thof [though] a little disfigured by the smear of black currant jelly; which has made a little mark on one of the Pages of Brown's Ben Jonson, the very best book he has. I have lick'd it but it remains very purplue. I did not know whether to say purple or blue, so in the mixture of the thought wrote purplue which may be an excellent name for a colour made up of those two, and would suit well to start next spring. Be very careful of open doors and windows and going without your duffle grey God bless you Love ! -
J. Keats-
P .S. I am sitting in the back room - Remember me to your Mother -'
P.S. (Fhina-Spoiler) Given their biographies, the film can't have a happy ending!