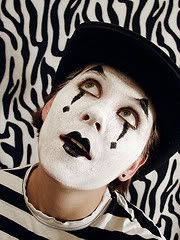 And, my excuse for not blogging much this week, you ask?
I have been ill - ILL, mes bloggy chip-butties!
Iller than someone very, very ill; Involving lots of lying in bed, not even managing to log on ~Yes, THAT ill!
And yet I still made it to London, under the considerable influence of medication for my madness, fortified by horse-pills and pints of the Black Stuff... I had to - I could hardly remain au lit, after investing so much money in our concert tix, our hotel (the Ibis at Wembley, not the Ritz for Fhina, I'm afraid...), and our train tix too... Scandalous!
Mind you, arriving gaspingly early at our nearby train station on Saturday, the day of the concert, and finding that no trains were stopping at that station that weekend nearly sent us into Fits of Apoplexy! Danged National Express selling us a ticket for a service that they'd cancelled!!! We hurtled back to the car with our small suitcase, GJ drove like a madman to Newcastle, I deliriously bunged a fiver's bribe to our friendly local car park attendant to keep an eye on the car for two days, and finally we boarded our scheduled train, panting and sweating like piglets...
We should have taken our chances on one of these -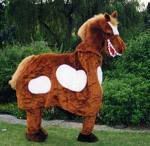 And then after a wonderful weekend of coughs and pills, when we went
here to Brown's in Covent Garden
, and
here to the atmospheric St. Pancras Station
and here into the shadow of Scotland Yard at
the Feathers in Westminster
, as well as seeing the Band of My Dreams, I returned to work last week like a good 'un, and found work piling up for me in handy-sized, pillow-shaped, quantities... Yummmm... Zzzzzzzzzzzzzzz......................
And so I find that, in Blogland, the river has rolled on, shimmering and whisper-wooshing, and you are all breathing and living (some are sniffing and coughing too, I know...), and I have missed more than I could possibly have dreamed. And you would not have wanted to share my lucid and hallucinogenic dreams this week at all, mes bloggy Florence Nightingales... Non.
One of my dreams was quite pleasant, I recall slightly - Involving the wondrously atmospheric world of La Stevie - Well, who else... The rest, you ask? The Stuff of Veritable Nightmares...
And now I finally feel as if I am rallying having slept until Stupid O'Clock Yesterday Afternoon. And the Throat from Hell is at last receding... And my Diclofenac Addiction no longer seems to warrant a trip Chez Betty... (Ford, as if you didn't know!)...
And I can get back to reading your dreams, catching up with your lives, marvelling at your stamina, and wondering what to do with my blog after so long asleep like a rather downmarket Snow White!
Mwah, mes bloggy Elves; Mwah les Dwarves... Mwah mes Wicked Witches of The West...
Well, it's Panto Season anon, non??! And I have been to London to visit the Queen, like Dick Whittington's Cat, after all... Mwah! Miaow!