Trapped indoors this last week (and more!) with nowhere to go, we fell upon our Sky+ digital recordings of times long past... (Note to self: We are now back chez nous, having spent one night in the Georgian Gulag with nerves straining for fear of pushing over a prayer lily on a white china pedestal in the narrower than narrow china bathroom; We narrowly averted a cream tablecloth/white wine/cream carpet fiasco, as the wonderful Collie Dog, Gable, (my one and only true love!), lashed his Basil Brush tail precariously near my fragile crystal glass of Sancerre while I was over-exciting him by loving him too much!
We slept like logs, however... Logs which swear and scratch at being found in unfamiliar sheets; Logs which faint at the sight of a portapotty, craftily positioned in the fledgeling en-suite... Logs that wrangle squishy sofas, soft eiderdowns, wonderfully thick fluffy towels and dodgily slippy bath-mats, and leave the lovely, lovely house looking as if a mad-crazy tornado has been flung through it...
We are far safer, (and hospitable, rather than hospitalized!), chez nous following a sharpish thaw... So, back to normal enfin (...that's normal for Fhina, mind!).
And we found this treasure of a movie, La Vie En Rose, with the magical Marion Cotillard as Edith Piaf, the little sparrow, who was dragged from the filthy gutters of Montmartre, Paris and elevated to Hollywood Heights... (Photograph by Emil Cadoo)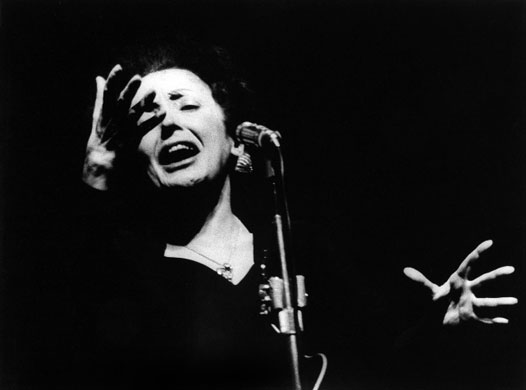 And you've heard me twitter about 'Je ne regrette rien...', but seeing la Belle Dame Sans Merci in all her finery and witnessing all of her tragic, tragic life for the first time for me... and understanding that all that counts is love, and all that hurts is love, and love is all that finally matters...
Well, it was an education. And seeing the little chanteuse, in her LBD noir serieuse in this original footage - Watch it twice, once for the words, once for her hand movements and the rhythm of the song and the slow dance... La Farandole... Glorious.
Entrancing...