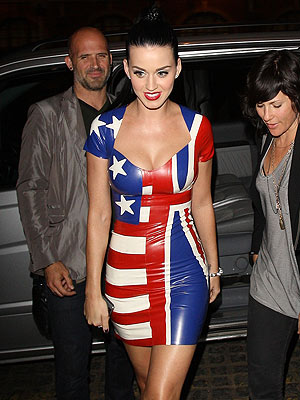 Where's the Art today, you ask... Well, unless you could count Katy Perry as an artist?
...She is a clever performance artist in her own way.
And, for the first time ever, since starting this blog ooh, almost two years ago, the majority of those of you who knock on my blog-door here are British, from the good old UK of A (Anglicanism!)...
Nowadays, more than a quarter of you are British, and a quarter are Americans.
Previously it was around 40% to about 26%, Americans to UK Pond-Dwellers.
Incroyable, non?! - That's for the French visitors... Oh, and the French-speaking Canadians, eh?! -Et les Canadiens.
Und das Deutsche Volk. - That's for the Germans.
Und die Italiener? - That's not for the Italians...
So, I've one thing to ask, while of course, thanking any and all of you who turn up here to read this dribble-fest.
What have I done to offend those of you Over The Pond?
I would be mortified. More than mortified if I thought I'd offended anyone, hurt anyone's feelings, that any of you were any less than enamoured of me, moi, ich.
Well, if I was more than mortified, I'd be dead, so the less said about that the better, hein?
Well?
Would you mind speaking up, please, I'm a bit corned beef?
Meh!
To illustrate this piece, I've posted a Google picture of American Pop Star, Katy Perry, (wearing a dress consisting of the USA and the British flags). Katy recently married the very English (some would say, English Eccentric, I think he's wonderful), comedian - Russell Brand. - In India.
Apparently, there were lions. And beautiful fabric tents. And Indian elephants. And there were hennaed hands. And celebrity guests.
It was probably utterly gorgeous.
Fhina was not invited...
And, as I have no photos of the Brand/Russell wedding, here is a picture of a tiger cub and a dachshund on a bed!