Beautiful Auntie Gwen from
Auntie Gwen's Diary
has been kind enough to tag me...
The rules are:
Go to the 4th folder in your computer where you store your pictures
Pick the 4th picture in that folder
Explain the picture
Tag 4 people to do the same
As I'm not technically gifted enough to store my own photos, and rely upon my family to do this for me - They are on Grizzler's laptop...
Here instead is the fourth photo taken from my fourth album on Photobucket. This album is called City of Lights, and you might not be surprised that, like Auntie Gwen's, it concerns a love of Paris, the capital of France.
This picture is of Sacre Coeur in the area known as Montmartre, once filled with vineyards, once the haunt of artists and painters, musicians and writers... Now it is a higgle-piggle, hodge-podge of tinsly touristy shops, (some) seedy clubs, and many, many bars and cafes. Oh, and the splendiferous modern meringue that is Sacre Coeur itself...
The views that open up from the steps of the church are wonderful, and I cannot resist a trip up the hill on the funicular railway, jostling with tourists!
Still, the peace and tranquillity and a scintilla of what magic the area once held can still be found, by wandering the streets of Montmartre and stepping away from the crowds...
I cannot resist adding in some of the other pictures in this album. Hope you don't mind?
Paris in the palm of your hand!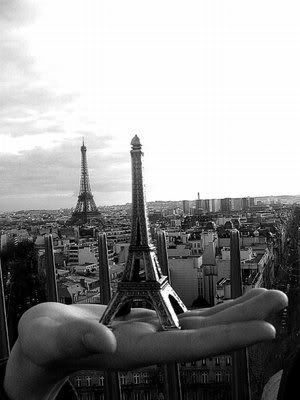 City of Lights
Ah, the atmosphere and drama of Black and White photography...Timeless!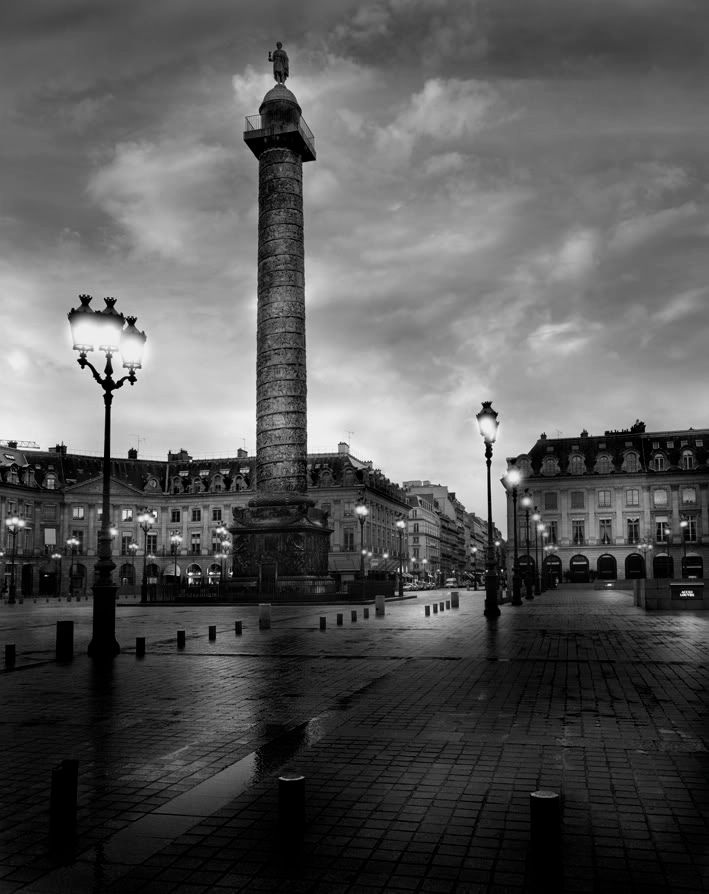 One little vignette from our last trip to Paris a year last Christmas - the first time we have ever had Christmas away from home, and it was uplifting, invigorating and enchanting for us as a family.
(And, to be fair, we got a good deal then in terms of Sterling against the Euro - We could not afford to take that trip again this year, even if I had been in full fitness with my back... Alors, my fond commiserations to my British chums sequestered in lovely France, who are struggling quite a bit with the credit crunch...)
As a family, we always trot about Paris every day of our trip, and religiously try to avoid the many beggars and merchants lining the streets of the most familiar attractions and landmarks.
Grizzler has been brought up to do as we do, head down, a swift "Non!" and hurtling past the many African-origin hawkers and tradesmen.
When we reached the bottom of the steps at Sacre Coeur on Christmas Day evening, we had got slightly separated from one another in the crowds. I reached for GJ in the dimming light, and found him, but where was our 6' 4" Griz?
We spotted him with his blond mane above the many other heads in the crowds; He was in the process of having Rasta braids woven around his index finger by a stocky black man. Our hearts sank - Just how long would this take, just how were we about to be fleeced by these men, how could we escape, they are so experienced in inveigling change from the unwitting tourist?
We approached the chap and found a bemused Griz... The fellow was chatting away to G about the luck this weaving would bring him, and how this bracelet - in Jamaican colours - red, gold and green - would last until he saw us again.
It was a cold night, the throngs of tourists were anxious to be on their way, and by now we had a crowd of the merchants surrounding us, curiously laughing and bantering away.
The deed finished, the bracelet clamped to Grizzles's wrist, GJ began to negotiate a price. They asked us where we were from, and one of the guys spoke of living in London until quite recently. GJ mentioned working in Nigeria of late, said he was accustomed to haggling (he lied!) and named a price, half of what the chuckling merchant wanted.
We finally agreed on what was probably not a fair price, and scuttled away. We reasoned afterwards, once securely ensconced and laughing in a local eaterie, that it would have been pretty slim pickings for those men that night, and how they were obviously 'all for one and one for all' in this endeavour, making their living in a relatively haphazard way.
We opined that they would likely as not have shared what they had managed to fleece, good-naturedly, from the average tourist, and felt we had in the end paid for a half-hour's entertainment and friendly banter!
Still ringing in my ears were the merchant's final words to me, en Francais, about my husband, "You bring your man back to me again next year, and I will give him lovely braids in his hair!"
This made us hoot hysterically; GJ has longish locks for most men, together with a pronounced widow's peak, and is thinning up top it would be fair to say, and has been since I met him when he was 21...
Laugh, he nearly cried!
and to end, a Gargoyle of Notre Dame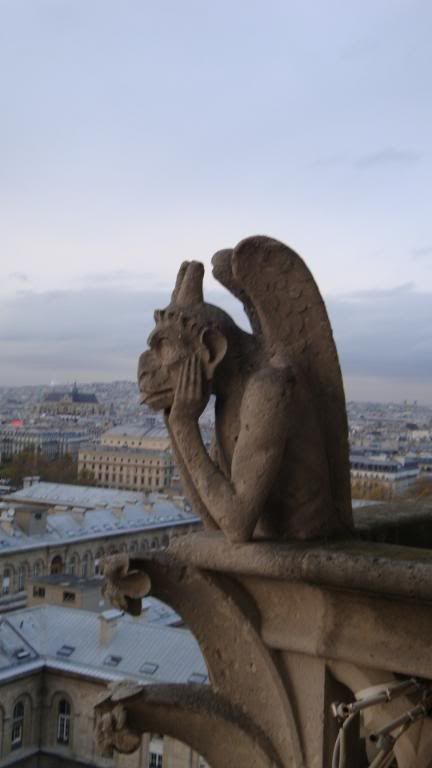 In the spirit of tagging, I need to pass this on to 3 or 4 more people in accordance with the rules, so, hoping you don't mind, I tag:
Moannie at
The View From This End
for her winsome writing;
Saz at
Fat, frumpy & fifty
for her colour, honesty, warmth and integrity;
Scriptor Senex at
Rambles from my chair...
for his intelligent ramblings and wonderful pictures, and
Michelle at
Raw Cool... Black is the new Blog
for her sassy soul!
As for the Premio Dardos award kindly proffered to me by Diane at
Diane's Addled Ramblings
the other day, I passed it to Moannie, but I also need to pass it on to 3 other people to acknowledge the values that every blogger shows in his or her effort to transmit cultural, ethical, literary, and personal values every day....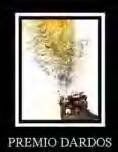 Drumroll please, Maestro!
Auntie Gwen at
Auntie Gwen's Blogspot
for her beauty, warmth and, almost daily, witty honesty and insights;
Saz at
FFF
for the obvious - The woman is a follower-magnet, she writes so effortlessly;
Kate Coveny Hood at
The Big Piece of Cake
because we all need cake, comfort and good sense in our lives!