I never said, 'I want to be alone.' I only said, 'I want to be left alone.' There is all the difference.
I have recently completed a fun, quick quiz that was signposted just the other day by the deliciously funny,
Comedy Goddess
She had found it here at
Quizilla...
The idea of the quizlette being that you find out which 1930's actress you could have been... Simples, non? And I came closest to being like the biggest actress of the Silent Era, lovely Greta Garbo... Quelle surprise, non?!
Well you all know, mes bloggy chums, just how star-struck your dahlink Fhina can be, n'est-ce pas? And, would you believe, I once took part in an exercise at work -- You know that 'Creeping Death' kind of thing, where you share with colleagues one thing about yourself that they might not know? You can imagine, mes paramours, that with Fhina being so gobby, there remains little about me that even the nice old man who sells fruit at the stall 'daan the markit' does not know...
On this occasion, however, the idea was to share a dream career path that we would have trodden, were it not for the good old British Civil Service that has gobbled us up like a spider eating a pesky fly... And can you guess, mes dahlinks, what bold Fhina's answer would have been?!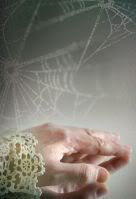 Mais oui, certainement, I would have wanted to be a great actress... Not just any actress. Hell, no!
A great actress, a diva -- Not necessarily nasty in a Mommie Dearest kind of way, but definitely a star in the cinema firmament. Just like Greta in fact... Then later, I might have been able to say, tearfully, "I vant to be alone..."
Some of you might remember me from my origins here in Hollyblogland... Back in January, I arrived here with mes bruised and battered Louis Vuitton bagages, just like the divine Joan Collins, while awaiting surgery on my back... Eventually, I underwent virtually the same op that David Tennant, the outgoing BBC Dr Who, has had in fact... Except he was back on stage at The National playing Hamlet almost as quickly as you can say Jack Lemmon... ...But not jumping around, or lifting anything of course... Not even 'Alas poor Yorick's' skull, as it turned out.
Et alors, the time has come, the Grandfather Clock has struck the Witching Hour, and Wiki Goddess help me, I am going to attempt a return to work next week -- Without which, I do fear I shall become very like a modern-day Miss Havisham, all musty cobwebs, rotten cake and skreeking rats in my coiffure...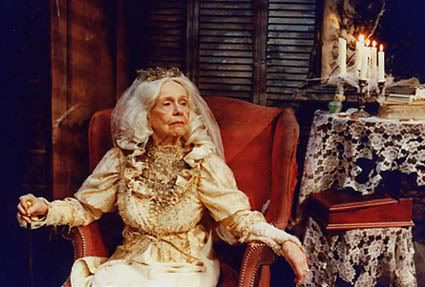 But you know me, non? The dim light on the virtual horizon is that I have found the very bag, specially created for me in my new role... Voila! And do you like it, mes bloggy parentheses?
Have you met Miss Havisham? She is a wealthy spinster in Charles Dickens' novel, Great Expectations. She lives in her ruined mansion with her adopted daughter, Estella, while she herself is described as looking like "the witch of the place".
La Wiki has been doing my homework for me again - Shame! "Miss Havisham is a contradictory character in literature and in the context of her time. Unlike most unmarried women of the era, her wealth gives her tremendous power, which she uses to coax others to do her bidding and to advance her aims, yet she allows her disappointment at being stood up at the altar to ruin her life. She lays waste to her estate, symbolic of herself, and tries to spread her cynicism and malaise to everyone she touches. She is manic (...oui, it could be me after all!) and often seems insane (ca, c'est vrai!), flitting around her house in a faded wedding dress (tick), keeping a decaying feast on her table (tick), and surrounding herself with clocks stopped at twenty minutes to nine (almost, but not quite...).
I shall bleat a little more tomorrow like a new born lamb, if that is all right with you, mes ewes? I feel a little migraine coming on, and a darkened room is beckoning... There is a black velvet chaise longue to languish upon, the oak blinds are drawn on all the blistering windows, and I vant to be alone... A demain, mes bon-bons... Quick kiss? Mwah!