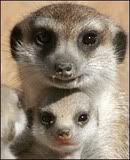 On Thursday, Fhina elected to show you this little character... Aleksandr Orlov, with his TM Catchphrase: "Simples!"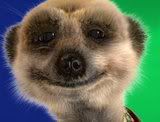 I adore Meerkats. I want to take them home with me from zoos and bustle up into bed with them under the covers to keep them desert-warm, while avoiding the teeth and claws of course - Mine, that is!
I just find them mesmerizing and charmingly funny creatures. Yes, I know they can be vicious, and eat scorpions for breakfast... so would Fhina -- If she were a meerkat.
Our wonderful TV Wildlife Guru, David Attenborough, introduced us to the mad, bad and dangerous to know world of the Kalahari Meerkat some years ago, and ever since I can remember reading about how the meerkats that they were following went off to do their daily scavenge hunt leaving the cameraman to look after the babies - they had grown so used to him - I have been endeared to their furry little faces and soft whiskers, smelling of millipedes...
Recently, while indulging in my usual tippy tappy in the living room, (my OH is threatening divorce very soon, if I cannot type more quietly - Perhaps I should wear woollen mittens? What think you, mes mongeeses?!), when I espied out of the corner of my eye this little beauty...
I was well and truly hooked... It was love at first
web-
site
! ...And this must be an example of some of the most intelligent advertising ever... What this clip concerns is an online car insurance website, called Compare The Market, and Aleksandr's concerns that peoples are getting confused with his website Compare The Meerkat...
What makes this stand out from the norm of 'wallpaper advertising' -- So plastered everywhere that you don't even notice it any longer -- is that the company have not only created a full characterization of Aleksandr Orlov, the successful Russian Meerkat Businessman, but that they have set up a
genuine Compare The Meerkat website
, which operates a little like a dating agency - where you can look up different meerkats, hobbies, locations, and so on, and compare them...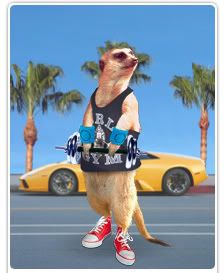 Aleksandr also tweets on the conversational site Twitter... You can tag him (he's probably some 20-something marketing executive whizzkid sitting in a tantalisingly interior designered warehouse loft in London!) as a friend and ask him questions, which he answers completely in character, chattering about his enemy the Mongoose, his love of millipede snack foods, and he even has a Facebook fan site with boodles of followers...
Here is Aleksandr's posting from January: "On Friday I went travel to Miami USA to see possible greatest concert artist in world: Celine Dion. There were near 20,000 peoples at concert but I secure front row seat next to Cuban music man Emilio Estefan. He offer me Twix but I decline in favour of millipedes I bring in bag.
Celine make outstounding performance and end concert with 'My Heart Will Go On' Grand Finale. Five Stars. After show I go backstage with Celine and play a game of scrabble. I win with 'Zdravstvujte'. 176 points!
I have night to treasure forever. But now I am jet lag so will go to bed. Good evening to you all".
and in April: "Today I am wearing my best plaid hat for Arnold Palmer Invitational Golf Competition in Florida, USA.
I love the golf. I have my own golf clubs (with extraordinary mongoose hair club covers) and 23-hole golf course in East Wing of my home - there is very tricky water trap outside Billiards room thanking to leak in roof.
However this week I am not playing the golf but watching it from a little stool that folds together for easy carrying. I will be cheering for defending champ Tiger 'The Tiger' Woods and maybe having a little sun bathe.
But please spare thought for Sergei. (His computer programmer, a regular character in his meerkat rambles...) He is back home in cold Moscow working hard toward launch of new
compare
the
meerkat
.com 2.0 - with added meerkats and 'features'! Sergei is in for treat though because when I return I am taking delivery of mighty new computer hardware to help him compute his giga-watts. What a lucky kat.
Yours in a hat, Aleksandr 'The Meerkat' Orlov"
And during the bad weather in February: "Sergei has been on the weather blogs and tell me that in UK you have been getting yourselves all in a trouble about a little snowfall this week.
Let me tell you story. During Great Winter of 1922, my Papa Anton decide make 600 kilometre journey from Moscow to favourite deli in Lipetsk to pick up Pumpkin Spider sandwich (with extra woodlouse). He leave on Friday lunchtime and return two week later with face frozen closed. But they forget his extra woodlouse (which I mention earlier) so he have to make journey again all over. Did he go into office next day and say "oh my, what a horrible weather we are having, it is so hard to do a journey"? No.
So please enjoy snowfall this weekend and if you feel peckish I recommend Dima's Deli, 142 Skorohodova Street, Lipetsk, for great grubs.
Yours in three feet of snow, Aleksandr"
And so here we encounter a funny character, his family, even his TV outtakes
(To watch bloops, visit
http://snipr.com/dq5rp
and a whole world of madness encircles a CGI Meerkat from the Russian Steppes, always seen in his cravated finery... Et, ca alors, c'est incroyable, non?!
Even his trademark phrase is creeping into the English language... "Simples!" Squeak...
So simples, so funny, and probably very clever... I wish I'd thought of it!
Muchas love from the Meerkat Family Crawford... Here we are! Big kiss? Mwah! Mwah! Mwah! One for each of us, in fact...