'Ne'er cast a clout till May be out' is an old English proverb. My late and much-missed dad used to joke about the English weather and say, "Ne'er cast a cloot till June's oot!" His nickname in the lab where he worked was "Jimmy Two-Coats", and he wondered why...
Apparently the earliest version of the proverb comes from Dr. Thomas Fuller, Gnomologia, (wha'?) 1732, although it probably existed in word-of-mouth form before that:
"Leave not off a Clout Till May be out".
Do you know what the 'cast a clout, or a cloot' part means?
'Clout', although pretty old, is straightforward enough. Since at least the early 15th century 'clout' has been used variously to mean 'a blow to the head', 'a clod of earth or (clotted) cream' or 'a fragment of cloth, or clothing'.
It is the last of these that is meant in 'cast a clout'. This was spelled variously as clowt, clowte, cloot, clute.
'Here's an early example, from the Early English Miscellanies in Prose and Verse, circa 1485:
"He had not left an holle clowt, Wherwith to hyde hys body abowte."
So, 'ne'er cast a clout...' simply means 'never discard your [warm winter] clothing...'.
The 'till May be out' part is where some confusion lies. Does it mean 'until the month of May is ended'.
'In England, in May, you can't miss the Hawthorn. It is common in the English countryside, especially in hedges. ...Not a lot of people know this... As many as 200,000 miles of hawthorn hedge were planted in the Parliamentary Enclosure period, between 1750 and 1850.
The name 'Haw' derives from 'hage', the Old English for 'hedge'. Well, there you go!
The tree gives its beautiful display of flowers in late April/early May. It is known as the May Tree and the blossom itself is called May Blossom. Using that allusion, 'till May is out' could mean, 'until the hawthorn is out in bloom'.
(Source: Sacred Celtic Trees and Woods Introduction by Ed Collins)'
Did you know that Clootie wells (also Cloutie or Cloughtie wells) are places of pilgrimage in Celtic areas? These are wells or springs, almost always with a tree growing beside them, where strips of cloth or rags have been left, usually tied to the branches of the tree as part of a healing ritual.
Pieces of cloth are dipped in the water of the holy well and tied to a branch while a prayer is said to the spirit of the well - in modern times this usually implies a saint, but in pre-Christian times it meant a goddess or local nature spirit. This is most often done by those seeking healing, though some may do it simply to honour the spirit of the well. In either case, many see this as a continuation of the ancient Celtic practice of leaving votive offerings in wells or pits.
At some wells the tradition is to wash the affected part of the body with the wet rag and then tie the washing-rag on the branch; as the rag disintegrates over time, the ailment is supposed to fade away as well. At some wells the clooties are definitely "rags", at others, brightly-colored strips of fine cloth. In some locations the ceremony may also include circling of the well a certain number of times and making an offering of a coin, hammered into the trunk of a tree (poor tree!), a pin or a stone.
Additional votive offerings hung on the branches or deposited in the wells may include rosaries, religious medals, crosses, religious icons and other symbols of faith.
Sacred trees at clootie wells are usually Whitethorn trees, though Ash trees are also common.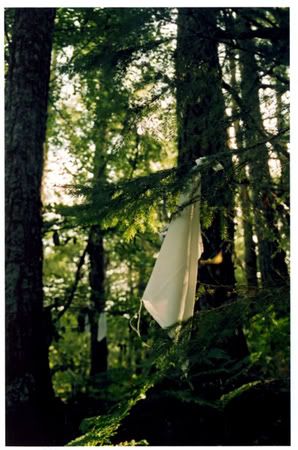 The most popular times for pilgrimages to clootie wells, like other holy wells, are on the feast days of Saints, the Pattern or Patron day, or on the old Gaelic festival days of Imbolc (February 1), Beltane (May 1), Lughnasadh (August 1), or Samhain (November 1).
Craigie Well at Avoch, (pronounced 'Och), on the Black Isle, near where Fhina used to live, has both offerings of coins and clooties. Rags, wool and human hair were also used as charms against sorcery, and as tokens of penance or fulfilment of a vow.
So, mes petits mega-stars, would you like to...