"Teens are terrorists who have moved into your home, and who are camping out (in hiding from the Security Services, of course) in an upstairs room you used to see the inside of once upon a time... Probably around the time their room was decorated with Thomas the Tank Engine, or Disney Princesses...
Teen Terrorists are secretive, surly, non-communicative, except with other teen terrorists; They eat you out of house and home, they subvert your funds for their activities, demand money with menaces, and are bigger and stronger than you, and then they sometimes behave as if you had never loved them, and then they move out!"
I left this comment over at the lovely Deb's at
Dirty Socks and Pizza
. I love Deb's take on life, and she is able to make professional quality film clips, where she tickles her audience's funny bones with her dry and deadpan delivery about the trauma of living with teen terrors, or terrorists, as I chose to term them...
And then another fabulous blogger, Harlene, who blogs
here
at We are all enlisted, made me snort elderflower cordial out of my nose, I was laughing so much, with this,
"Actually it helps a lot that I just look at the other Mom's with good kids and smile, "I'm not very good at this. Don't worry, yours will NEVER be like this."
I always think raising teens is a lot like trying to follow what the crap is going on on Lost!
Last weekend as I dropped my terrorist teen off at a party I actually found myself telling him and his friends," No drinking...anything, no smoking, no snorting, no needles, no making out, no having sex, no watching others make out or have sex, no taking off your clothes, no taking off anyone else's clothes, no watching anyone take off their clothes", I went on and on with everything I could think of. I closed with the remark, "If you miss 1 of my calls or texts I will show up within minutes NAKED with your FATHER NAKED! Am I clear!!!! We have now gone 8 days without police involvement!!!! YEAH!"
I want to kiss this woman, and I may be trying this tactic next time we drop off the errant Grizz at some party/sleepover or another... The man-child is turning into Paris Hilton, he parties so much - I swear! And surly, I should have made it his middle name...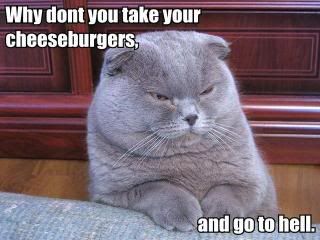 Raising Teen Terrorists is probably something none of us would expect to do... We do all the right things, read all the right-on parenting tomes that exist, we follow the midwives' and health visitor's advice as if it were scripture... We try not to do what our mothers did... We try to do other things that our mothers did, that worked with us... And ultimately, in raising Teen Terrorists we are alone, unutterably, scarily alone...
So, when Carma asked me the other day, "When in your life were you most happy", and I didn't answer, until I realised when I was sitting in front of my pc in the office, I wondered whether I was hiding something from myself... For I hadn't not answered it deliberately... I think it was a sub-conscious thing... A little like the deep grief I feel that my parents have gone... I don't want to focus too much on happiness, for fear that it will be ripped away from my suckling breast, mercilessly by some unseen and frightening hand of fate...
I was at my happiest when my baby son was safely delivered after a long and (proudly, but painfully), drugs-free natural birth... I was unprepared for the love that took a hold of the very core of my being, making me replete with a sense of my absolute purpose in life, what I had been put on this earth to do... And he has brought me such delight... His arrival in my life had not been wholly planned, but this Baby-Bump would be warmly welcomed...
And... Over the years, this love strengthened and grew, and I indeed felt like a fierce mama tiger; He was very much a part of me, and yet inexorably separate, individual. Very much Himself, in fact... Between my OH, GJ, and I, we do sometimes call him, Himself, or His Grizzship... Perhaps recognising our subservient presence in his life.
Nothing would ever keep me from this child of my womb. I was prepared to protect him up until my dying breath. His own sweet, milk-perfumed, breath and easy way gave me succour.
And then, not overnight, but in leaps and bounds, inch by inch, minute by moment, he became a Teen Terrorist.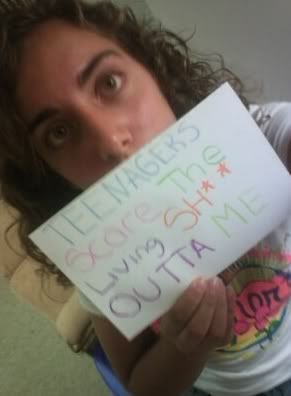 And tomorrow, I'm going to tell you, as Artist Unplugged asked - "What makes you angry?" For surely, this is the angel-companion question to Carma's tricky dicky one?
Allez, salut maintenant, mes sticky labels... Je vous adore -- Big kiss? Mwah!