Burning Down The House -- This picture shows Alexander McQueen with his muse, Isabella Blow...
"English folk love being daft. All over England there are daft events that go on. People have daft hobbies and enjoy just being daft. Where else in the world do they celebrate eccentricity and silliness as much as England?" Neil Rees
Alexander McQueen CBE (born Lee Alexander McQueen, 17 March 1969) is an English fashion designer. Born in the East End of London, the son of a taxi driver, McQueen started making dresses for his three sisters at a young age and announced his intention of becoming a fashion designer.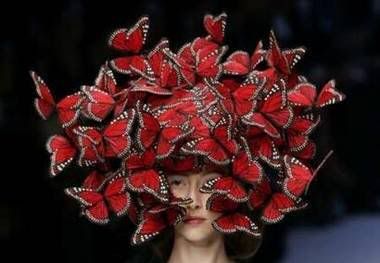 McQueen left school at 16, landing himself an apprenticeship with Savile Row tailors Anderson & Sheppard, then working for Gieves & Hawkes and the famous theatrical costumiers Angels and Bermans. Whilst on Savile Row, McQueen's clients included Mikhail Gorbachev and Charles, Prince of Wales. At the age of 20, he spent a period of time working for Koji Tatsuno before traveling to Milan, Italy and working for Romeo Gigli.
McQueen returned to London in 1994 and applied to London's most prestigious fashion school, Central Saint Martins College of Art and Design to work as a pattern cutter tutor. Due to the strength of his portfolio he was persuaded by the Head of the Masters course to enrol as a student. He received his Masters degree in Fashion design and famously, his graduation collection was bought in its entirety by influential fashion stylist, Isabella Blow, who was said to have persuaded McQueen to change his name from Lee to Alexander (his middle name) when he subsequently launched his fashion career.
Icelandic singer Björk is a huge fan of McQueen's work.
McQueen is known for his lavish, unconventional runway shows, such as a recreation of a shipwreck for his spring 2003 collection, spring 2005's human chess game and his fall 2006 show, Widows of Culloden, which featured a life-sized hologram of supermodel Kate Moss, dressed in yards of rippling fabric.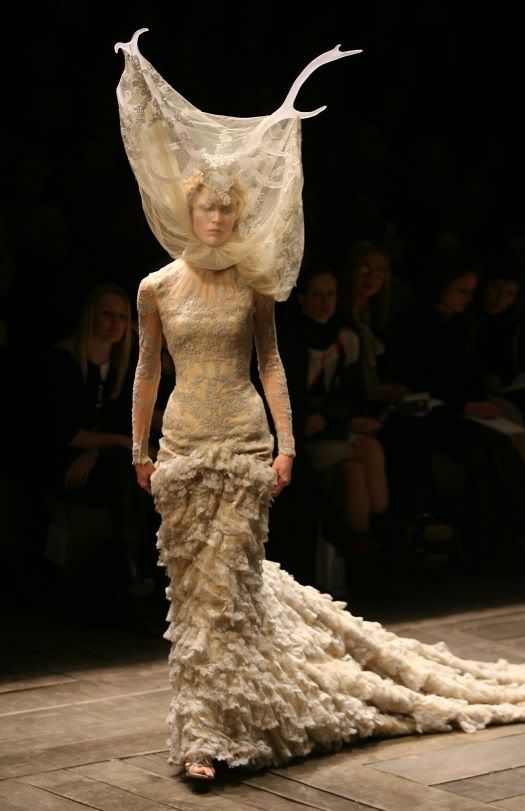 The president of LVMH, Bernard Arnault caused a stir when he instated McQueen as head designer at Givenchy in 1996, succeeding John Galliano. Upon arrival at Givenchy, McQueen insulted the founder by calling him 'irrelevant'.
His first couture collection with Givenchy was unsucessful, with even McQueen telling Vogue in October 1997 that the collection was "crap". McQueen toned down his act at Givenchy, but continued to indulge his rebellious streak, causing controversy in Autumn 1998 with a show which included car-robots spraying paint over white cotton dresses, and double amputee model Aimee Mullins striding down the catwalk on intricately carved wooden legs. McQueen stayed with Givenchy until March 2001, when the contract he said was "constraining his creativity" was ended.
Some of Alexander McQueen's accomplishments include being one of the youngest designers to achieve the title "British Designer of the Year", which he won four times between 1996 and 2003. He has also been awarded the CBE, as well as being named International Designer of the Year at the Council of Fashion Designer Awards. December 2000 saw a new partnership for McQueen with Gucci Group acquiring 51% of the company, and McQueen serving as Creative Director. Plans for expansion have included the opening of stores in London, Milan, and New York, and the launch of his perfumes Kingdom, and more recently My Queen.
McQueen received press attention after the May 2007 suicide of his close friend, Isabella Blow. Rumours were published that there was a rift between McQueen and Blow at the time of her death, rumors that focused on McQueen's underappreciation of Blow.
In response to these rumours, McQueen told an interviewer:
" It's so much bollocks. These people just don't know what they're talking about. They don't know me. They don't know my relationship with Isabella. It's complete bull----. People can talk; you can ask her sisters.… That part of the industry, they should stay away from my life, or mine and Isabella's life. What I had with Isabella was completely disassociated from fashion, beyond fashion."