For French Fancy's sanity and sake, please know that this English Eccentric was carefully selected from the boggy-bloggy-marsh-mind belonging to la Fhina, with a number of the worms and words being suggested by my Goddess, La Wiki... I bow to her and her followers - The sane ones, mainly!
'Philip Treacy (born 26 May 1967) is one of the world's foremost hat designers or milliners.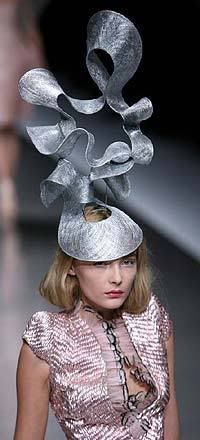 Born near Ballinasloe in County Galway, Ireland, Treacy was brought up with seven brothers and one sister. He studied fashion at the National College of Art and Design in Dublin.
'Philip is now based in London and has designed hats for Alexander McQueen's white 'Haute Couture' collection at Givenchy in Paris and for Karl Lagerfeld at Chanel. He has been awarded the title of British Accessory Designer of the Year at the British Fashion Awards on five occasions during the early 1990s.
'In 2005 he was commissioned to design hats for the wedding of the Prince of Wales to the Duchess of Cornwall. The year 2005 also saw the culmination of his work as Design Director for The G Hotel in Galway City, the flagship of the Monogram Hotel Group.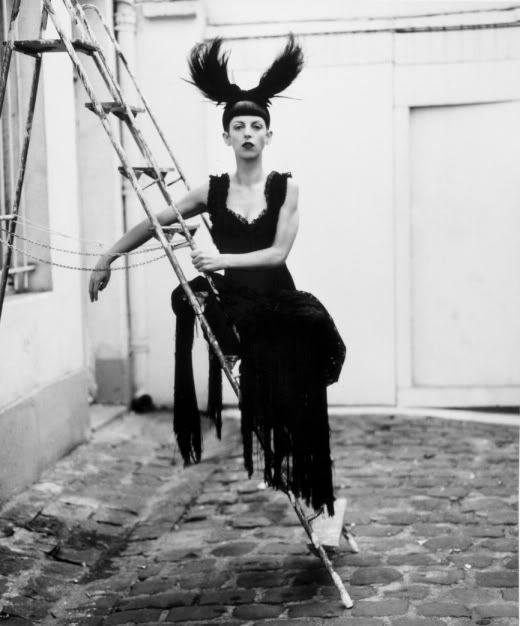 'On 16 February 2006, he launched the collaborative collection 'Philip Treacy for Umbro' at The Royal Horticultural Hall during London Fashion Week.
The collection promised to surprise and excite fashion and sports industries, but proved unsuccessful and lasted only one season. The launch featured modelling from Jasmine Guinness, Erin O'Connor, Grace Jones and appearances from Michael Owen and Tara Palmer -Tompkinson".
Boy George is a famous fan of Treacy's, although whether he's able to wear the designer's wares in his current abode in Wormwood Scrubs is anyone's guess...
Treacy also designed the infamous peacock hat that Sarah Jessica Parker wore to the London premiere of 'Sex and the City'
What I like about Treacy is that his work is distinctive and recognisable. I love how Treacy's hats enhance the look and the self-image of the wearer...They take nothing away...
Treacy's hats do not wear the person who's wearing them, if you know what I mean, as so many hats do... Wearing the wrong hat can put the wearer back into the shadow, and they often fail to live up to the hat...
And as la Fhina is fond of saying, mes bloggy biscuit-barrels, if the hat fits... Wear it proud, my dahlinks!