MEME: from Sallymandy via Mervat and Moannie and Scriptor Senex...
What is your current obsession?
Blogging, bien sur! Even although I am now back in the full time shackles of the orifice, I wish I were here - laughing and chattering, and carrying on as if I led a life of wilful ease, non?! And, oh I am so afraid to admit to it - Someone young enough to be my son - Robert Pattinson! I love tortured poets... Lord Byron, John Keats, John Clare...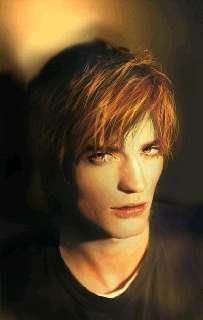 Good fika place? (That would be coffee to us non-Swedes) The Bookhouse, Newcastle, before Central Perk ever existed - Beautiful, spiral staircase leading down from excellent bookshop to cafe hangout - I don't even know what this place is now - But The Bookhouse remains in the mind like a lost lover, whom you never really wanted to let go, and you never properly bid adieu to...
Currently, my favourite place is Coffee Beans, an independent, locally owned, coffee house, near to The Office, very seventies but with WiFi, lime green and teak wood decor and brown suede sofas, and the staff are just fabulous, dahlink!
I met the wonderful Sazfab from never has been Fat, Frumpy or Fifty...there on Wednesday, and it was magical! Magical, I tell you! More of our tale later, sans doute, mes bloggy air biscuits!
Do you nap a lot?
Good goddess yes. Whenever I can, I curl up, whip out the disposable lenses and snooze as if there were no tomorrow... I love my pit, I love warmth and comfort, and my wide, room-divider, boundary-pushing, sofa is my second bed...
Who was the last person you hugged?
My friends at work who have welcomed me back like the prodigal daughter... My last hug was with a stakeholder lady, whom I have known for seven years - I hugged her, kissed her cheeks, and got my lip gloss all over her hair - Embarrassing, non?! But sweet and very, very genuine, nonetheless. I love her.
Rescinded to say that my last wee hug was with the energetic and indomitable Saz! She is more than fabulous, dahlink, and it were such a treat to finally meet!
What's for dinner?
Chip leftovers with decent German Rye Bread, with a smidgen of Tomato Ketchup - And I'm on a diet, so this is not allowed, mais tant pis!
What are you listening to right now?
The TV is on - Dark Water, a psycho-thriller film... I've seen it before, and yet I cannot remember how the movie pans out!
What is your favourite weather?
Sunny, not too hot, bright and warm. I've my sunnies on, a light blouse and skirt/troos, and I know I'm not going to get wet today! P.s. I'm not in England, apparently...
What's on your bedside table?
I have a hand painted cupboard, rather than a table - Tables, I just knock things off... Fhina's middle nom de plume is Calamity, as my lovely late mother would say...
Anyhoo, my glazed placard is black with violet vines and flowers - In it there are books, some of my favourite novels, a couple of jew-jaws, my specs, (Prada, dahlink!), a Georgian map I bought for my husband in an antiques warehouse, some juice, a pillow, and the erstwhile remnants of my life... Can you tell what it is yet?!
If you could have a house totally paid for, fully furnished anywhere in the world, where would you want it to be?
Paris, always Paris! Probably La Porte Doree if we could not afford a garden and cat in Montmartre, where the vinyards once were...
Favourite vacation spot?
After Paris, Nice in the south of France, where I long for a second home...
Trouville in Normandy, with its mists and literary electricity and eccentricity, as well as the Dominican Republic, for its greenness that reminds me of England, and its wonderful people...
~The things you can't live without. .
My family, my good friends here, my new-ish laptop, my music, animals, books, coffee, wine, and now bloggering.
What were the happiest two years of your life?
My third year at college, and the first year I had my beloved son, Grizz...
What would you like to get rid of?
Despair.
If you could go anywhere in the world for the next hour, where would you go?
Where my sadly-passed mum and dad are, to smell their scents, and hug their warmth and deep love to me... Failing that, c'est toujours Paris - Non?!
What did you want to become as a child?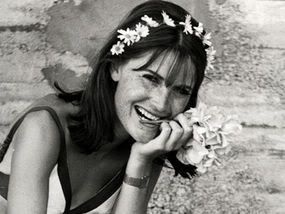 A singer, (Sandy Shaw - I remember, I must have been about four, wanting to be called Sandy...and even writing the name, playfully, in my reading book...), then an English or Modern Languages teacher, then a mother, then a Registrar, then a shopkeeper, then a famous writer...in that order...
What do you miss?
My mum and my dad, ca va sans dire! Friends who live a long way away - Then and now, including vous, mes bloggeristas!
The orifice is sadly interfering with my Mojo and my blogging life - Visiting y'all... I am so sad and so sorry... : (
I also miss my youth and my thin-ness!
What are you reading right now?
The Twilight Saga, again ;0 Wonderful Blogs, and I have a backlog of fabulous contemporary novels to dig into ...Graduellement!
What do you fear the most?
Losing everything, as do we all, eventuellement, no?!
Which designer piece of clothing would you most like to own (new or vintage)?
It would have to be a Louis Vuitton handbag above all, or something from Biba in my super-size!
What did you last watch on television? A programme about David Bowie, made over 10 years ago!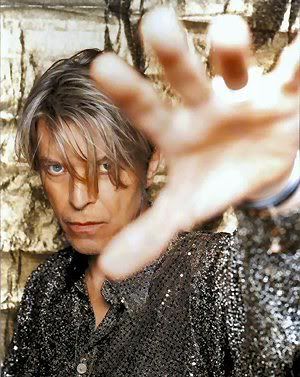 If you'd like to do the meme, here's how it works.
1. Answer the questions on your blog, replace one question you dislike with a question of your own invention; add a question of your own.
2. You may tag others or leave it open to anyone who feels like giving it a go.
This Meme was posted by the darling and talented, John, Scriptor Senex at 4/19...
And I snatched it there, mes bloggy Cat-Burglars!
Please clock, mes petits chamois-leathers, that I am not around this weekend, non...
I am visiting the bold city of York with my family for two and a bit days... So I might not be around in Bloggusland, but know once more that I am, always, thinking of you, and I shall catch up with you a toute a l'heure, mes checkered lives... Mwah! Mwah! Mwah!