Kate Bush (born Catherine Bush on 30 July 1958) is an English singer-songwriter, musician and record producer. Her eclectic and, let's face it, eccentrically beautiful, musical style and idiosyncratic lyrics have made her one of England's most successful solo female performers of the past 30 years, having sold over 20 million records worldwide.
Bush was signed by EMI at the tender age of 16 after being recommended by Pink Floyd's David Gilmour. In 1978, at age 19, she topped the UK Singles Chart for four weeks with her debut song "Wuthering Heights", becoming the first woman to have a UK number-one with a self-written song.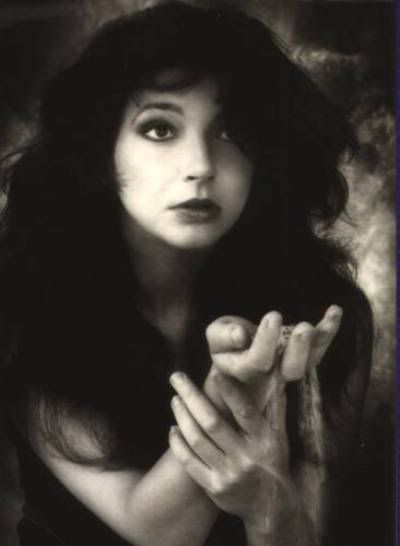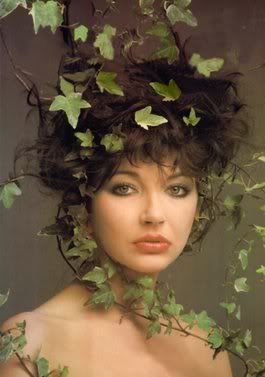 Bush released The Kick Inside, one of my favourite albums, when she was but 19, and yet many of the tracks were written when she was as young as 13. Even at an early stage of her career, Kate managed to make successfully determined decisions about her own work, and style.
"Wuthering Heights" topped the UK and Australian charts and became an international hit.
Her second single, "The Man with the Child in His Eyes" won her an Ivor Novello Award in 1979 for Outstanding British Lyric. For the first two years of her contract, Bush spent more time on schoolwork than making an album. After she gained her contract with EMI, she used her sizeable advance to enrol in interpretive dance classes taught by Lindsay Kemp, a former teacher of David Bowie.
After the release of The Red Shoes, Bush dropped off the radar, and out of the public eye for many years. She had originally intended to take a year off but despite continuing to work, 12 years would pass before her next album release.
Throughout this period, the press gave her a hard time, often citing her as an eccentric recluse, a Miss Havisham. In reality, she was creating a life for herself, sometimes eating too much chocolate, struggling with her long-term relationship and its eventual breakdown, weight gain, and later, in her second relationship, trying to give her young son a normal childhood, away from the prying eyes of showbiz.
In 1998, Kate gave birth to "Bertie", fathered by her guitarist, now-husband Danny McIntosh. Motherhood has made her extremely happy, she says, and Bertie's artwork decorated her new release, Aerial, in November 2005.
The first single from the album was "King of the Mountain", which is apparently not entirely about Elvis.
I love Kate. I identified with her art and her beauty when I was a teenager, singing along to, and reading, Wuthering Heights, and wondering if my own Heathcliffe would ever tap on my bedroom window-pane...
I envied her ability to ensnare interesting men to perform with her - Dave Gilmour, Peter Gabriel, Donald Sutherland, among others...
I wanted to have her gypsy-dancer clothes and hennaed hair, (I was a blonde, and orange has never been that interesting a colour, unless you're Vivienne Westwood, more of her later, mes bloggy church-pews!), and I identified with her longing for love and a private life.
I sort of think these song lyrics refer to that... Someone's struggle with fickle fame, and the often unwanted attention it brings and the impact that being in the public glare has on our fragile mental condition... "Why does a multi-millionaire fill up his home with priceless junk..."
And that even when you are dead and gone, the media continues to spin its evil web, creating stories when there are none, much as it did with KT.
And ultimately, for us all, there is hope of the happy outcome... A much-wanted child, a sledge called Rosebud, and the wind whistling through the house...