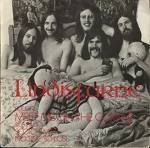 Lindisfarne's Lady Eleanor
I have always loved this song, and followed this band for years... The biggest band that never was, was Lindisfarne...
During the early 1970's this band of men from the banks of the River Tyne played to sold-out houses, and were several times upon the doorstep of greatness... Fame and Fortune indicated with long, boney fingers that the lads should draw nearer...
"Their debut album, Nicely Out of Tune, captured the group's best attributes, a rollicking, upbeat, optimistic collection of hippie/rock/folk music, somewhere midway between Fairport Convention and the early Grateful Dead, with a peculiarly urban, English working-class ambience.
"Their "Englishness," coupled with the occasionally uneven quality of their songwriting, may explain one major reason why Lindisfarne never achieved more than a tiny cult following in the United States.
"Nicely Out of Tune contained one wistfully romantic number, "Lady Eleanor," which became a favorite number in the band's concert repertory, and seemed destined to find an audience. The album and the "Lady Eleanor" single failed to chart, but the group's live shows only grew in popularity -- by the end of 1970, they were able to ask for £1500 a night from promoters, a far cry from the £300 they had been getting on the college circuit.
Their second album, Fog On The Tyne, released in 1971, marked their commercial breakthrough -- a collection of earthy, folk-type pub songs, Fog On The Tyne entered the British charts in October of that year and began a slow climb into the middle reaches. In February of 1972, however, the group's label belated issued a single off of the album, "Meet Me On The Corner." That record was number five on the charts the following month, while Fog On The Tyne suddenly rose to the number one spot. Within a matter of weeks, Nicely Out Of Tune entered the charts for the first time and eventually hit number eight; "Lady Eleanor," reissued in June of 1972, made it to number three.
That was when the media hype kicked in, raising expectations and aspirations for a group that, until four months earlier, had been a pleasant folk-rock outfit with a solid cult following. Alan Hull was referred to in the press as the most important new songwriter since Bob Dylan, and Lindisfarne was saddled with the designation as "the 1970s Beatles.""
Please have a listen to one of these versions of Lady Eleanor. The first, capturing the band on a BBC rock programme in the early bloom of youth, and the second, twinning images of the fabulous and tragic Isadora Duncan, with the LP version of Lady Eleanor...
And, here are the lyrics. What poetry, Pip?!
"Bashee playing magician sitting lotus on the floor
Belly dancing beauty with a power driven saw
Had my share of nightmares, didn't think there could be much more
then in walked Rodrick Usher with the Lady Eleanor
She tied my eyes with ribbon of a silken ghostly thread
I gazed with trouble vision on an old four poster bed
Where Eleanor had risen to kiss the neck below my head
and bid me come along with her to the land of the dancing dead
But it's all right, Lady Eleanor
All right, Lady Eleanor
I'm all right where I am...
She gazed with loving beauty like a mother to a son
like living, dying, seeing, being all rolled into one
Then all at once I heard some music playing in my bones
the same old song I'd heard for years, reminding me of home
But it's all right, Lady Eleanor
All right, Lady Eleanor
I'm all right where I am...
Then creeping on towards me, licking lips with tongues of fire
a host of golden demons screaming lust and base desire
and when it seemed for certain that the screams could get no higher
I heard a voice above the rest screaming 'You're a liar'
But it's all right, Lady Eleanor
All right, Lady Eleanor...
I'm all right here in your arms..."
Lindisfarne, the band, split and reformed, went off on a variety of solo projects and whims, fell out, argued, toured and trailed from pillar to post, from college to town, from Leisure Centre to the stage of the City Hall in Newcastle, and for years various line-ups played there again, once more to sell-out houses night after night on the run-up to Christmas throughout the seventies and eighties, until Alan Hull's untimely death at the age of fifty... Their concerts in December became something of a Christmas tradition, and I think I was in the audience at least twice, and also went to see them perform before and after Alan's death, when they were occasionally fronted by his son-in-law, who took his name, and called himself Hull-Denholm, until well into the the Nineties...
Ray Jackson played mandolin, (uncredited by Rod!), on Rod Stewart's Maggie May... Have a listen for him next time you hear it on the radio... I saw Ray climb the steps of the Civic Centre in Newcastle on the day he married, some time in the Eighties - An incredible co-incidence, given my fondness for the band...
Lindisfarne opened for Bob Dylan and Carlos Santana at St. James's Park, the Football Stadium of now-relegated Newcastle United in the year I went up to University...
And the weekend before last, I watched Rod Clements, now settled, living near my home, open the Rotary Club's Street Fair. He was playing requests on his beautiful silver guitar, for donations to our much-needed, rural Air Ambulance Service. His wife, sitting with her sandwiches and his many CDs, under a flimsy marquee, enjoying the sunshine and the many smiles... Rod wrote 'Meet Me On The Corner,' with its lyrics:
"Hey, Mr Dream-Seller, where have you been?
Tell me, have you dreams I can see?
I came along, just to bring you this song,
Can you spare one dream for me?
You won't have met me, and you'll soon forget,
so don't mind me tugging at your sleeve.
I'm asking you, if I can fix a rendezvous.
For your dreams are all I believe.
Meet me on the corner when the lights are coming on,
and I'll be there, I promise I'll be there.
Down the empty streets we'll disappear until the dawn,
if you have dreams enough to share.
Lay down your bundles of rags and reminders,
and spread your wares on the ground.
Well I've got time, if you deal in rhyme,
I'm just hanging around".
And I'm hanging around in Liverpool this week, mes Bloggy-Mops... I have set posts up to auto-post, and hadn't realised, when I set out to explore the diversity of poetry and nursery rhyme about little boys and little girls, that it would sub-consciously set me off on a week full of posts about songs that have girls' names in the titles...
A funny thing, non?! I hope you enjoy it, and that you can stick with me, in my arms, even though I am away from the pitter-patter of tiny taps on the keyboard for now... Mwah!