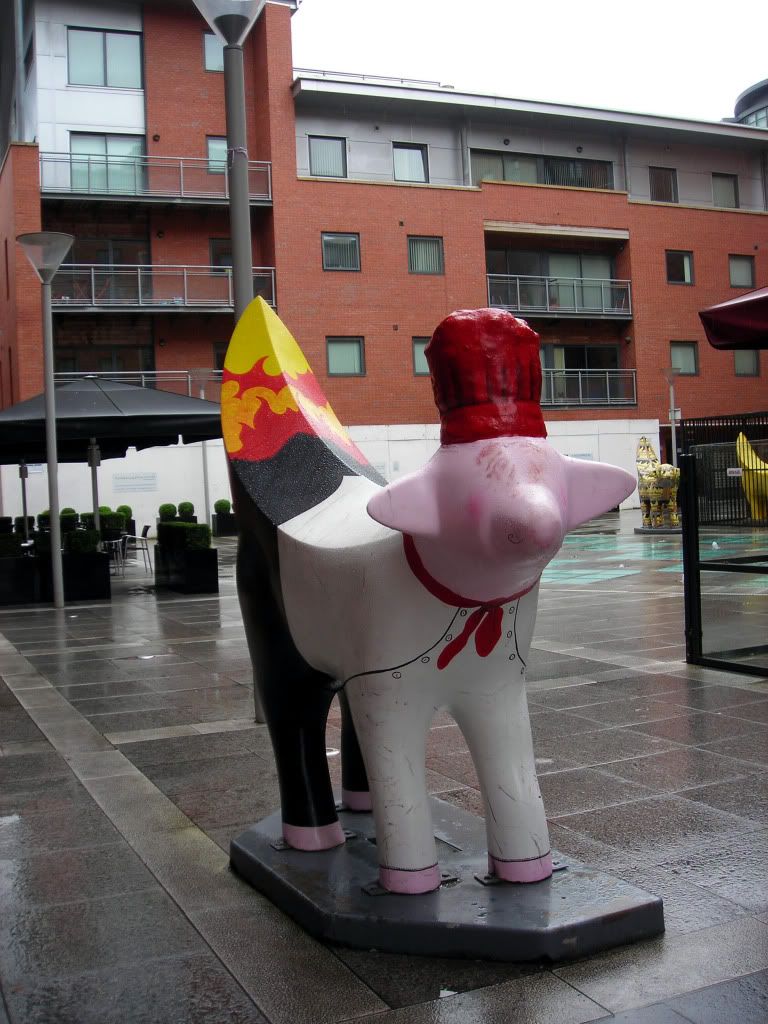 From Superlambanana, "The Super Lamb Banana was the original work of Japanese-based artist Taro Chiezo. Commissioned for the Art Transpennine Exhibition of 1998, the sculpture was a controversial, but welcome addition to the public art arena in Liverpool. Standing an impressive seventeen feet tall and comprised of concrete and steel, the statue first attracted interest from its original position on the Strand.
The unusual artwork was created to warn of the dangers of genetically modified food, whilst being appropriate to the city of Liverpool due to the port's rich history in the trade of lambs and the import of bananas.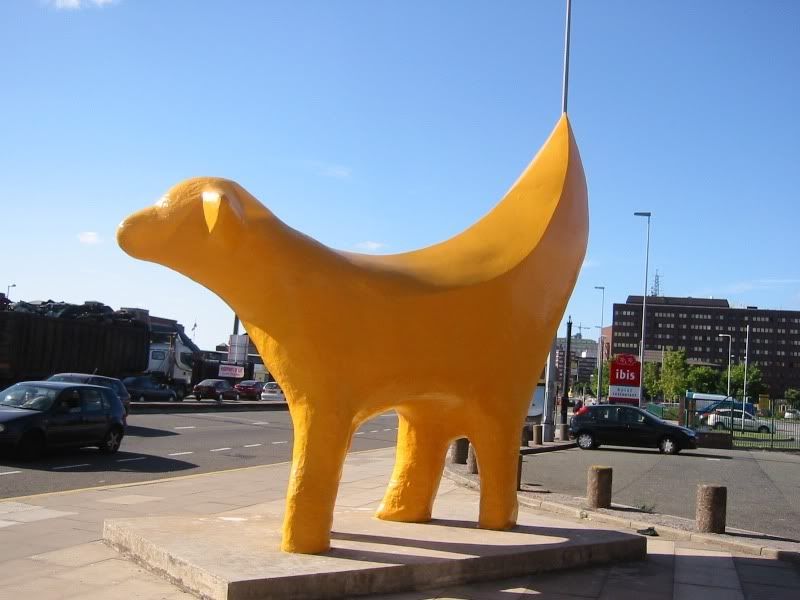 As with much modern art, there was initially a degree of scepticism around the Lamb Banana, but residents and tourists alike quickly began to see the unusual artwork as a welcome and humorous feature of the city at a time of much change and large-scale regeneration. Always intended as a piece which would change location around the city centre, it was perhaps less well predicted that the sculpture would see quite such a range of colours during its time. From the Breakthrough charity sponsored "pink" period to the quasi-vandalism that turned it temporarily into a Friesian cow banana..."
Exactly the same thing happened with Gateshead's Angel of the North by Antony Gormley...
"People are always asking why an angel? The only response I can give is that no-one has ever seen one and we need to keep imagining them. The angel has three functions - firstly a historic one to remind us that below this site coal miners worked in the dark for two hundred years, secondly to grasp hold of the future expressing our transition from the industrial to the information age, and lastly to be a focus for our hopes and fears." - Antony Gormley, sculptor
"Maybe the Angel of the North will embrace travellers with those wings and tell them that, wherever they live, here is homecoming" - Beatrix Campbell, The Guardian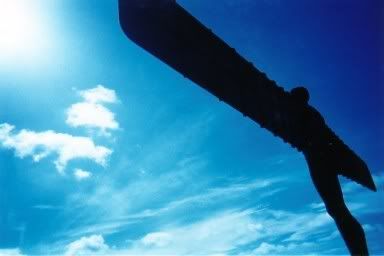 "I think the greatest thing for the 'Angel' is that Brian Sewell has classed it as rubbish, which must mean it's good…" - Eamonn McCabe, Picture Editor, The Guardian
You know I am enraptured by angels, right?!
And that I love much of what passes for art, and particularly public art, by and for so many of the people...
J'adore Antony Gormley's Angel of the North, and I now have a bit of a soft spot for Liverpool's Superlambbanana!
Hell, la Fhina's heart is big enough, my art-treasures! Mwah!