If you have ever had any time for Amy Winehouse, please go
HERE
and have a look... for I am not enabled to embed La Winehous's touchingly raw, live version of the Zutons' Valerie...
VALERIE
Gender: Feminine
Usage: English
Pronounced: VAL-ə-ree [key]
English form of VALERIA, the name of a 2nd-century Roman saint and martyr.
Apparently, Stevie Winwood, "Stephen Lawrence Winwood (born 12 May 1948 in Handsworth, Birmingham), also knew a Valerie... Steve is an English singer-songwriter and multi-instrumentalist. In addition to his solo career, he was a member of the bands the Spencer Davis Group, Traffic, Blind Faith, and Go. As a relatively unknown teenager singing with the Spencer Davis Group, his distinctive high tenor singing voice drew comparisons to Ray Charles..." (According to La Wiki P).
And here are Manchester's The Zutons...
And, did you know that the waterfront in Liverpool, where la Fhina is resting, has three important and protected World Heritage Site buildings, called the Three Graces? I did not know that until last week, mes bloggy buds... They are enormously impressive and have been beautifully conserved... I have been impressed by the architecture to be found on Liverpool's streets... The city's links to the slave trade and exporting and importing Brits and the Irish to and from the city in ships sailing off to the Land of Opportunity, America...
The Three Graces of the world famous Liverpool Waterfront: the Royal Liver Building (1908-11) by Walter Aubrey Thomas, the Cunard Building (1914-16) by Willinck & Thicknesse with Arthur J. Davis and the former offices of the Mersey Docks and Harbour Board (1903-07) by Briggs & Wolstenholme with Hobbs & Thornely. AA029396. 28/05/2002. © English Heritage. NMR.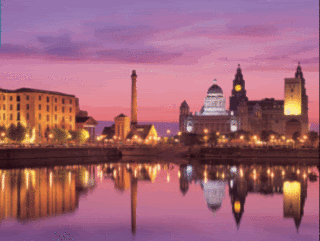 Wave to me? Go on, I dare you! I'm in the hotel on the left of the picture - Coo-eee!