Culled from la Wiki, always at her best at the start of the month, just after payday, of course...
"Rabbit rabbit white rabbit" is a common superstition, held particularly among children. The most common modern version states that a person should say "rabbit, rabbit, white rabbit" upon waking on the first day of each new month, and on doing so will receive good luck for the remainder of that month.
In some English districts it is considered necessary to say 'Hares' (not in the north - Have you heard of this my bloggy rabbit's ears?!) or 'Black Rabbits' (never!), when going to bed on the night before, as well as 'Rabbits' or White Rabbits' (definitely in the north east of England!), in the morning of the first day of the month.
Traditions also extend to saying on the first of each month: "A pinch and a punch for the first day of the month; white rabbit!" (Quite possibly!)
White rabbit is declared to be the "no returns" policy on the "pinch and the punch" the receiver felt. Origins of this saying is unknown. A small concession exists, for recipients of the "pinch and a punch," where white rabbit declaration (no returns - 'nae skinchies', in my dialect - Don't ask what it means, for I do not know! It's probably from the Viking!), is not made".
One of my fondest and most fearful childhood memories is of my grandmother, known to one and all as 'Nanna', bred from Scottish stock, one of 13 siblings, dolled up in her best woollen coat ('Dark - hides the marks!'), black hat atop her permed white curls, false teeth in and standing to attention, (as if she were off to see the doctor in fact!), her best sixties frock on underneath, with a white rabbit paw brooch adorning her lapel, set off, of course, with an amber crystal-jewel...
As a tot, I gingerly stroked the rabbit's paw, thought to bring good luck.
But it terrified me quand meme, all the same, mes bloggy Alices...
What are your memories of your grandparents, mes bloggy grandchilders?!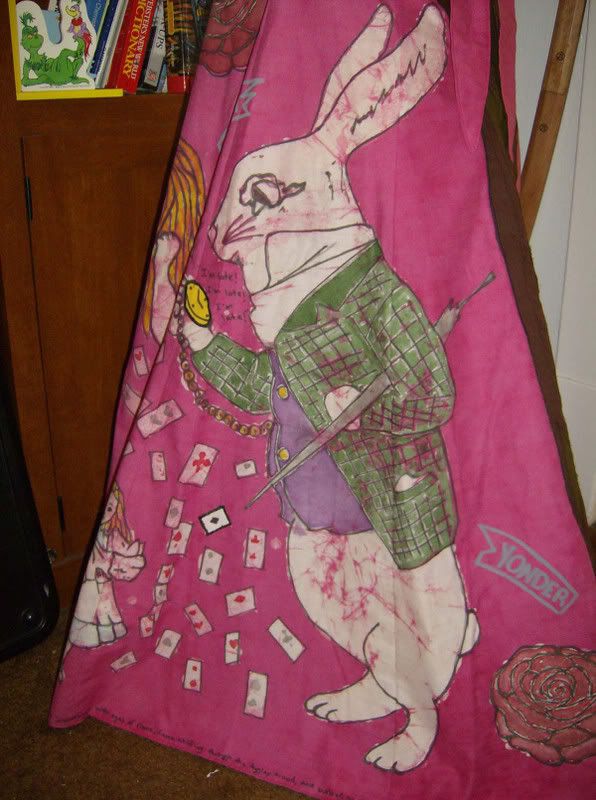 And if you're a grandparent, or mum, or dad, or guardian, or aunt to Teen Terrorists and their Tween Accomplices, come and visit us
Mad, Manic, Mamas...
We're mad, we're manic and we're possibly menopausal, and we're desperate to share our Tales of Teen Terror, oh, and occasional love!