While it seems to be sizzling everywhere else, here in the (often frozen) north...

"It's mizzling out!"
Meaning
:
Misty rain or drizzle...
To rain in fine drops...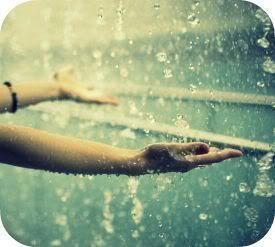 to mizzle (third-person singular simple present mizzles, present participle mizzling, simple past and past participle mizzled)
(British

,

intransitive

)

To rain in very fine drops.
To abscond, scram, flee.
Synonyms
(rain in very fine drops): drizzle
Quotations
19th c. Epigram quoted by Thomas Wright (1810 - 1877), reproduced in Webst 1902-1913:



As long as George IV could reign, he reigned, and then he mizzled.




1850, Charles Dickens, David Copperfield



"Now you may mizzle, Jemmy (as we say at Court), and if Mr. Copperfield will take the chair I'll operate on him."




1986, Joan Aiken, Dido and Pa




"Now you better mizzle," Dido told him. "Get back to your own quarters, fast.
Ah, the British weather, eh?! And you know we English never stop talking about it... Whenever we've got to make small talk, weather shall be the subject... You bet!
Global warming? Pffffffffffffffffttttttttttttttttttttttttttttttt!
How is the weather chez vous, mes bloggy Weather-Girls and Boys?!