La Wiki knows...
"Delft is a city and municipality in the province of South Holland (Zuid-Holland), the Netherlands. It is located in between Rotterdam and The Hague. Delft is primarily known for its typically Dutch town centre (with canals); also for the painter Vermeer, Delft Blue pottery (Delftware), the Delft University of Technology, and its association with the Royal Family.
The city dates from the 13th century. It received its charter in 1246.
The association of the House of Orange with Delft began when William of Orange (Willem van Oranje), nicknamed William the Silent (Willem de Zwijger), took up residence there in 1572. William was the leader at the time in the struggle against the Spanish, the Eighty Years' War.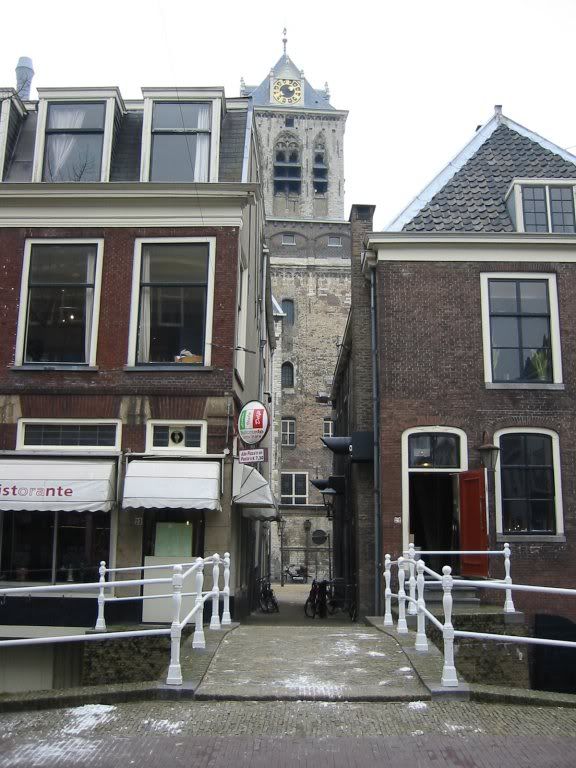 Delft was one of the leading cities of Holland and was equipped with the necessary city walls to serve as a headquarters. When William was shot to death in 1584 by Balthazar Gerards in the hall of the Prinsenhof, the family's traditional burial place in Breda was in the hands of the Spanish. Therefore, he was buried in the Nieuwe Kerk (New Church), starting a tradition for the House of Orange that has continued to the present day.
Delft is well known for the Delft pottery ceramic products which were styled on the imported Chinese porcelain of the 17th century. The city had an early start in this area since it was a home port of the Dutch East India Company.
The painter Johannes Vermeer (1632-1675) was born in Delft. Vermeer used Delft streets and home interiors as the subject or background of his paintings.
Several other famous painters lived and worked in Delft at that time, such as Pieter de Hoogh, Carel Fabritius, Nicolaes Maes, Gerard Houckgeest and Hendrick Cornelisz. van Vliet. They all were members of the Delft School. The Delft School is known for its images of domestic life, views of households, church interiors, courtyards, squares and the streets of Delft. The painters also produced pictures showing historic events, flower paintings, portraits for patrons and the court, and decorative pieces of art".
This is the area that the pilgrims left from to travel to the New World...