La Wiki had her mouth full the other day, when I walked into the Temple of Wisdom...
She told me, between, great gobfulls of cheese and bread that. "Dutch cuisine is shaped by the practice of farming, including the cultivation of the soil for raising crops and the raising of domesticated animals and the history of the Netherlands.
The Netherlands is renowned for its varieties of cheese and is where Dutch process chocolate originated. Dutch cuisine is somewhat limited in its diversity of dishes (like many Northern European cuisines) and includes a high consumption of vegetables compared to the consumption of meat. Dutch cookies (butter cookies) are popular in the United States and are sold in round, decorated tins usually around Christmas".
"Dutch agriculture roughly consists of five sectors: fishery, animal husbandry, and tillage-based, fruit-based, and greenhouse-based agriculture. The last has had little or no influence on traditional Dutch eating habits...
Dutch people invite friends over for "koffietijd" (coffee time), which consists of coffee and cake or a biscuit, served between 10 and 11 a.m. (before lunch) and/or between 7 and 8 pm (after dinner) The Dutch drink coffee and tea throughout the day, often served with a single biscuit. Dutch thrift led to the famous standard rule of only one cookie with each cup of coffee. It has been suggested that the reasons for this can be found in the Protestant mentality and upbringing in the northern Netherlands. The traditionally Catholic south does not share this tradition (in Limburg a vlaai (sweet pie or pastry with filling), cut in eight pieces, is traditionally served when visitors are expected).
A popular Dutch story (never confirmed) says that in the late 1940s the wife of the then Prime minister, Willem Drees, served coffee and one biscuit to a visiting American diplomat, who then became convinced that the money from the Marshall Plan (European Recovery Program, the primary plan of the United States for rebuilding and creating a stronger foundation for the countries of Western Europe, after World War II) was being well-spent.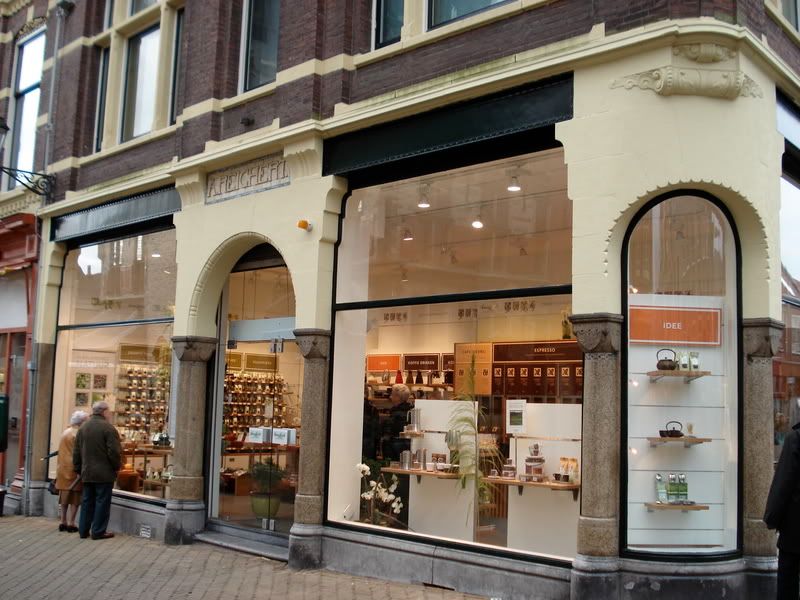 "Café au lait is also very common. It is called koffie verkeerd (literally "wrong-way-round-coffee") and consists of equal parts black coffee and hot milk. The Dutch drink tea without milk and the tea is quite a lot weaker than the typical English types of tea which are taken with milk. Other hot drinks used to include warm lemonade, called kwast (hot water with lemon juice), and anijsmelk (hot milk with aniseed). In the autumn and winter the very popular hot chocolate or chocolate milk is drunk. Both anijsmelk and kwast are hardly drunk anymore and have lost their popularity"
Of course, some of the Amsterdam Coffee Houses are famous for more than their coffee... but that is not, I repeat NOT why la Fhina is over there!