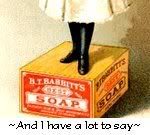 What does the Oddbox Soapbox reveal to us this week, mes bloggy loves?
The tallest man on the planet - at 8'1 - Incroyable, non?
A manifesting robot that you can use to check out what the neighbours' barbequeue looks like, and how dark their patio stain is?
Motor-racing and mania in hand-built carts that look like First World War 'planes! What would yours look like?
The Irishman and His Castle - Get your envelope filled in now if you want to find The Irish Man of Your Dreams - And remember to include a return address?
Kite-flying in fields, together with the French pretending to be clouds - I'm a Cirrhus Discombobulus - What are you?
Whistling-mad Indians with balls of steel!
Clive the Cat - All claws and whiskers - Found 3 years after he went missing - Beautiful, non?! Would you have come forward to collect such a 'claws-first' kinda cat, mes bloggy pet-lovers? I do wonder!
And finally mad manic cows run amok in a supermarket, chased by mounted cowboys - Animal Crackers, or what?!
CLICKIE