What is it that appeals to me about the art of Raoul Dufy on my walls - Or waiting to go on my walls, I daren't say which?
I honestly couldn't tell you... Isn't that terrible?
The pictures I have, destined one day for my downstairs loo, are a triptych of A4 landscapes by Dufy of the river Seine as it runs from Paris down to Rouen in Normandie, where GJ and I spent a precious 3 days to celebrate his 40th Birthday, seven years ago... My father looked after Le Grizz for us, and we would be very grateful to him for his love and generosity, (for all of our lives, in fact).
I probably love Dufy's obvious love of la belle France, and the apparently swift, and energetically captured, azure blue of the seas and the skies... La mer et le ciel... The translation of images is delicate and light in touch, humorous (to me), and the tender palette is surely evocative of another Belle Epoque...
Another time, another place, non?!
And, at the same time, still so wonderfully contemporary. At least it feels so to me...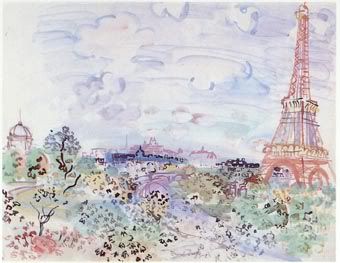 But then, what does la Fhina know? Will that do, mes bloggy art critiques?
What do you think?