I've temporarily come down from the parapet at Crawford Towers, to tell you how much I love this colourful image... I saw it recently on a home improvement programme, in a home in Chicago, and I remembered how the colours and deco style appealed to me. I looked it up, as it has been long months since I was able to trawl around shops at will - I didn't get around to doing that much, really, while bringing up Grizz and nursing my sorry back, but I do like museums, art galleries, art shops, poster shops, that kind of thing...
Usually, whenever we travel abroad, I find myself bringing some form of poster, or postcard art, back with me... Sometimes they survive the journey, sometimes they don't... That's the sorry thing about buying art in disreputable corners of the world...
Over the next few days, much like the lovely Derrick does in his 'Saturday Spotlight', I shall explore some of the images that grace the walls of my home...
(That is, they would do if we had redecorated and actually had affixed them to the walls!)
Courtesy of ma soeur, la Wiki: "Leonetto Cappiello (9. April 1875 in Livorno, Italy – 2. February 1942 in Cannes, France) was an Italian poster art designer who lived in Paris. He is now often called 'the father of modern advertising' because of his innovation in poster design. The early advertising poster was characterized by a painterly quality as evidenced by early poster artists Jules Chéret, Alfred Choubrac and Hugo D'Alesi. Cappiello, like other young artists, worked in way that was almost the opposite of his predecessors. He was the first poster artist to use bold figures popping out of black backgrounds, a startling contrast to the posters early norm.
Cappiello had no formal training in art. The first exhibition of his work was in 1892, when a painting was displayed at the municipal museum in Florence.
Cappiello started his career as a caricaturist illustrating in journals like Le Rire, Le Cri de Paris, Le Sourire, L'Assiette au Beurre, La Baionnette, Femina, and others. His first album of caricatures, "Lanterna Magica," was made in 1896. In 1898, he moved to Paris, and his caricatures were published in Le Rire for the first time.
Cappiello made his name during the poster boom period in the early 20th century, with designs markedly different from premier poster artist Jules Chéret. His first poster, for the newspaper Frou-Frou, was made in 1899. He signed first contract for posters with printer P. Vercasson in 1900. He was married to Suzanne Meyer Cappiello in 1901. Between 1901 and 1914, he created several hundred posters in a style that revolutionized the art of poster design. Cappiello redesigned the fin-de-siècle pictures into images more relevant to the faster pace of the 20th century. During this period, Capiello continued as a caricaturist.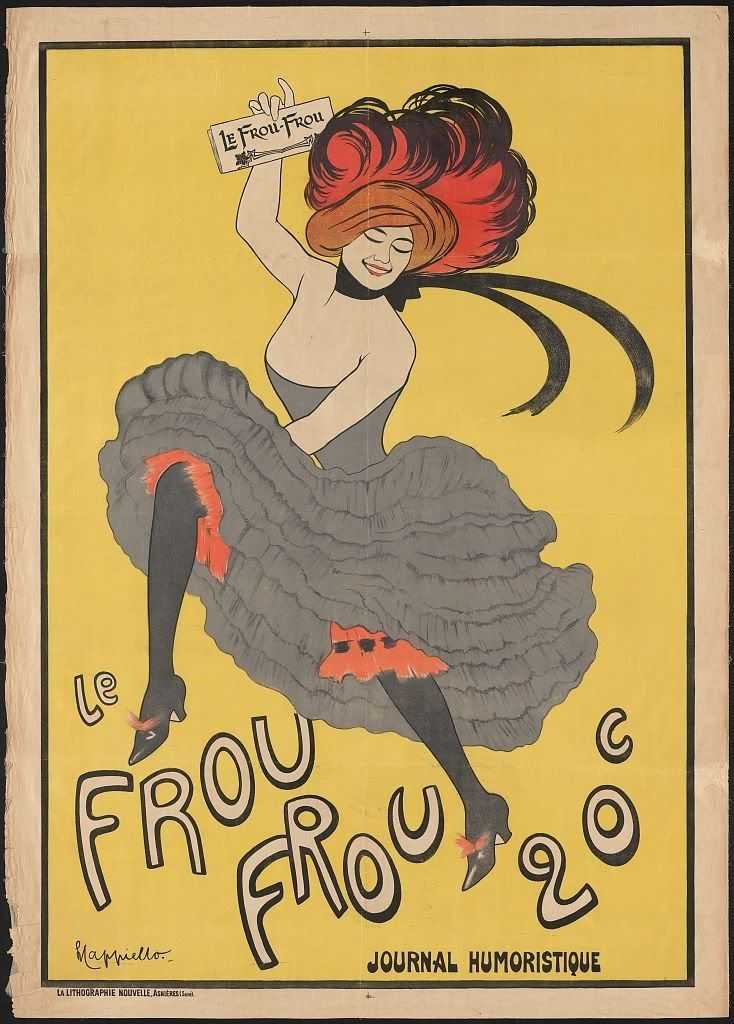 During World War I, Cappiello worked as an interpreter in Italy. Afterwards, he devoted his career fully to poster design. In 1919, he signed a contract with publisher Devambez and he remained with the agency until 1936.
Over the course of his career Cappiello produced more than 530 advertising posters which surprise and delight the viewer. Today, his original posters are still collected, sold at auction and by dealers around the world".