I have been wearing the same ear-rings, (
Pilgrim
crystal studs, sort of orange in colour - gilt setting - Bargain basement trinkets that I bought for myself on my first outing after being out of commission for months with my back injury), for a month...
I wear them because I no longer own any gold ear-rings and the Pilgrim ear-rings are all that I own to go with a lovely gold necklace I commissioned last year after I had melted down some plain jewellery that was left to me by my mam and dad...
I could not wear their jewellery - Sizing and style issues - so I saw this as a way of keeping them both close to me, while enjoying a piece of jewellery that is very much more my 'thang'...
I took with me to the jeweller a brooch my mam had given me some years before for my birthday - Next month, by the way... 'Ere I was ever owned by cats, she had chosen an enamelled dark pink sparkly crescent moon with golden stars upon it and a black cat (a Witch's Familiar, perhaps?) standing to attention in the shadows. I asked the jeweller to make me a waning moon of the same size and fashion... That he managed to do so so well is testament to his great skill...
Of course, when I tootled off to collect it, I had no idea that it would look as if I'm wearing a golden scythe! A Sword of Damacles, perhaps... Peter Cushing and all that... Don't fear the Reaper!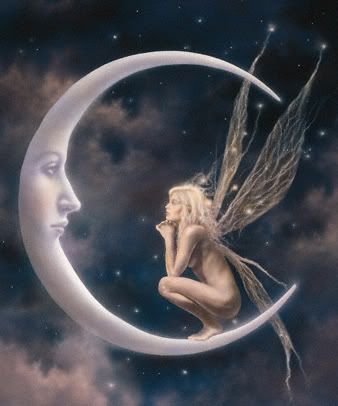 Still, it's very me, non?! Very 'witchety-witch.' ...Believing in magic, spells and wonder, mystical and needful things...
Sisters of the Moon.
As if dreams might come true.
And I found myself crying the other night, while watching
True Blood
on TV, as the character, Tara, lay down next to her mom on the sofa and they comforted one another, in spite of their rather troubled relationship...
I touched the moon as if it were a talisman, a charm ***, and I wiped away my tears, as I acknowledged once more that I can never have that moment again with my mom who passed just over 13 years ago last month.
Christmas Day is her birthday, so I guess my nostalgia comes along with the season, non?!
Did you know that the
'Waning Moon
is symbolic of letting go, surrender, release, quiet time, contemplation, and a time of incubation'.
So there you go...
*** I'm going to write about charms next - The Passion for collating and recording our stories... For making our mark in life.