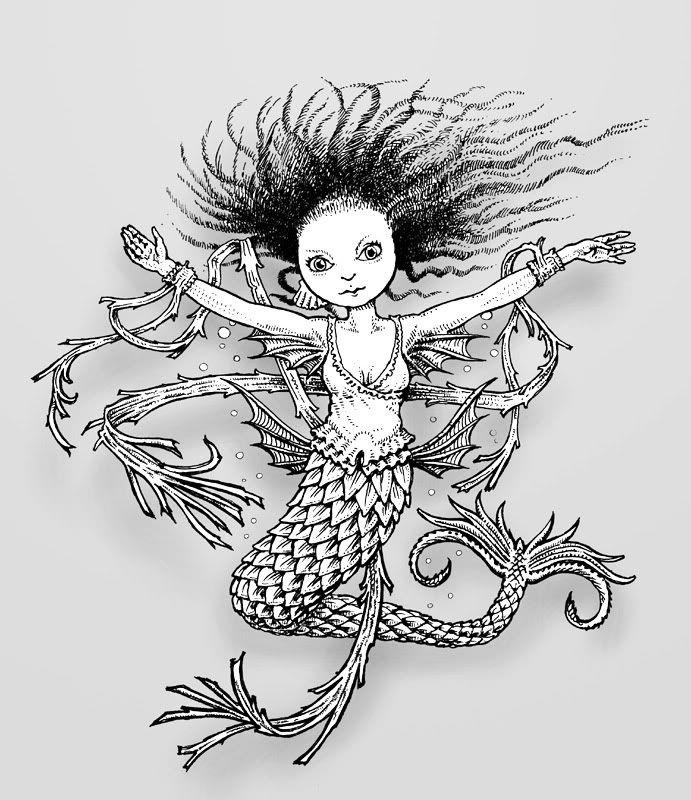 I'm in Edinburgh today for a gig, my beauties - Please excuse me from visiting and chatting - You know I'm a 'dorty gadaboot' these days!
When I first started this blog I had no idea of the kind of wonderful people, indeed friends, it would, often magically and serendipitously bring me into contact with.
And I sometimes get e-mails from dear folk whose attention I've drawn, or from those firm friends that I love and admire dearly, or in this case from a great artist whose work I had unknowingly borrowed from t'Internet!
I little knew when I wrote on 30 March 2009 in The Pen Is Mightier... and googled 'Rotring' via Photobucket in order to find pictures to illustrate my piece about a much-loved, but sadly deceased pen and chose a startlingly beautiful picture of a little mermaid, that I had inadvertently stumbled upon the work of someone who has made art his life.
And he is such a lovely, decent, man, is Tony Hough. He said, "Glad you liked my little mermaid enough to illustrate your interesting treatise to the Rotring pen with her. Yes, she was drawn with one, a special iridium coated refillable one that I got from the woman at the local art shop for half price - a real coup!
You can see more of my work (including a coloured version of her) at my gallery site
HERE
It would be sweet if you could add a link to this gallery in your posts if you use any more of my work in your blog (and you're very welcome to do so!)
Regards,
Tony Hough
You might also like to link to my
BLOG
"
This is a man who creates wonderful, and sometimes frighteningly scarily evocative fantasy art, (so be careful if you are of a sensitive or nervous disposition). He has made art his life and earns his crust, "
creating strong figurative art and illustrations of odd and fantastic things: Warped reality, myth and fable, future visions and imagined horrors, in a variety of media for private collectors, games and publications; album covers, posters and backdrops for bands and nightclubs; murals and community art, concept designs for film and TV programmes."
He has even trained as a tattooist - I feel me some ink coming on!
This man could be another blog-twin, "
My passion for intermixing the real and the bizarre runs through all my work, as you shall see...
. "


Indeed! And if you go anywhere near the Hat Factory Luton, where Tony is wont to exhibit, please tip Fhina's hat at Tony for her?
Ta muchly!
Oh, and if you've time, please drop me a line as to what kind of art shakes your world these days - S'il vous plait? Mwah! Gotcha!
Ciao mes Bela Lugosis!