I told you it might be a week of Fhina Crawford-stylee, Crazy in the Coconut, non??! It being my birthday week,'n'all...
Did you know, mes bloggy nutcrackers?
"Nyctophobia is the fear of darkness.
Lygophilia is the love of darkness.
And, do you identify with this gem?
"All of us are born with a set of instinctive fears - of falling, of the dark, of lobsters, of falling on lobsters in the dark, of speaking before a Rotary Club, and of the words "Some Assembly Required"."
DAVE BARRY (1947-)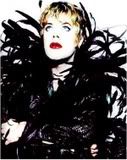 Very Eddie Izzard-esque - and courtesy of her mistress, Auntie Beeb!
I just love this picture, and wish I could summon up one inch of this glam!
Anyhoon yesterday I feared I might have to be surgically removed from a sweet birthday pressie proffered to me by my dahlink friend, Sandy Hill, whom I had not seen in two years... (And, I ask you, if that were your name by your first marriage, would you ever have taken it?!)
Said giftette is a beautiful scarf fashioned from fluffy, multi-coloured pom-poms (which her five year old son could have made at school, but she swears to me he did not!)
It is wondrous and winds around the neck in a plaited, bobbly, bobby-dazzler fashion and is soooooooooooo me. Lots of my colleagues commented on how lovely it really was and 'Very me...'
This from a friend who, when I told her I was blogging and had made lots of compadre bloggeros and bloggeristas, (I also mentioned the fledgling leeks too, to be fair), said, "Ah, but they do know that you are mad - completely barking, non??! "
The cheek of the whelp... I ask you?! (I do resemble that remark, tho'!)
Don't be afraid of the dark - The light is never very far away...