I've lost my inner Scarlett, various versions of whom have graced my pages for months...
With my new post header photo, and the others I shall post this year, (Goddess Wiki and Me-not-falling-under-a-tram willing), I'm embracing my inner Grey Gardens...
I watched this movie over the hollingberries. It was my one and only Holiday Tantrum. I'd been really fed up with the family totally hogging the telly, with me sitting, (we've been snowed in a lot of the time, je vous jure!), with my headphones on, reading blogs, surfing t'Internets and watching online stuff... True Blood Series 2 anyone?!).
I wanted to watch this film I had read about, which had received rave reviews, and I'd never even heard of Grey Gardens, although the story has been turned into plays and even a stage musical...
For those who don't know, here is the gist... (For those that do know, why are you reading on anyway, and 'Get a life!', 'coz Fhina's got this one covered!):
Edith, "Big Edie" Ewing Bouvier Beale and her daughter, Edith "Little Edie" Bouvier Beale were the aunt and first cousin of Jacqueline Bouvier Kennedy Onassis and Lee Radziwill.
The two Edies lived together at Grey Gardens for decades with limited funds, resulting in squalor, (having lived amidst copious cats and raccoons), and almost total isolation.
Grey Gardens
is a 1975
cinema vérité
documentary film by Albert and David Maysles, which followed the everyday lives of the two Edith Beales, who lived at Grey Gardens. The film was screened at the 1976 Cannes Film Festival. And after the film aired and some probably intrusive media attention, Jackie O and Lee strolled on up to Grey Gardens to have the house made habitable again - At least for a time...
And, in 2009, the story was re-visited for HBO with Jessica Lange and Drew Barrymore as the Edies, and this was the very moving version I got to see, having tossed my dummy out of the pram, and relegated GJ and Grizz to TVs upstairs in the cottage.
So the film is the story of these two women, their hopes of a life in the theatre, and their thwarted loves, dreams and aspirations, and the irrefutable magic that kept them living on in Grey Gardens for over fifty years, in spite of severely dwindling circumstances and probably also deteriorating mental health conditions...
In the Seventies, a while after the death of Big Edie, Little Edie decided to sell up. She put the house on the open market for $220,000, and repelled all would-be buyers and 'tyre-kickers', who just wanted to tear down the house and build a Millionaire's Mansion in its place. She eventually offered the house to Ben Bradlee and Sally Quinn, the famous Washington Post editor and journalist, respectively.
Sally set about rebuilding the wonder of Grey Gardens named after the colour of its walls, the sea and the dunes, even having some of the original furniture renovated and restored to its original condition. What remains is beautiful, heart-warming, awe-inspiring and somehow homely, in spite of its grandeur.
...It turned out that Little Edie finally settled in Florida, swimming every day. She even managed to put on a short-lived cabaret show in New York... Grey Gardens has developed a huge following in the gay community from what I've researched online... Rufus Wainwright wrote a song with this title for his 2001 album...
What continues to amaze me in life, is despite the fact that I try to be an avid Culture Vulture, that some trends and interesting tales have managed to escape my notice... I attribute that to the long years I spent Bringing Up Baby, when I scarcely glanced at a magazine or newspaper and spent hours and hours at Soft Play, trying to ensure the darned infant (affectionately nicknamed the 'Child from Hell'), slept at night, and wasn't doing a motor-cycle 'Wall of Death' impression around the walls of his bedroom seated atop his Go-Kart!
Well, I'm embracing my inner Grey Gardens, mes bloggy chums... Can anyone tell me where I can get hold of a raccoon in the UK??!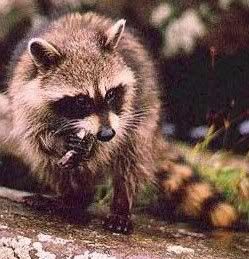 Thank you to those of you who have embraced my inner techno-phobe, mes bloggy buds... I repel technology I do! You have been of enormous help to me in terms of uploading pictures... I am currently a member of flickr, picasa and have also been Googling like Crazy! Merci mille mes braves! Bear with me, I'll get there eventually! Mwah!
MAIN PHOTO SOURCE
today copyright the Huffington Post