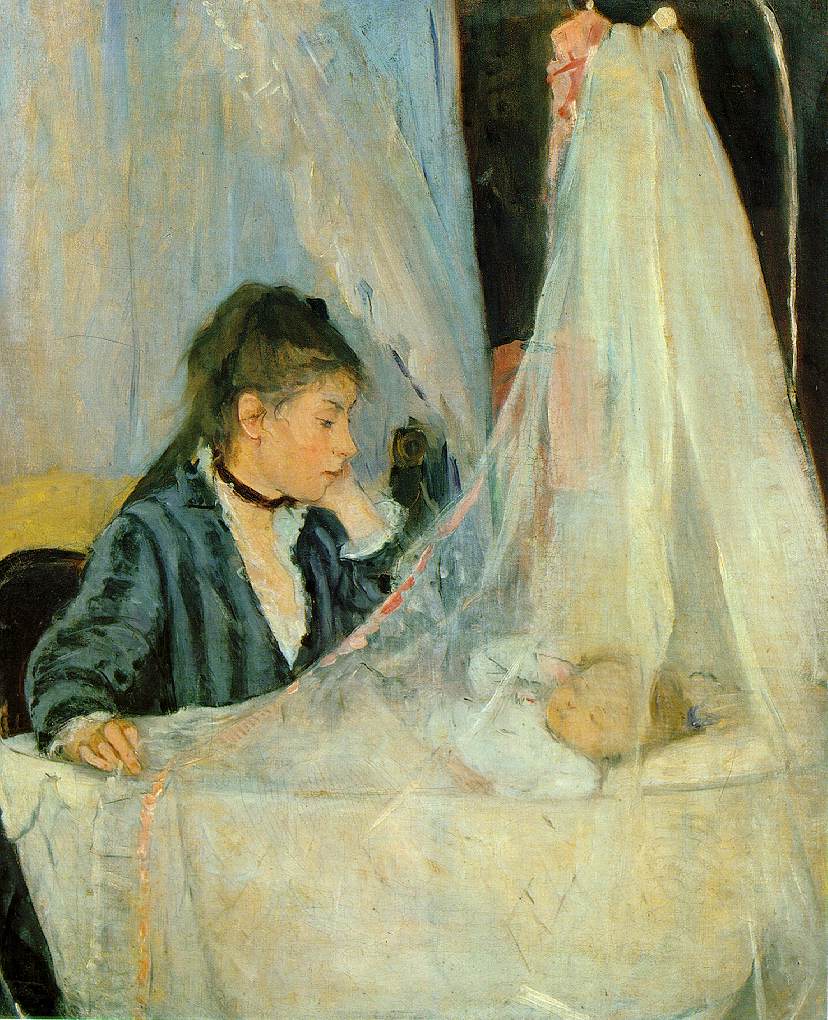 I don't know what's happened to my blogging Mojo, mes bloggy loves... Nor my font, it seems. Double click on this beautiful picture from Berthe Morisot, if you wish to see more of the detail. This is one of my favourite images. Grizz looked just like that at that age.

Anyhoo, I seem to flit like a gaddy butterfly, from subject to subject, from write to wrong, these days...

I keep thinking of things to scribble about. My grand-mother, 'Nanna', My late father. Something funny someone's said... And I am cold and the words don't and won't come...

My son is eighteen in one week's time. Eighteen. 18. An adult. Legally. Legit.

And, by chance, pure chance, I've returned to my nemesis, Weight Watchers to watch my weight. Hopefully for it to fall and not balloon further, j'espere...

It's been a very long January month, hasn't it? I've never felt like this as much before, as I have this long last month... I also never felt warm at all last month. Even at work I've taken to wearing a jaunty outdoor scarf - One of a selection I have in readiness at home.

I was wearing one long, fluffy, furry purple one last week and had it around my neck then draped down my body, over my knees - I was even wearing it at meetings, in front of stakeholders...

It's practically a blanket!



I grow old, I grow old, I shall wear my scarves unfurled.



I need some sartorial Ersatz... Some glitz, some glamour, some glee...



And I think there are many of us women who are admitting to feeling a little lacklustre at the mo'. Our kids are growing and about to flee, or fly, the shaky nest. We're having to re-discover who we are, having perhaps forgotten who we ever were to start with; Before the majority of us put our lives on hold, our wild hearts stilled, to try to raise decent childer... To bring them up, subjugating ourselves, our very souls, for the time being...

Who can blame us for feeling frozen, stalled, discombobulated even... Apart from the wobbly bits that is, which proceeded to move and stir, rattle and roll, ebb and flow of their own volition.

So now it's time to tackle the wobbly bits.

Then I'll have a go at dealing with my wibbles...

Next week I'll do the cake thing, search for a suitable pressie for The Birthday Boy... A card with 18 on it in big gold letters... Some candles.

Maybe I'll see my true self reflected back in the candle's flickering flame.

It's a funny old life, non??!