I am a firm believer in connections with others, in electricity sparking across the Blogworld, through all of us who move, and shake the tree in whimsical, wise and wonderful ways...
And through my dahlink Saz I found this place, where
A Whimsical Bohemian
lives...
How magical! And once a year this talented artist and illustrator hosts a world-wide competition for bloggeros and bloggeristas to get to know one another and to have the chance to receive a sparkling giftette across the miles, winging its way from the hands of one creative blogger to another...
I love pressies, me! Ever the Only Child... One can never have too many presents!
Well you can, but you know what I mean... I'm really not going all Material Girl on your ass!
I could never afford all that plastic surgery!
So, what do you need to do for a chance to win a little something? Patience, my pets, I'm getting to that!
I love the idea of magical moments, traces of serendipity in life... So I am drawn to this Magic Carpet and its promise of delightful pleasures at the end of an air-borne journey...
I am currently reading A.S. Byatt's latest novel, The Children's Book. For me, it comes very close to her previous spell-binding novel, Possession...
If you love art and history, writing and literature, theatre, high-drama and the bustle of Edwardian skirts, and you're not afraid of a surfeit of historical research detail and a bit of gore, incest and rumpy-pumpy, you might want to sit a while on that Magic Carpet and allow yourself to float away in the reverie of dreams that can only come from losing yourself in a book...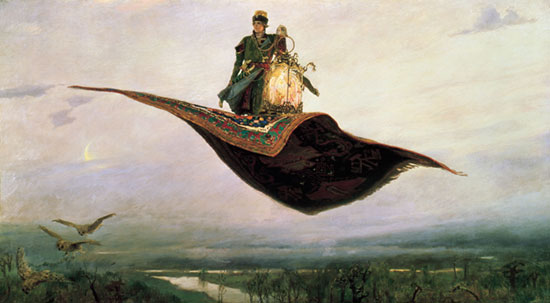 Helen Dunmore wrote in the Times, "This is a long, packed novel, deliberately discursive and crammed to the gills with knowledge about subjects as diverse as the foundation of the Victoria and Albert Museum, the firing of a kiln, the requirements of an MB degree in 1903 or the content of the Grande Exposition Universelle in Paris in 1900. Byatt can seem almost floridly informative, but there is a backbone of purpose in it. She anatomises the era's conscious, willed dedication to the idea of progress, while never slighting its real achievements. (...) The panoramic quality of The Children's Book is achieved at some cost to brilliance of characterisation and narrative drive. Its success is as a novel of ideas, forcefully and often memorably expressed, while the story follows darkening fortunes into a chastened postwar world."
Et alors, if you want to have a chance to win the novel, (Fhina shall offer an arty-crafty alternative, if you are the winner of this competition, as selected at random, (does he ever do anything that isn't done at random??!), by my man-child Grizzles, but have already read The Children's Book), please feel free to leave a comment down below, and the winner shall be announced on 15 February, provided you have left a link to where I can contact you for your addy, and so on...
And if you'd like to participate in One World One Heart, then please go and say hello to Lisa and all those wonderful people who are travelling on this year's Magic Carpet Ride!
Go on, go on, go on, go on, go on! You know you want to!
Rub that lamp and leave a comment - Please?