For some, whatever, reasons I have been rather reticent to show you much of my city...
I fear the silent stalker, the squalling internet troll-baby, the slip of a thief in the night.
Call me daft!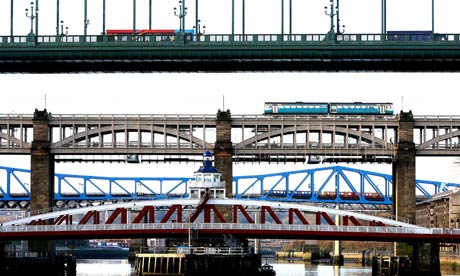 Married to an IT Space Cadet, as I am, (as well as having been previously shackled to the Crown for almost 25 years!), I have been particularly careful of spilling too many beans about who I am, where I live, the places I haunt.
How do you feel about that, in your case, mes bloggy loves?!
And now?
I think, 'Who cares'!
So, here goes!
Newcastle is a very 'bridgy' city...
We have seven, in fact...
Here they all are, for your delight and delectation! Click on the pics to get the full effect, s'il vous plait?
The top picture shows our newest bridge - Gateshead's bridge, in fact - The Millennium Bridge -
Known by everyone as the 'winking eye', or the 'blinking eye' because of the way it opens, just like an eye does - As in the picture, allowing boats to sail further up the foggy Tyne, just as they have for centuries...
Fhina's eyes are open! ...Nowadays, so is her heart.
There are no secrets between us...
Friday was fine - I survived my last day of in the office! Mainly, I did it by not telling people it WAS my last day until I had three minutes left before I had to leave the office!
I recommend it as a way to leave without actually bursting into tears, leaving the last memory of you with people you love, as a right snivelling wrecklette!
Now, tell me your secrets?
Pretty-please?