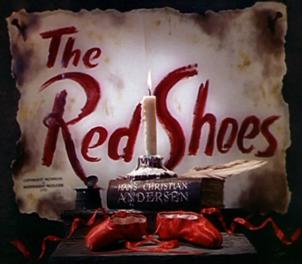 Last time I was here I mentioned my latest pair of shiny red shoes. I wear red shoes a lot. They're my 'go to' shoe! And, unlike many women, I'm not a big shoe person. I try to hold onto comfortable shoes for years, and hate buying new ones, as I fear they will tear my tender toots to shreds.
As they often do!
I like handbags, though. I've got a red clutch bag that I adore and wish I could use more. It's very like this one, made by
Karina Hesketh
, via
Pin Up Polly
.
So, red shoes. I'd never really thought about it until a therapist, not mine, noticed my shoes recently - She drew an analogy to the film, Red Shoes, by Powell and Pressburger. A film that I'm not terribly familiar with - About why I choose red shoes... What draws me to them.
I like the colour red, for a start. I'm currently sitting by the heart(h) of my home and it's painted a warm dark, almost-blood-red. So are two other walls in the room. The rug under my feet is deep red wool with a small Rennie Mackintosh-style rose stripe.
This has got me thinking now. My kettle is a red Duralit model. We've only just thrown out the matching toaster, because it no longer functioned as it ought. The new one is silver and looks like a commercial toaster - I like tough things! I'm prone to being a little bit cack-handed when it comes to handling implements...
I started to ponder on the subject of red shoes. And then I realised that I don't think I've ever been without a red pair - of boots or shoes - in my wardrobe.
I have a short 'Pixie'-like pair of boots for winter. Once they're on my feet, I hardly ever take them off. Lourdes knows what I'll do when they finally wear out! I'm hoping they won't. Ever.

I've also got a calf length pair which I haven't seen since before last winter, and when the kitchen renovations began a lot of schtuff went off with the house-faeries!
Thinking back to the Eighties, I wore a matching pair of teetering court shoes in rotation for my work in a factory shop-floor's office - Very
'The Rag Trade'
- One was blue, one red.
At University I remember going with my then boyfriend, now my husband, and his friend to a shop in the city where I fell for a long red pair of lovelies that kept my tootsies warm for years...
I wore flat shoes a lot then. Turquoise pumps with a yellow star across the front. I remember another pair that were orange with green soles. I like colour in my life and I'm not afraid of it. For years I did steer clear of black as it made me look very pale. Now I've made my peace with black. I've also always had a black pair of shoes too, while I'm on about it.
Black and red - I used to wear black and red combined back in the Eighties. A colleague said he believed they were my 'war-like colours'. I might have been angry during some of those years, when I couldn't achieve promotion at work, owing to recruitment freezes, in spite of my bosses telling me I should have ambitions towards promotion. I became a little twisted then. All those years seem so far away from my life as a fledgeling counsellor and soon to be trainee psychotherapist now, I must admit...
My favourite ever car was my red Alfa Romeo. We had an earlier mustard model, but the red stole my heart until it rusted to scrap on the drive-way. I thought it looked like a crouched tiger when it wasn't moving. Red obviously features muchly in my life.
Why?
I found this short article - Well, why do the work, when someone else has? I'm lazy good like that!
"Scientists have finally made a breakthrough, tackling an important issue close to the hearts of many people: "Why do women wear red shoes?"
Dr Elaine Webster, a Sociologist from Otago University, New Zealand has spent the past six months asking why women wear red shoes. And, she has concluded that young women wear them for excitement, and out of a desire to be noticed; whilst most men associate red shoes with sex and sin.
Dr Webster, whose long term interest is "dress and identity" conducted the research after being impressed with the way that women spoke about their red shoes. She said:
Women always say 'my red shoes make me feel great, I love my red shoes'. They never say 'I love my brown shoes'.
Many of the women interviewed made a connection between their red shoes and Red Shoes, the film of Hans Christian Andersen's fairytale, or Dorothy from The Wizard of Oz.
Dr Webster believes footwear, more than any other items of clothing, has a special quality in our lives. And red shoes are a way to lift you out of a drab and ordinary existence. She stated:
Women and some men wear red shoes because they're really wanting a richer and more exciting life than the one they are living."
So, I have no life but live in and through my dreams. 'Nuff said, non?!
You knew that anyway, right?
I think I need to put a clause in my will to ensure that when I dance off this mortal coil I'm buried with a pair!
Oh, and Happy Ostara by the way! Mwah! Gotcha with a big fat slobbery, but nice, kissy-poo!
Serves you right for lingering over my red shoes!