Pirates Ahoy, melads!
Right, never mind that this is supposed to be my time for resting, relaxing and mild exercise, in order to begin the healing process... I had envisioned reading and catching up on lovely blogs and fabulous friends, responding to the kind comments that you have left...
Instead my dearest, darling, just turned 17 year old son, has just this moment returned from his school photography trip to Amsterdam with his left ear-lobe pierced, like a Pirate!
Did he mention to us that he was going to do this? No! Do I have any idea where he has had this done, and whether they followed proper hygienic techniques? No!
I have my own ears pierced, which my mother arranged for me (I was aghast...) when I was a teenager... I later had my left ear pierced again while I was at College, to enable me to affect a hippy style of wearing two earrings in that ear - That has never worked properly, and I feel an earring placed into that space as if it were a ginormous carbuncle... I realise this is pretty conservative in terms of the kinds of ear and body piercings one can be 'blessed' with these days...
So now, instead of just having to concentrate on me, I am ringing to inform my husband of the deed, asking him to buy a gold sleeper style earring to try to put right any wrongs caused by the act, and wondering how we can avoid the potential for infection, etc. etc...
He arrived back (typically) with some lousy silver-plated cannabis leaf earrings, which are already blackening, and some hideous diamante stud - Neither of which is either silver or gold, which I thought was always best to use and leave in for ages, turning religiously twice a day, is that still right?!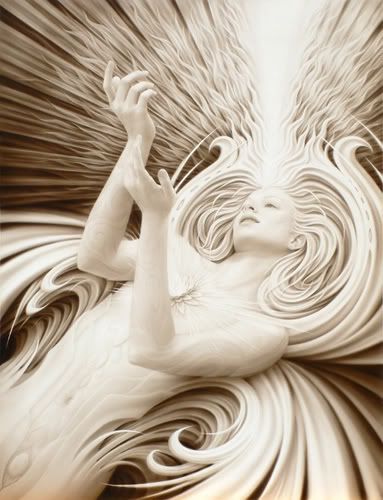 I am resorting to the Goddess Wiki... In fact, I wonder if it's because I have not been carrying out daily visits to Wiki's Temple, that I have incurred the goddess's wrath in this way?
Did you know: "Ear piercing is one of the oldest known forms of body modification, with artistic and written references from cultures around the world dating back to early history. One of the early signs of earrings worn by men are from the walls of Persepolis in ancient Persia, the carved images of the soldiers from various parts of the Persian Empire which are displayed on some of the surviving walls of the palace showing the soldiers wearing an ear ring.
Pierced ears were popular in the United States through the early 1920s, then fell into disfavour among women due to the rising popularity of clip-on earrings. Nevertheless, a small male following continued to exist, particularly among sailors, for whom a pierced earlobe often meant that the wearer had sailed around the world or had crossed the equator. In addition, if a non-service member sailor was involved in and survived a sinking ship, they were often seen wearing an earring in the left ear. There was also a long-held belief that puncturing the earlobe was beneficial to increasing the acuity of eyesight (see acupuncture) or of hearing". So that's all righty then, he'll be able to go out and forage for food at nights like a hedge-bat!
"Also, it was a common belief amongst sailors that if their ship wrecked and their bodies washed up on a shoreline, the person to find them would take the earring as payment for a Christian burial. It is because of this belief that many sailors invested quite a bit of money on gold earrings, as they were very superstitious".
I imagine the ear-piercing and tattooing studio in Amsterdam to have looked a little like this... Perhaps that's just my dreams, 'though!
And, "In the late 1960s, ear piercing began to make inroads among men through the hippie and gay communities. In the late 1970s, amateur piercings, sometimes with safety pins and/or multiple piercings, became popular in the punk rock community.
By the 1980s, the trend for male popular music performers to have pierced ears helped establish a fashion trend for men. This was later adopted by many professional athletes. British men started piercing both ears in the 1980s; George Michael of Wham! was a prominent example".
"The heavily jewelled Mr. T was an early example of an American celebrity wearing earrings in both ears, although this trend did not become popular with mainstream American men until the 1990s.
In various Western cultures, piercing the left vs. the right ear alone has sometimes been popularly perceived to be associated with a particular sexual orientation. In the late 60's it was said that "left is 'right' and right is 'wrong'"; the left ear being safe for piercing by straight men and a pierced right ear meaning one was gay. However, due to the lack of uniformity, such generalizations are essentially meaningless".
So now I have my very own version of Cap'n Jack... Marvellous, matey!