Some of you will recognise this picture from an earlier blog of mine. It is one of my most favourite images, symbolising, as it does, my Wild Heart... This is the sort of image I wouldn't mind having as a piece of body art one day, if I ever pluck up the courage... Wuss, did I hear you say? Moi?!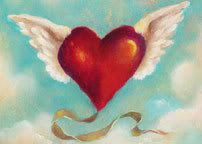 I am feeling a little wobbly and tearful today - I'm not even showered or dressed yet, and I know this is a reaction to what my body has gone through recently, rather than a really strong desire to sit unwashed in my nightie, curled up on the sofa, eating copious bowls of Kellogg's Honey Nut Crunchy Cornflakes with semi-skimmed milk and mugs of Builder's Tea!
I'm putting it down to shock rather than my inherent indigence... What say you?
Moving on from body piercing, thank you for all your stories yesterday, sent to comfort me when I was in a wee state of shock following Grizzler's ear-lobe revelations, following his return from a school Photography trip to Amsterdam!
And then, in some queer moment of serendipity, and you know how I love that, look at this:
"
Funny Quote of the Day
Everybody knows how to raise children, except the people who have them.
P. J. O'Rourke
"
Incredible, non?!
I agree with you all, it might well have been worse, he might have come back with a tongue piercing, for example.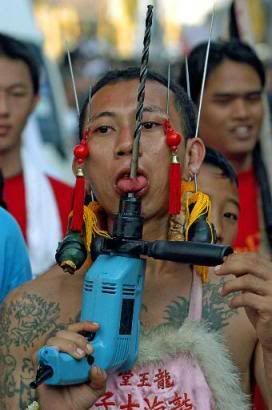 That would have irritated the ship out of me - I would never judge anyone who has such a piercing, but I don't like how they distort the piercee's speech, or how the individuals habitually clack them against their teeth, beating what seems like a tattoo - Paeon to the Apathy of Youth, perhaps - Bored with thee and me! ...Oh dearie me!
I also don't like those eyebrow piercings - Why? I just don't see the point in them...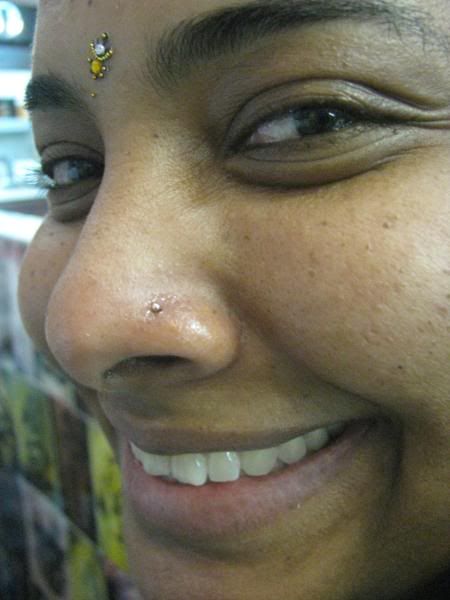 I don't mind the nose piercings - I think they can look very pretty, and have important connotations to some cultures... I don't like those lip piercings, again, why?! And those that they have inserted to the side of their mouth or chin, so it looks like a golden beauty spot... Bizarre... Strange to my untutored eyes, and yet I am deeply tolerant of others' faiths and tastes on the whole, as you well know...
And those that go lower down, well least said, soonest mended, I should cocoa! I once ran away from my loved younger cousin at his sister's wedding, because he was anxious, doused as he was, in the spirit of a toast to the bride and groom, to show me his pierced nipples. Yes, I shrieked like an old woman! And yet I do admire belly button piercings on the young and supple - They can be very pretty (note to self - "On the young!"), but again I wouldn't put myself through it......
No, staples in the back will do for me just now, thank you! I feel odd enough as it is with those.
- Quite as if I have been rudely cinched into a too-tight Victorian Corset, fainting away with the strain of having to cut out another scrap picture of a cute dog to adorn a fire-screen!!!
Now, as for tattoos, for a few of you mentioned those yesterday, saying the next thing would be Grizz would appear with an eagle emblazoned across his lily-white shoulders for my delight and delectation! I quite like tattoos. Tasteful tattoos, I might add...
In my youth, they were swiftly hidden away up my friend's dad's sleeve, in case anyone noticed them. He was a highly respected Police Officer, with a previous career in the Navy, so had a couple to mark his passages, as it were. He was also a very talented artist, and I think enjoyed seeing tattoos as body art, as they are now perceived, it seems to me... Then, of course, you were viewed as having had a little of a mis-spent youth, or else you'd been "In The Navy!" (Cue the Village People singing that very same tunette...)
Of course, some people will never change their opinion of those who have tattoos...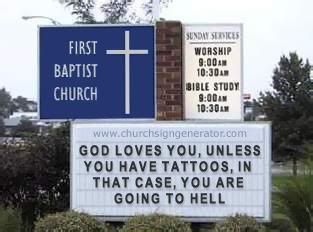 I quite like this one, symbolising peace: A White-Winged Dove...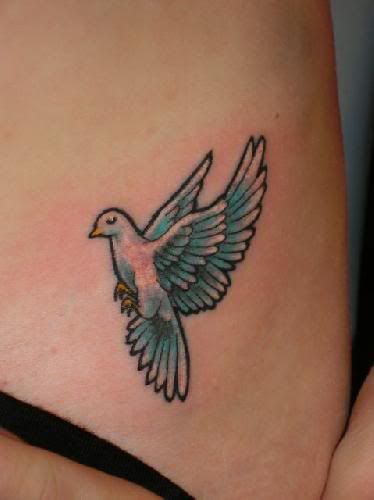 In my quieter (i.e. there's less tippy-tappying going on!) moments, I have been known to search the channels for this: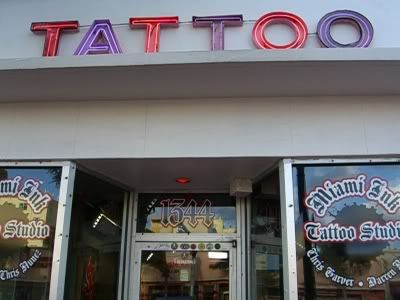 I love watching Miami Ink, and listening to the stories of those who want their bodies coloured with bright inks and meaningful images by these Mad Men...
I especially like the work of Chris Garver. I see him as the most talented of the perhaps more traditional, Japanese-art loving, artists who present themselves on Miami Ink...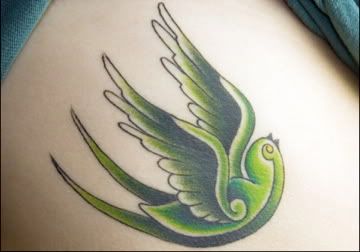 A few years ago at an outdoor pool in the UK, I marvelled at a chap who had a lovely sepia, candy pink-and blue-toned tattoo. It was mesmerizing. Of course, I didn't want to stare, in case he thought I was after his body, but some tattoo work can be particularly eye-catching.
He had a rendition of an American Fifties' Diner on his upper back, a little like a cross between this one, Mel's Diner,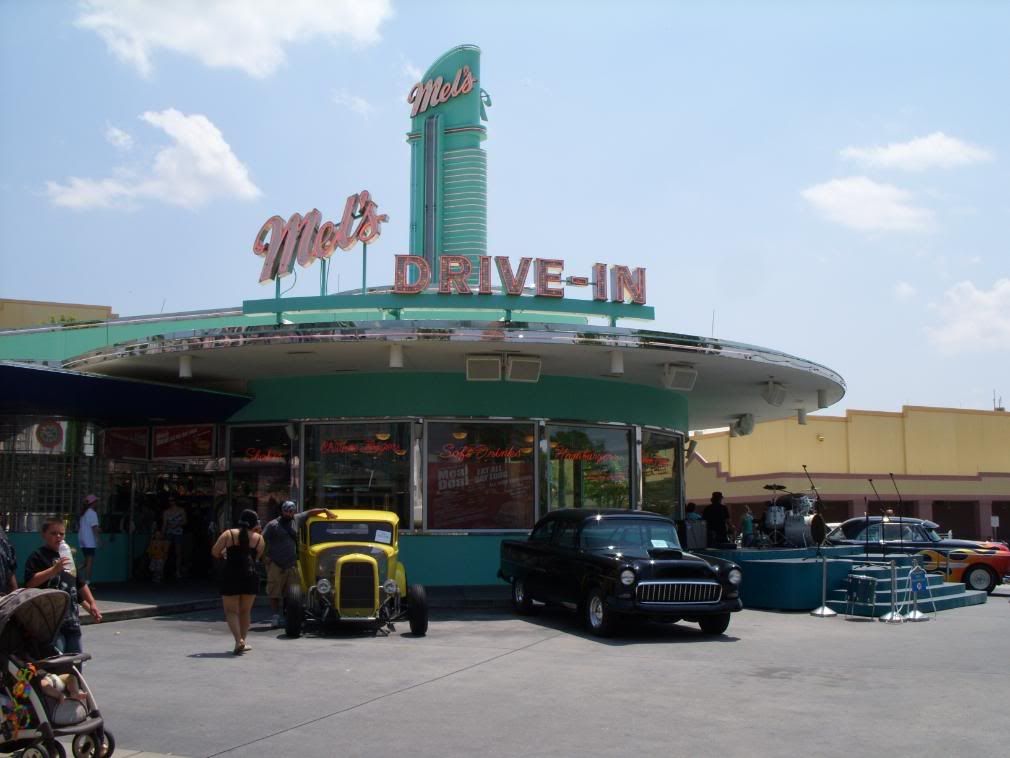 and this, Rosie's Diner.
You know the sort where you might imagine, a carhop wheeling out to take your order for a Sarsaparilla at any moment...
And where you might get a choice of strong coffee, or a refill!
I quite like this art, although I would never be so bold as to get it done myself...
Butterflies: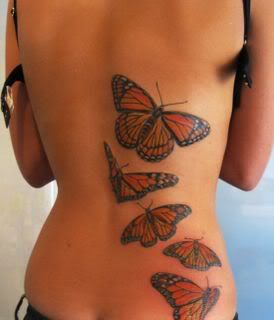 and back to Chris Garver's art again: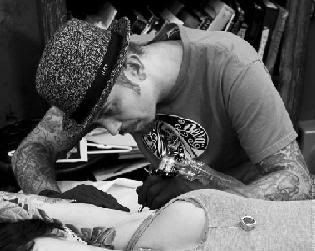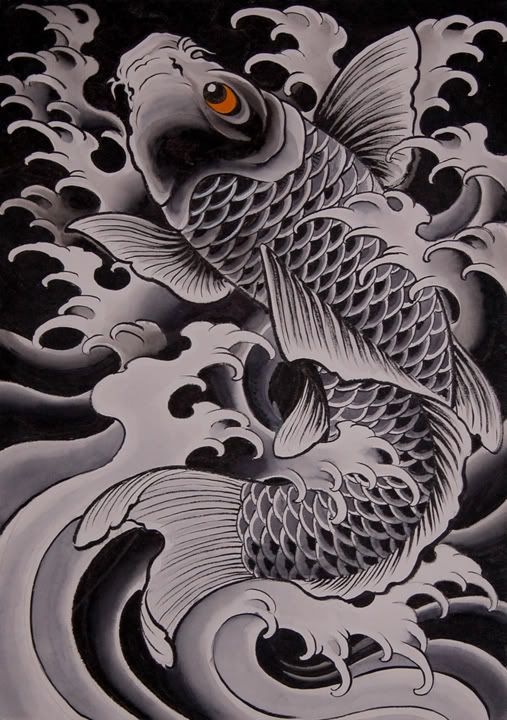 Stunning... I especially like his Koi, which symbolize long life, I think... And why not? I'd like to think if I ever have the fortune to visit Miami, I might just arrange to drop in there, to hang out, to feel something like cool and youthful again, while knowing I am an ageing tattoo-hag crone!
I want to say something deep and meaningful about having children, and knowing that they are only on loan to us, their parents, for a short time - and, that, like my peaceful dove, they will spread their wings and fly in an altogether different direction to that which we might ever have dreamed up for them in life, while we looked away in fact, just when we were exhausted from the day's activities, and were thankfully tucking them in for the night, together with lop-eared teddies and favoured, scented blankies...
I know that their random acts of boldness, burgeoning maturity, and sometimes even licentiousness, should only serve to remind us that we do not own our children, nor their bodies - That they are theirs to do with as they wish, in actuality... And then I go and wibble on about tattoos, changing the subject until I am able to cope with the temporal nature of love, life and art again...