I've noticed it's always quieter here in Blogland at weekends, mes amis...
People have lives to live, jobs to do, errands to run, chickens to choke (I'm jesting - I'm a vegetarian and we have kept pet chickies), and children to chastise...
I found
this link
on Friday when catching up with news on the BBC News Webpage...
It's a small collection of weird and wonderful news clippings, and there are a couple of laughs, oohs or wry smiles here, dependent upon your mien, moue or mood, methinks!
For those of you who were ever interested in my home-related window dilemma, you may be amazed, nay even astounded by the update...
Windows are now all in place, and sparkling bright - My living room is brighter and lighter than before, as the windows are larger for the frames are thinner, if that makes sense... We even struggled to hear the garden birds tweeting, and we're usually on first-name terms with the territorially chirping male blackbirds, and assorted finches. The lads were stars - They worked very hard, I did not even see them take a break! One of them even staggered up a ladder to repair my guttering, which clattered against the house cacophonously in anything other than a whisper of wind!
My letter boxes are restored and operational - I have even received some post - All of it of recyclable quality, but still I confess receiving it at all is a comfort...
Now I shall have to curb all of my usual slovenly, slatternly practices... You know, the ones I have fallen into while living this half-life with a home that, to be fair, saw better days when the Kaiser still lived...
I have a laundry room at the back of the house, at the Tradesman's Entrance to Crawford Mansions. Its three windows face directly on to the back lane behind our houses... This is where visitors and dwellers have sole access and egress to their homes...
Usually, this presents no probs - I scuttle into said laundry room... (Question: Why do we sometimes call this a 'Utility Room' in the UK - It sounds as if it belongs to war-time contingencies? Scriptor, Moannie, Jinksy, FF - I'll bet you know the answer to that one - You clever tykes you!) ...regularly to extract clean undies and tops from the dry laundry, straight out of the tumble drier, or even directly from the clothes horse, and change my vestments there and then... Voila, a transformation!
No-one but my family ever sees me en deshabille, for to hide the previous very shabby windows, I had hung some dark lilac, densely patterned voile curtains from my previous home... To see anything out of them was something of a Mister Magoo experience, to be fair!
Now, I have reached new levels of potential public exposure, I will have to behave myself... comport myself in a more ladylike fash', mes amis, at least until I have fitted some functioning and pretty blinds! Tant pis, I shall live!
Anyhoo, back to the cliplette... There you will see beautiful baby meerkats... Everybody: Ahhhh!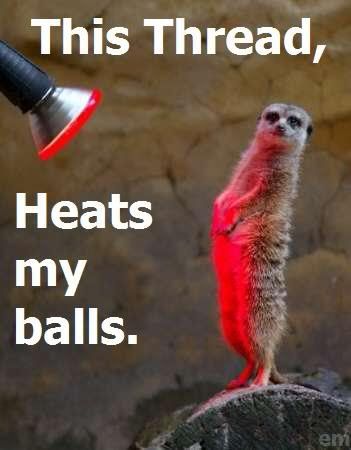 A hard rock loving pensioner... Some financial gurus in Frankfurt dressing down at work to bring levity to some very serious business...
(I love Frankfurt, such a cosmopolitan city, a great music scene and the birthplace of beloved Goethe...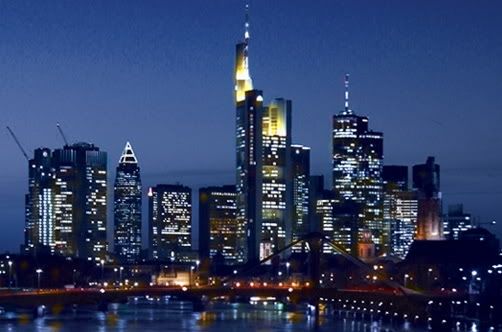 Hardly imagine he would recognise the place these days, talk about Sturm und Drang! Golly gosh!)
And there's more - There are some models at Fashion Week, struggling with their high heels on the catwalk...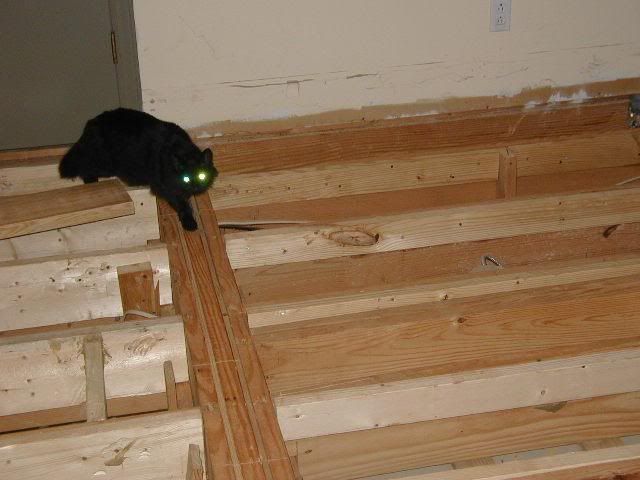 Why do designers do that, do you think ? I understand that they obtain shoes for their all models (just like the clothes) in one size only, regardless of how big the models' tootsies are...
Another form of body fascism, and torture for women, in my opinion...
I've seen Sticktoria Beckham do the same, cramming her size 5's, or whatever they are in reality, into a teensy pair of stilettoes with a point the like of which was last seen on the nose of the Wicked Witch in the Wizard of Oz - You know, the one that popped her clogs under the house!
And then, she has to hang onto her children just to keep herself tottering upright... I know you've noticed, and it's not just me going all byotchy on your bum... (That's a translation from the American, by the way...)
See?
The clip is only around 4 minutes long, about the time you would need to boil yourself an egg for breakfast - Always, free range and organic, j'espere...
And here's something just as exciting as a boiled egg!
I'm going to tootle off myself now, before I get accused of not being nice... My bad; I protect my reputation for niceness like the gleaming jewel that it is...
Nice, in my opinion, is a very underrated quality in folk, and that gives me such sadness...
One last tale to regale... The staples were swiftly despatched yesterday by one of the nurses of the practice, in the same room of doom in which my incident first was triggered... I was reluctant to go near the offending doctor's couch, and so was straddling a glass trolley on castors (probably just as dodgy, but the nurse was wielding a special instrument to remove the staples, which I had given her, as I'd been carrying it in my handbag since leaving hospital where I was given it by the nurses there specifically for this purpose...
I had been introduced to the nurse, who was about to use the staple remover, by a trainee nurse who had asked whether she could sit in on the spectacle, so she could learn... I was feeling a little nervous at this point, and proclaimed that I had no probs with her sitting in whatsoever, but I'd rather someone with more experience actually remove the clips!
I felt bad about this, but I have allowed many a fledgling practitioner to practice on me in the past... (A very vivid story, which I shall never write, now springs to mind, involving me, pre-Grizz's arrival on the scene, agreeing to a nurse at the Family Planning Clinic in Inverness, when she asked whether a student could observe the procedure, and I then found meself in an interesting position, under a strong light, while a veritable coachload of medical students paraded through the room!!!)
So I am now 100% less metal content than I was on Friday morning, and I am beginning to think I might get through all this...
Alors, salut mes amis; A demain! Mwah!
Now, Marilyn - There was a real beauty... with so little of the hoo-hah and hullaballoo of these days...