Do you know who said this?
"A good film is when the price of the dinner, the theatre admission and the babysitter were worth it". And,
"For me, the cinema is not a slice of life, but a piece of cake... Revenge is sweet and not fattening!"
Here is a clue:
Have you got it yet?
"Always make the audience suffer as much as possible".
Incidentally, in passing, I have seen a couple of foreign language films recently, which have very much given me pause for thought...
I saw this one last night:
The Yacoubian Building
(2007), based on a novel by Alaa Al Aswany, it offers a panoramic view of contemporary Egypt, glimpsed through the stories of a number of fairly challenging folk living in (and in the case of the poorest, living on the rooftop of), the Yacoubian Building in Cairo. There's Zaki, a faded aristocrat or Pasha, Bothayna, the beautiful, poor girl he falls for, a young student seduced into religious extremism, and Haj Azzam, a rich businessman, wishing to take a second, but secret wife, among other characters.
I've never seen an Egyptian film before, and found it thought-provoking. My almost 3 year old niece is mixed heritage - Her dad is in fact from Cairo, and this made me think strongly about the country of her father's birth, which I have yet to visit.
The second film I slouched before was from Belgium - Have you seen many Belgian films yourself, I wonder? I'll bet you've sampled Belgian Chocolate or the country's amazingly rich and diverse beer? I know I have!
Anyhoo, this was the Flemish film: Rosie:
The Devil In My Head (1998)
, which offered an insight into the troubled upbringing, in a deeply industrial Antwerp, of the teenaged Rosie, of the film's title.
I won't spoil the film for you by giving much away, but I found it charming and intriguing by turns, curious and ultimately a bit sad. The film attracted many awards for its cast and director, but of the talented young actress, Aranka Coppen, playing Rosie, I can find no further (Internet) trace... If anyone knows what she went on to do next, I'd love to hear it?
I adore film, especially in foreign languages but when, last week doing my usual half-listening to the TV, while tippy-tappying away here with my toes in Blogland, GJ was watching a very interesting programme with British presenter, Jonathan Ross, 'interviewing' Alfred Hitchcock...
This got me thinking on Hitchcock's oeuvre and his considerable influence on the movie industry.
When you look at this director's work overall, it is more than impressive, and I hope to use some of the words attributed to 'Hitch' over many years, to illustrate some aspects of his life and work over the next couple of days, if that's all right with you, mes cinephiles?!
"A lot of movies are about life, mine are like a slice of cake".
"Drama is life with the dull bits cut out".
Hitch is said to have offered us these reflections, "Luck is everything... My good luck in life was to be a really frightened person. I'm fortunate to be a coward, to have a low threshold of fear, because a hero couldn't make a good suspense film".
And isn't that what we think most of Hitch, that he was the consummate master of suspense, keeping us, as stiff as a board, on the edge of our seat, observing, (far from calmly), the fate of the heroes and heroines, victims and villains, up on the wide silver screen?
"The length of a film should be directly related to the endurance of the human bladder".
"Give them pleasure - the same pleasure they have when they wake up from a nightmare".
When, later in life, Hitch was accepting the American Film Institute Life Achievement award, he opined importantly: "I beg permission to mention by name only four people who have given me the most affection, appreciation, and encouragement, and constant collaboration.
The first of the four is a film editor, the second is a scriptwriter, the third is the mother of my daughter Pat [Patricia Hitchcock], and the fourth is as fine a cook as ever performed miracles in a domestic kitchen. And their names are Alma Reville."
Here, Hitch was paying homage to his wife, Alma Reville, to whom he would be married for 54 years. (That's some record these days, n'est-ce pas?) Alma worked alongside her husband for practically her entire career, often unnamed, refining Hitch's scripts and film direction.
La Goddess Wiki, a keen movie buff herself, had this to say about Alma: "... best known as the wife of Alfred Hitchcock, whom she met while they were working together at Paramount's Famous Players-Lasky studio in London, during the early 1920s.
They married on 2 December 1926 at Brompton Oratory in London. Alma became his collaborator and sounding board, with a keen ear for dialogue and an editor's sharp eye for scrutinizing a film's final version for continuity flaws so minor they escaped Hitchcock's own notice, and that of his top-notch crew.
Cinema was the couple's passion. A talented editor, Alma worked on British films with directors like Berthold Viertel and Maurice Elvey, though her main focus was her husband's work. She was particularly good at revising dialogue and spotting inconsistencies in his plots".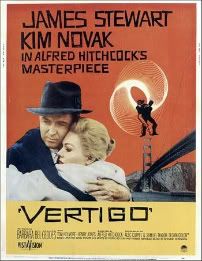 Did you know that? I've heard it's often the case that, behind many successful men, stands an intelligent woman?!
"To make a great film you need three things - the script, the script and the script".
"Fear isn't so difficult to understand. After all, weren't we all frightened as children? Nothing has changed since Little Red Riding Hood faced the big bad wolf.
What frightens us today is exactly the same sort of thing that frightened us yesterday. It's just a different wolf. This fright complex is rooted in every individual.
The only way to get rid of my fears is to make films about them..."
Wiki, again - Sometimes, you just cannot shut the Goddess up! : "Hitchcock became famous for his expert and largely unrivalled control of pace and suspense, and his films draw heavily on both fear and fantasy. The films are known for their droll humour and witticisms, and these cinematic works often portray innocent people caught up in circumstances beyond their control or understanding".
We all know about that, don't we? Don't we all struggle with circumstances and sometimes a hand dealt by fate, which we cannot control or barely even understand?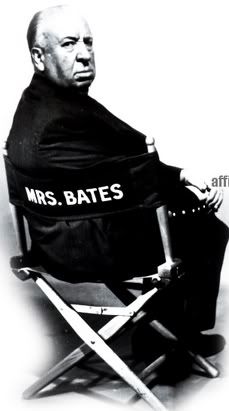 Go on, admit it, now I've whet your appetite, you want to know more about the life and work of the man who said this:
"These are bagpipes. I understand the inventor of the bagpipes was inspired when he saw a man carrying an indignant, asthmatic pig under his arm. Unfortunately, the man-made sound never equalled the purity of the sound achieved by the pig".
And of Tallulah Bankhead's lack of undergarments. Hitch said : "I didn't know whether to send her to make up or the hairdresser".
A demain, mes chums! Toodles!