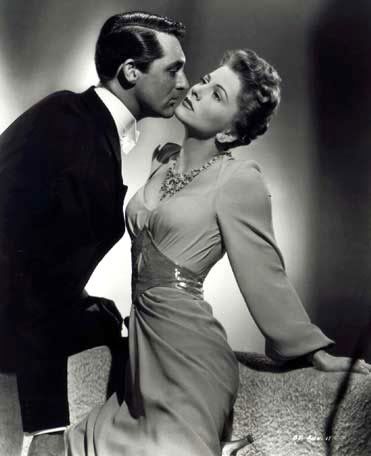 "It's only a movie, and, after all, we're all grossly overpaid!"
"I don't understand why we have to experiment with film. I think everything should be done on paper. A musician has to do it, a composer. He puts a lot of dots down and beautiful music comes out. And I think that students should be taught to visualize. That's the one thing missing in all this. The one thing that the student has got to do is to learn that there is a rectangle up there - a white rectangle in a theatre - and it has to be filled.
"Blondes make the best victims. They're like virgin snow that shows up the bloody footprints".
Ooer, I'm going to have to watch out then! I am back again, mes braves, to bring you our second instalment in the life of the great director, Alfred (The Great) Hitchcock!
I am publishing this automatically, so if it doesn't work, please feel free to throttle me, a la Hitchcock, on my return from the hair salon, where I am going to be civilized!
At last, at last, I hear you cry, for I was beginning to look like one of Hitchcock's victims - and not in a good way... Don't think darling Grace Kelly, I was starting to look like Mrs Bates!
So, to continue - Glance down to the bottom if you're not too interested in what La Wiki has to say about Mr Hitchcock, for there is a little amuse bouche down there that might tickle your fancy! Salut, mes cineastes!
"Sir Alfred Joseph Hitchcock, KBE (13 August 1899 – 29 April 1980) was a British filmmaker and producer who pioneered many techniques in the suspense and psychological thriller genres. After a successful career in his native United Kingdom in both silent films and talkies, Hitchcock moved to Hollywood. In 1956 he became an American citizen while retaining his British citizenship".
Hitchcock directed more than fifty feature films in a career spanning six decades. He remains one of the best-known and most popular filmmakers of all time.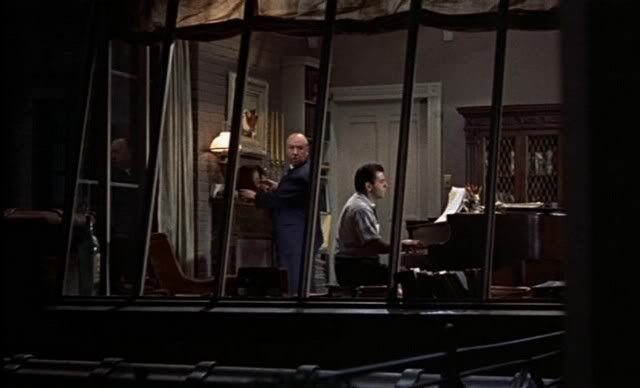 Who do you think we might say that about today? Quentin Tarantino? I would guess more likely someone such as Stephen Spielberg. What do you think? Who will stand the test of time in Hollywood's less blingtastic times?!
Back to La Wiki, for the last time I avoided her, she chucked a temple-jar at me head!
- "Hitchcock was born on 13 August 1899, in Leytonstone, London, the second son and youngest of three children of a greengrocer and poulterer. His family was mostly Roman Catholic. And, being of Irish extraction, Hitchcock was sent to the Jesuit Classic school St. Ignatius College near Stamford Hill, London.
He often described his childhood as being very lonely and sheltered, a situation compounded by his obesity. He was once sent by his father to the local police station with a note asking the officer to lock him away for ten minutes as punishment for behaving badly".
"I am scared easily, here is a list of my adrenaline-production:
1: Small children (Didn't he also say you should never work with children or animals?!)
2: Policemen
3: High places
4: That my next movie will not be as good as the last one".
The idea of being harshly treated or wrongfully accused is frequently reflected in Hitchcock's films.
Apparently, "Hitchcock's mother would often make him address her while standing at the foot of her bed, especially if he behaved badly, forcing him to stand there for hours. These experiences would later be used for the portrayal of the character of Norman Bates in his movie Psycho.
Hitchcock became intrigued by photography and started working in film production in London. He began his directing career in 1922, working on silent films, and his last collaboration with a British director, Graham Cutts, led him to Germany in 1924.
The film Die Prinzessin und der Geiger (The Blackguard, 1925), directed by Cutts and co-written by Hitchcock, was produced in Berlin. Hitchcock also worked as an art-director on the set of F. W. Murnau's film Der letzte Mann (The Last Man 1924).
He was very impressed with Murnau's work and later used many techniques for set design in his own productions. In his interview with François Truffaut, Hitchcock/Truffaut (Simon and Schuster, 1967), Hitchcock also said he was influenced by Fritz Lang's film Destiny (1921)".
Talkies
In 1926, Hitchcock made his debut in the thriller genre with the film, The Lodger: A Story of the London Fog, a major commercial and critical success.
This film was heavily influenced by Expressionist techniques he had witnessed first-hand in Germany. Some regard this as the first truly "Hitchcockian" film, incorporating such themes as the "wrong man".
On 2 December 1926, Hitchcock married Alma. Their only child, daughter Patricia, was born on 7 July 1928. Alma was to become Hitchcock's closest collaborator, writing some of his screenplays and working with him on every one of his films.

"Some of our most exquisite murders have been domestic, performed with tenderness in simple, homey places like the kitchen table". Later, he would say, "Television has brought back murder into the home - where it belongs".
In 1929, Hitchcock began work on his tenth film, Blackmail. While the film was still in production, the studio, British International Pictures, decided to make it one of the UK's first sound pictures. With the climax of the film taking place on the dome of the British Museum, Blackmail began the Hitchcock tradition of using famous landmarks as a backdrop for suspense sequences"
Hitchcock's fondness for his homeland resulted in numerous American films set in, or filmed in, the United Kingdom, including his penultimate film, Frenzy.
"Someone once told me that every minute a murder occurs, so I don't want to waste your time, I know you want to go back to work".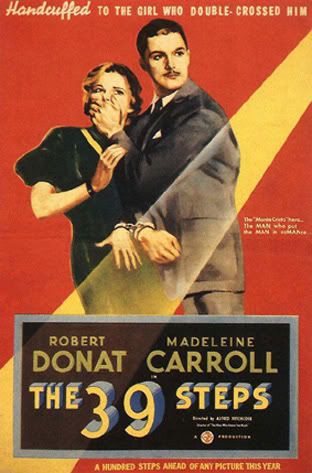 His first film for Gaumont, The Man Who Knew Too Much (1934), was a success and his second, The 39 Steps (1935), is considered one of the best films from his early period. This film was also one of the first to introduce the concept of the "Macguffin", a plot device around which a whole story seems to revolve, but ultimately has nothing to do with the true meaning or ending of the story. In The 39 Steps, the Macguffin is a stolen set of design plans. (Hitchcock told Truffaut: "There are two men sitting in a train going to Scotland and one man says to the other:
'Excuse me, sir, but what is that strange parcel you have on the luggage rack above you?'
'Oh,' says the other, 'that's a Macguffin.'
'Well,' says the first man, 'what's a Macguffin?'
The other answers, 'It's an apparatus for trapping lions in the Scottish Highlands.'
'But,' says the first man, 'there are no lions in the Scottish Highlands.'
'Well,' says the other, 'then that's no Macguffin.'")
Hitchcock's next major success was in 1938 with his film, The Lady Vanishes, a clever and fast-paced film about the search for a kindly old Englishwoman, who disappears while on board a train in the fictional country of Vandrika (a thinly-veiled version of Nazi Germany)."
(Did you know, that in 1945, Hitchcock served as "treatment advisor" (or a film editor) for a Holocaust documentary produced by the British Army? The film, recording the liberation of Nazi Concentration Camps, remained unreleased until 1985, when it was completed by PBS Frontline and distributed under the title Memory of the Camps".)
Around this time, Hitchcock had become known for his famous observation, "Actors are cattle."
"I never said all actors are cattle; what I said was all actors should be treated like cattle..."
"When an actor comes to me and wants to discuss his character, I say, 'It's in the script.' If he says, 'But what's my motivation?, ' I say, 'Your salary.'"
He once said that he first made this remark as early as the late 1920s, in connection to stage actors who were snobbish about motion pictures". Hitch hated
the palaver that can go with film and particularly method acting,
"Cary Grant is the only actor I ever loved in my whole life".
Apparently, on the set of The 39 Steps, he locked his two stars, Robert Donat and Madeleine Carroll, together with a set of handcuffs, and pretended he had lost the key. He did this so they would exactly understand what it felt like to be shackled to one another throughout a number of scenes...
Hitch preferred to storyboard his films extensively, mapping it all out on paper, scene by scene, doing very little looking through the actual camera viewfinder, except apparently for photo opportunities, like this one!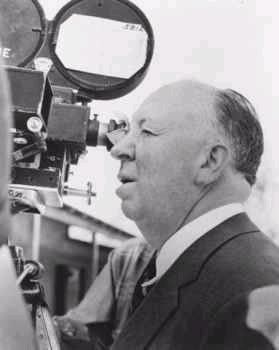 "I'm full of fears and I do my best to avoid difficulties and any kind of complications.
I like everything around me to be clear as crystal and completely calm".
"However, Michael Redgrave said that Hitchcock had made the statement during the filming of The Lady Vanishes. The phrase would haunt Hitchcock for years to come and would result in an incident during the filming of his 1941's Mr. & Mrs. Smith where Carole Lombard brought some heifers onto the set - with name tags of Lombard, Robert Montgomery, and Gene Raymond, the stars of the film - to surprise the director. Hitchcock said he was misquoted: "I said, 'Actors should be treated like cattle'."
With the prestigious David O. Selznick picture, Rebecca in 1940, Hitchcock made his first American movie, set in England and based on a novel by Daphne du Maurier. The film starred Sir Laurence Olivier and Joan Fontaine, exploring the fears of a naive young bride who enters a great English country home and grapples with the problems of a distant husband, a predatory housekeeper, and the legacy of her husband's late wife, the beautiful, mysterious Rebecca".
"If it's a good movie, the sound could go off and the audience would still have a perfectly clear idea of what was going on".
The film won the Academy Award for Best Picture of 1940. The statuette was given to Selznick, as the film's producer. The film did not win the Best Director award for Hitchcock".
I love the romance of Rebecca, it's one of my favourite films. ...The house on the cliffs, the Gothic, opulent and magnificent room settings, dark Mrs Danvers, the salt of the sea, and the elusive magnetism of fated Rebecca. In fact, it's probably the only film I can stomach the vastly overrated (in my opinion, and we agree that it amounts to nowt, right?!), actor, Laurence Olivier; Ah, dear Larry!
Hitchcock worked for Selznick again on Spellbound, with Gregory Peck and Ingrid Bergman, exploring the then-fashionable subject of psychoanalysis, and featuring a dream sequence designed by Salvador Dalí.
"Television has done much for psychiatry by spreading information about it, as well as contributing to the need for it".
The dream sequence as it actually appears in the film is considerably shorter than originally envisioned, (at several minutes long), as it proved to be too disturbing for the audience.
Some of the original musical score by Miklós Rózsa (which makes use of the theremin) was later adapted by the composer into a concert piano concerto". Did you know that? There's a little snippet to slot into conversation at some point today!
Lord, I've come all this far, and I haven't even got to The Birds yet, possibly his most terrifying movie, although my personal favourite is Rebecca, and coming a very close second, Psycho.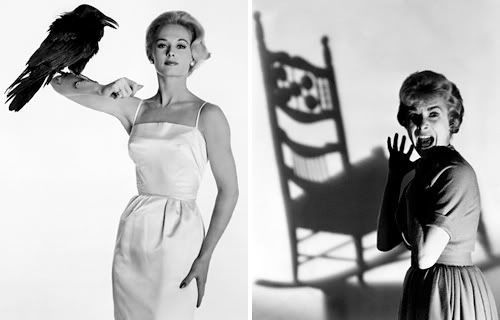 Had you heard of the theremin before? I want to leave you with this snippet (courtesy of the little maidens of Youtube of one of my favourite comedians (a bit of a surrealist and a very talented musician) Bill Bailey, with an introduction to the theremin, via a run through the CNN and BBC news themes! The theramin is the aerial type of contraption he plays with his hands to his right on the keyboard. It's only just over a minute long - Enjoy!
If you are really, really interested in the theramin, here Bill uses it more to demonstrate an althernative to the British National Anthem, drawing on the band Portishead's style - It's not dead funny, but there is a lot of the theramin!