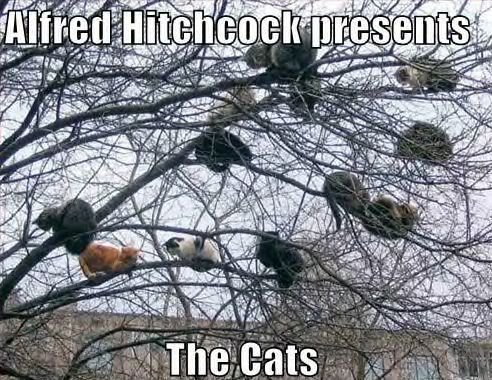 "I have a perfect cure for a sore throat: Cut it".
A far shorter update today, mes chums! Hark, how I hear you saying, thank the goddess for that! Please scroll down to the bott, should you only wish to read my update on today's wedding, the outfit, and the anticipation! And to see a great piece of modern blues music from the bad, bold, Seasick Steve!
"In films murders are always very clean. I show how difficult it is and what a messy thing it is to kill a man".
"Notorious (1946) followed Spellbound. According to Hitchcock, in his interview with Truffaut, Selznick sold the director, the two stars and the screenplay to RKO Radio Pictures as a "package" for $500,000 due to cost overruns on an earlier film.
From this point Hitchcock began to produce his own films. Notorious starred Hitchcock regulars Bergman and Grant, and features a plot about Nazis, uranium, and South America. It was a huge box office success and has remained one of Hitchcock's most acclaimed films. This film led to Hitchcock's being briefly under FBI surveillance". Did you know that, I did'nt!
Gratuitous shot of Mr James Stewart, actor, family man, hero and did he ever make a bad film? Can any of you let me know, for sometimes I do need correcting!
Hitchcock filmed his first color film, Rope in 1948. With James Stewart in the leading role, Rope was the first of four films Stewart would make for Hitchcock.
(I've actually seen this Air Force jacket of Jimmy Stewart's - In the Aircraft Museum in Duxford - the 'planes there throughout the ages are rivetting, and I've been twice to see the exhibits, but Jimmy Stewart's jacket - Well... If you ever get to go, that's me with my nose pressed up against the glass sniffing some echt Hollywood Glamour!)
The 1950s: In Strangers on a Train (1951), based on a novel by Patricia Highsmith, Hitchcock combined many elements from his preceding films. Raymond Chandler took over from Dashiell Hammett to write the dialogue, but then left after arguing with Hitchcock.
"Three very popular films starring Grace Kelly followed. Dial M for Murder (1954) was adapted from a popular stage play. Ray Milland plays the suave and scheming villain, who tries to murder his innocent wife for her money. When the murder goes tits up (rude words, inserted to check whether anyone is reading at this point!), and the assassin is killed by her in self-defence, he manipulates the evidence to pin the murder of the assassin on his wife.
"Seeing a murder on television can help work off one's antagonisms. And if you haven't any antagonisms, the commercials will give you some".
Hitchcock experimented with 3D cinematography, although the film was not released in this format at first. It was shown in 3D in the early 1980s. The film marked a return to Technicolor productions for Hitchcock.
Hitchcock moved to Paramount Pictures and filmed Rear Window, starring James Stewart and Kelly again.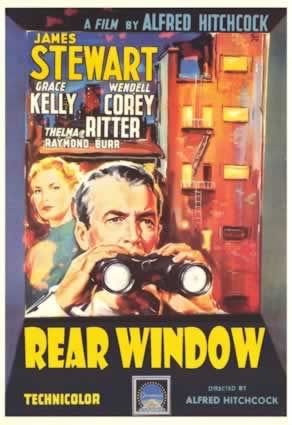 "Here, the wheelchair-bound Stewart, a photographer based on Robert Capa, observes the movements of his neighbours across the courtyard and becomes convinced one of them has murdered his wife. The movie was photographed almost entirely within the confines of a small space, with Hitchcock using closeups of Stewart's face to show his character's reactions to all he sees...
The third Kelly film To Catch a Thief, set in the French Riviera, stars Kelly with Cary Grant again. Grant woos both Kelly and her jewels, and then becomes the prime suspect for a spate of robberies in the Riviera. It was Hitchcock's last film with Kelly, as she married Prince Rainier of Monaco in 1956 and the residents of the principality refused to allow her to make any more films".
"I have prepared one of my own timecapsules. I have placed some rather large samples of dynamite, gunpowder, and nitroglycerine. My time capsule is set to go off in the year 3000. It will show them what we are really like".
If you ever get to Monaco, you must visit the small church up on the hill, near to the Palace, in the most beautiful part of Monaco containing their tombs. I found it very touching, as it's quite a humble church given its royal status, and it is obvious from the surrounds that La Kelly is still hugely feted in her principality.
BTW, if you're interested, I found most of the rest of Monaco to be hugely overdeveloped and a bit tacky, but then I also managed to be thrown out of the reception of a posh hotel by the Maitre d'. I had only gone inside to look at the architecture, and my guide book didn't say you had to be one of the beautiful people just to look inside! Sheesh!
"The remake of Hitchcock's own 1934 film, The Man Who Knew Too Much, in 1956 followed, this time starring Stewart and Doris Day, who sang the theme song, "Whatever Will Be, Will Be (Que Sera, Sera)" (which won the Oscar for "Best Music").
I love that song - Terribly sentimental and romantic, and who doesn't love La Doris, seen here with a pet Turkey, rather than her beloved dawgies!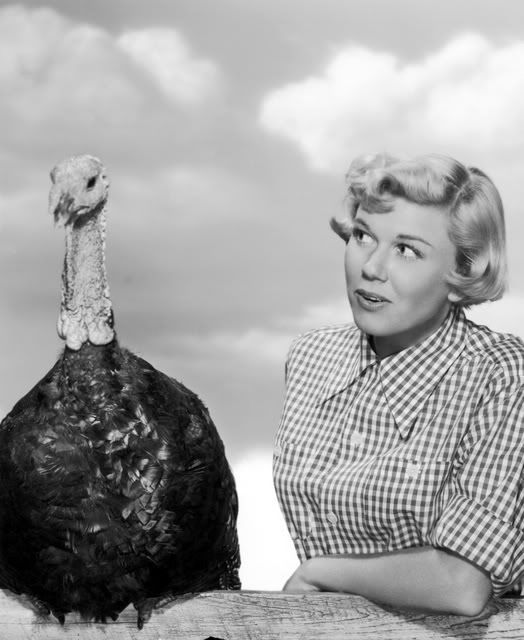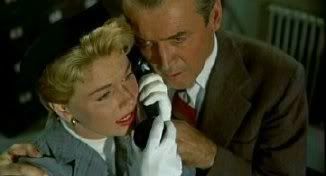 "Stewart and Day, distraught over the kidnapping of their son, struggle with both their emotions and their urgent quest to find their child, until the song helps re-unite the family.
"Vertigo (1958) again starred Stewart, this time with Kim Novak and Barbara Bel Geddes. Stewart plays a former police investigator suffering from acrophobia, who develops an obsession with a woman he is shadowing". Without a Hollywood Happy Ending, Vertigo met with negative reviews and poor box office receipts on release, and marked the last collaboration between Stewart and Hitchcock.
Late 1950s, 1960s and 1970s: By this time, Hitchcock had filmed in many areas of the United States, and he followed Vertigo with films that rank among his very best: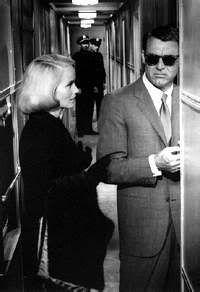 North by Northwest (1959), Psycho (1960) and The Birds (1963).
"Psycho is considered by some to be Hitchcock's most famous film. Produced on a
highly constrained budget of $800,000, it is shot in black-and-white on a spare set. The unprecedented violence of the shower scene, the early demise of the heroine, the innocent lives extinguished by a disturbed murderer were all hallmarks of Hitchcock, copied in many subsequent horror films.
"There is nothing to winning, really. That is, if you happen to be blessed with a keen eye, an agile mind, and no scruples whatsoever".
"The Birds, inspired by a Daphne Du Maurier (same author as Rebecca) short story and by an actual news story about a mysterious infestation of birds in California, was Hitchcock's 49th film. He signed up Tippi Hedren as his latest blonde heroine. The scenes of the birds attacking included hundreds of shots mixing actual and animated sequences. The cause of the birds' attack is left unanswered, "perhaps highlighting the mystery of forces unknown".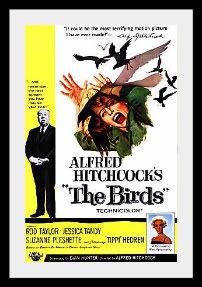 Failing health took its toll on Hitchcock, reducing his output during the last two decades of his life".
"The paperback is very interesting but I find it will never replace the hardcover book - it makes a very poor doorstop".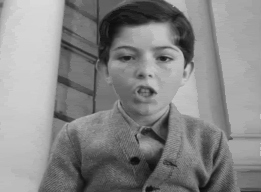 Good lord, she's still going on - No followers left, of course, but still, Fhina was faithful to the seven-hundred year long career of the Maestro Mr Hitchcock!
Fhina's not even here, for she's off to that wedding, do you remember her mentioning it?!
She had a parade of costumes last night for her son, her husband and his startled friend. What happened was that she had ordered a wedding outfit and a back-up dress from an online company - When by yesterday morning it still hadn't arrived, she panicked, and purchased three further items from a shop actually in the village near her home, with no idea that they'd stock anything to fit her, and she's only lived here nearly 7 years!
She arrived home, excited, sore and tired (still from the surgery and a doctor's appointment to draw phials of crimson-blue blood - Well, she is related to the Lady Wiki, after all!), only to find the parcel of clothes had arrived after all!!! So she had to seek their guidance to decide how to proceed, and what should be returned forthwith (nothing as it turned out!)
Still, you know, as for expense, she's probably making up for all that time she's been at home, unable to procure new clothes and other needful things. Thinking about it logically, even the amount she's saved by not buying a daily working lunch sandwich, some fruit and sometimes - as a treat, mind - a large capuccino, would have probably paid for these purchases twice over.
It all mounts up, you know!
So, there we have it, and I shall be resplendent in, (according to the votes of my all-male panel - Tell me, I wasn't wrong?!) - A brown cotton camisole (old), with a brown cotton and velvet, sequins and lace, ankle length shoushy skirt, made by our cousins in India, over which there shall reign a devore-velvet-silk-swirled orange, copper and nut-brown, one buttoned, soft jacket with floaty sleeves... I have some old brown suede ankle boots, last seen when I was digging the car out of a snow ditch, then perching on the bonnet of the jalopy, (holding on to the wind-screeen wipers, well, what else?!), while GJ tried to drive us up a hill (with me for ballast, I kid you not - Times were desperate!)... I shall probably fall into a mud-soaked ditch today, at the wedding, clad in the full ensemble, such is my fortune in life, particularly when in heels of any height... That's a story for another day! And when I'm in heels with GJ, it's like Katie Holmes and Tom Cruise all over again! GJ once begged me to change into flatter heels when we were first 'courting' - Who courts these days? - 'Because they're going to think, Fhina, that you're going out with your little brother!'
"If it wasn't for real back luck, I wouldn't have no luck at all!"
A toute a l'heure, mes enfants terribles!