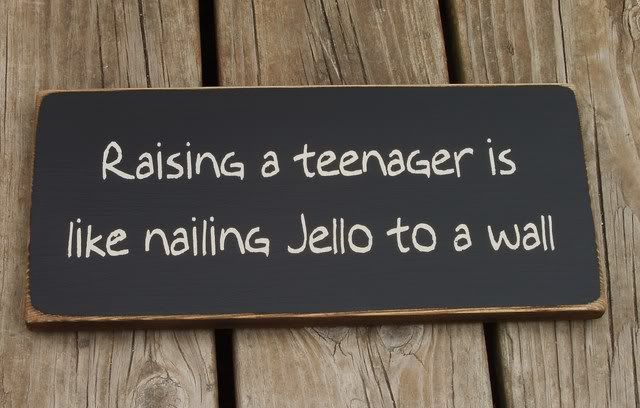 Let's face it, you hardly see him most days... Hell-o, he could even be a rather noisy poltergoost...
Evenings, he's secreted away in his room, either on his mobile, or talking to his fiends on MSN.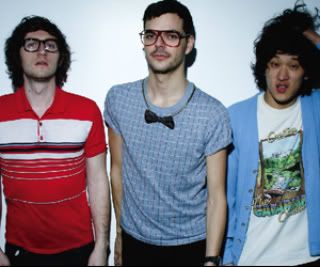 Suddenly, he's behind you in the kitchen, the thunder of cloven hooves on the stairs, chucking back food like there is no tomorrow, leaving the fridge door open constantly, so that it's almost like having an extra light in the kitchen! In fact, should they ever extend the aircraft runway to the north, you're in like Flynn!
Mornings, he's spending hours in the shower... Then he's like a Whirling Dervish flinging laundry across the entire house at all hours, attempting to juggle kittens, burning incense, listening to rasta and ska music - VERY LOUD - Long after the Parentals have hit the hay, as a matter of fact.
Tonight, he's jamming with his mates in the 'Music Room', ( - Dining Room as was, do you remember your dreams for that room, Fhina, when you first moved in?! Dashed they were...... Dashed!)
At stupid o'clock, he's hurling insults at you, then staring at the TV upstairs in his darkened cave like a scrupulously clean and well-nourished Mediaeval Hermit...
And then, very rarely, you actually catch him doing something, anything resembling homework... And that's only in the odd moments when he's not gone from the house!
And still he doesn't appreciate how lucky he is in so many ways... You're liberal-minded, (and yet appropriately strict at times); You're tree-hugging, hippy-dippy parents, encouraging his talents, building him up, offering slender olive branches of cool confidence and calm for his delectation and deliverance from evil.
His friends like you. One of them - The Ginger One - cursed forever in relationships by a bitter ex-girlfriend, even said you were cool!
You're not like those parents he told you about, who have a room in the house that they don't let any teenagers into --- Ever! They won't even let their teenager plug in an electric appliance, for fear of him scratching their shining chrome plates... Can you believe that?!
In fact, some of 'those kinds of people' can really upset you... The Nimbies***.
And don't forget the media, endlessly jibber-jabbering on, demonizing young people...
'Hoodies!' 'Law-Breakers!' 'Criminals-In-Waiting!'
And then, last night, he came in from the school bus, weary from the day, full from whatever he had filched from the fridge on his way through to the lounge...
And then he asked to sit on your knee... And you moved so that he could sit, mainly on the sofa, but sort of straddling your knees...
(The child is a giant and would crush you if he sat on you, I promise... - Remember when he had that try-out for the school's Rugby Eleven, and you were pressed up against the kitchen cabinets, hardly able to breathe, let alone budge a whisker?)
So you massaged his back, because he asked you to. You skritched all over his tee-shirt, to try to ease out some of the knots you felt in his muscles. You went on to apply pressure to his neck and shoulders, to grizzle his blonde mop-head, just like you used to.
And he let you...
Then - Just for a laugh - While you were finishing the amateur acupressure, (kind of) massage... That bit when you hold his head gently at the end, and think positive thoughts; Willing energy and light into him... It came to you in a flash...
So you said a few words out loud... To make him smile, which it did, and also to try to get the message over to him... To exorcise and keep the 'teenage demon' out of him... If only for a little while...
I love you more than life itself, but can we have the old one back?!
And, hey, don't kid yourself. It's been like this for ever, for every generation... Hasn't it?!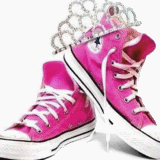 *** "NIMBY: To be called a Nimby can be a devastating insult, undermining one's well argued case and labelling it a simply a statement of self-interest.
The word was first recorded in 1980; It was the late Nicholas Ridley, an arch Thatcher-loyalist, who brought it to wider usage, in the late 80s.
As environment secretary, Ridley had no fear in appearing abrasive. He was, after all, the man in charge of the poll tax. He also used his position to attack the rural middle classes for their opposition to development, calling it "crude Nimbyism". (Not In My Back Yard = NIMBY!)
At the root of distaste for Nimbys is a belief that the protesters are putting their own interests ahead of the needs of society, and that their objections are selfish rather than principled". Source: BBC News UK