Today, the last day of March, is I would guess the last day on which I can blog on this subject - Mad March Hares...
I love hares - Their vibrant energy and brisk, athleticism, their lanky limbs and beady black-as-coal button eyes... I see them quite often around the country lanes where I live - They're usually bounding at the last minute, in front of my car, then leaping into the verge and galloping away like a young colt. Sometimes they astonish me with their size in comparison to our very common brown rabbits, which are everywhere. I recently etched a small picture in glass of a hare in a cornfield gazing at the moon... I enjoy the myths of moon-gazing hares which transcend our countries and even time... I think I'll mention more about that myth tomorrow, if that's all right with you, mes petits bloggy lapins?
...Et alors, where does the expression 'Mad March Hares' come from? Is it because hares are, as have we been to some degree of late, full of the joys of spring... (and, in their cases at least, mating season?!)
Hares have been living amongst us for many years, and feature in folklore, songs and children's stories...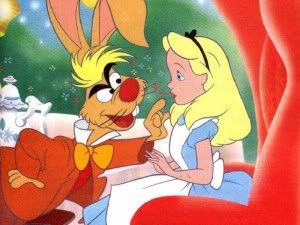 Hares have long been thought to behave like 'crackerdogs' in March, their mating season. Lewis Carroll is among many authors who have used this in stories, such as his wonderfully surreal, not quite a children's book, Alice's Adventures in Wonderland: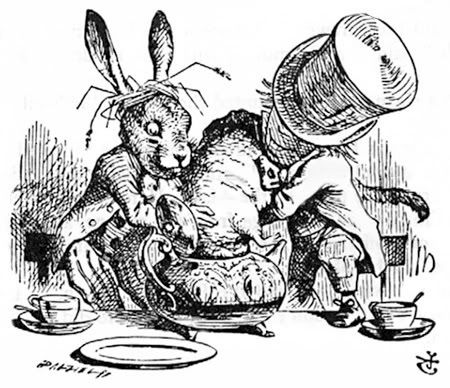 where he introduces us to his wild-eyed March Hare, spouting nonsense at the Mad Hatter's tea party. "The March Hare ... as this is May, it won't be raving mad - at least not so mad as it was in March."
More recently this behaviour has been brought into question, and it is now thought that hares behave oddly - boxing, jumping, etc. - throughout their breeding season, which extends over several months.
Be that as it may, hares, especially March hares, have a reputation to live up to, and it will surely stay with them for centuries still to come, j'espere...
In literature, the first record of their brainlessness, was circa 1500, in Blowbol's Test reprinted by W. C. Hazlitt in, Remains Early Popular Poetry of England, 1864:
"Thanne [th]ey begyn to swere and to stare, And be as braynles as a Marshe hare."
Of course, the phrase 'hare-brained' refers to the same behaviour. This is also old and is referenced in Edward Hall's Chronicle, 1548:
"My desire is that none of you be so unadvised or harebrained as to be the occasion that ..."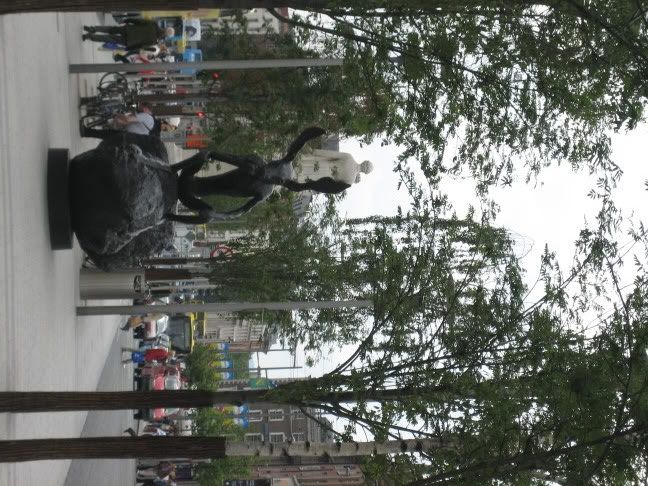 And in 1529, in Sir Thomas More's, The supplycacyon of soulys, we see:
"As mad not as a march hare, but as a madde dogge."
What's that they say about Mad dogs and Englishmen?!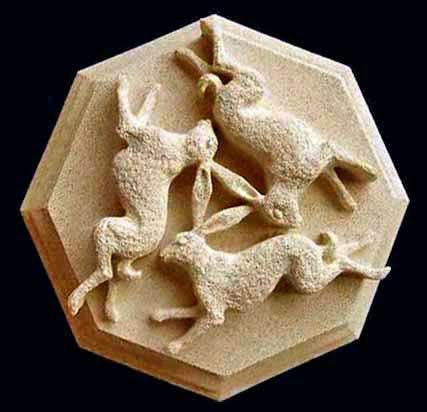 So, the phrase has been in continuous use since the 16th century. It was well-enough established by 1546 for John Heywood to include it in his collection - A dialogue conteinyng the nomber in effect of all the prouerbes in the Englishe tongue.
Other phrases from Heywood's collection include, 'don't look a gift horse in the mouth', and 'out of sight, out of mind'...
The precise meaning, of the ancient Three Hares symbol carved into village churches and seen in some of the oldest stained glass images in England, is as elusive and mootable as the myths behind it.
In mythology, it is a goddess symbol, a trickster symbol, a symbol of the Holy Trinity, a symbol of death, redemption and rebirth… All these and so much more.
To conclude then, a 19th Century children's poem by Walter de la Mare:
In the black furror of a field
I saw an old witch-hare this night;
And she cocked a lissome ear,
And she eyed the moon so bright,
And she nibbled of the green;
And I whispered "Whsst! witch-hare,"
Away like a ghostie o'er the field
She fled, and left the moonlight there.
...Now, you can never say that a visit to Fhina ain't edutainment! "Go on, orf with you, before I call for the guards with their steely-sharp axes to see you off the premises; One, two, three... Guards! Guards! Orf with their heads!"