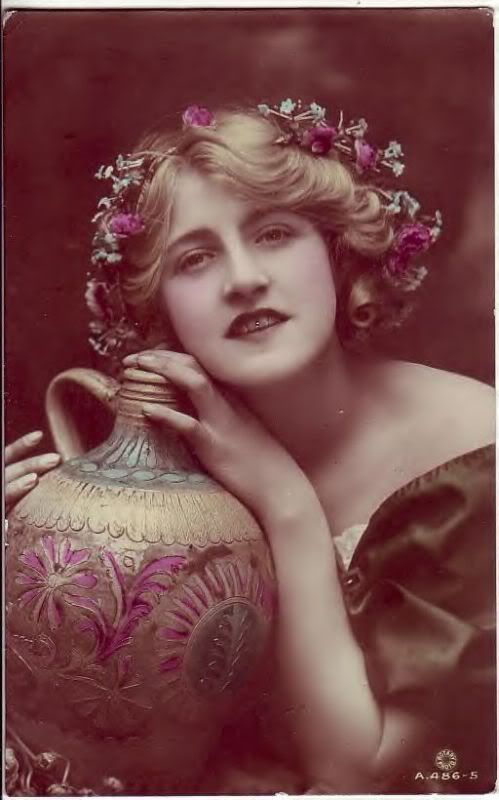 Ode on a Grecian Urn is a poem by John Keats written in 1819. It is one of Keats's "Five Great Odes of 1819" which include Ode on Indolence, Ode on Melancholy, Ode to a Nightingale (another favourite of Fhina's), and To Autumn (you might know the lines, 'Season of mists and mellow fruitfulness').
The inspiration for the poem apparently stemmed from a visit Keats paid to the Elgin Marbles exhibition where he took some time to carefully draw a vase, and knowing that fact might make this Ode, or song, more accessible.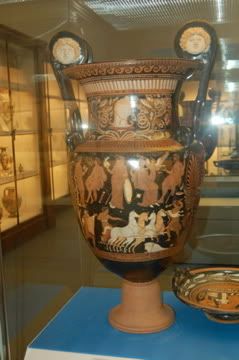 Think of Keats looking at the urn, which was a type of tall coiled clay vase like this one, painted with scenes from ancient Greek life. Keats circles the pot, following its pattern around the vase, asking questions of the figures depicted there:
"What men or gods are these? What maidens loth?
What mad pursuit? What struggle to escape?
What pipes and timbrels? What wild ecstasy?"
He's asking WTH is going on here? And he's a young man of 24, probably thinking of 'sowing his oats', (don't they all?!), so he is musing, 'Oh, but that we could all experience wild ecstasy in our lives!'
And so Keats reflects on the nature of love, his love for his fiancee Fanny Brawne - who had become his neighbour in Hampstead - on life, and on art.
Lady Wiki has befriended me again, after tagging me with a bug yesterday somewhat over-dramatically - She is such a Diva that one!
And so she tells me: "The poem transitions from a scene depicting a lover eternally pursuing a beloved without fulfilment to a scene that describes a village in which its people have ventured off to perform a sacrifice.
The final lines of the poem declare, "Beauty is truth, truth beauty," - that is all/ Ye know on earth, and all ye need to know", a line which has provoked critical consideration".
And much consternation, for what does it mean?
"In her study of Ode on a Grecian Urn, Lila Melani lists four paradoxes that lead to the final lines on truth and beauty:
- the discrepancy between the urn with its frozen images and the dynamic life portrayed on the urn;
There's a dynamic scene for you, from this century!
- the human and changeable versus the immortal and permanent;
Did you know, 'That dust will still be there when I'm not', is one of Fhina's favourite remarks?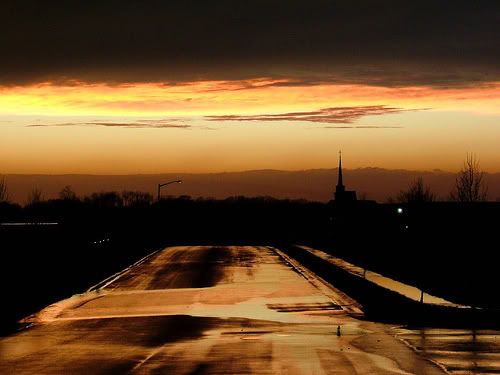 - participation versus observation; Do we stand by and observe, or should we join in and sip from the cup of life, stand up and be counted?
"Heard melodies are sweet, but those unheard (i.e. on the vase)
Are sweeter; therefore, ye soft pipes, play on;
Not to the sensual ear, but, more endear'd,
Pipe to the spirit ditties of no tone:
Fair youth, beneath the trees, thou canst not leave
Thy song, nor ever can those trees be bare;
Bold Lover, never, never canst thou kiss,
Though winning near the goal — yet, do not grieve;
She cannot fade, though thou hast not thy bliss,
For ever wilt thou love, and she be fair!"
- life versus art."
Our position in life is not permanent - Keats died in 1821, he was 26 and suffered tuberculosis, as his brother had before him... He was in Italy, travelling to warmer climes, to try to recuperate, and was never fulfilled in his love for Fanny, but we can still read the words that moved him and his friends, including Fanny, to whom he would regularly read, in those dulcet years before stultifying TV... We can see the golden ring she wore that was his gift to her; We can visit their beautiful home, read his letters to her, and that vase is still there in the museum in London, just as Keats saw it...
"O Attic shape! fair attitude! with brede
Of marble men and maidens overwrought,
With forest branches and the trodden weed;
When old age shall this generation waste,
Thou shalt remain, in midst of other woe
Than ours, a friend to man, to whom thou say'st,
'Beauty is truth, truth beauty, — that is all
Ye know on earth, and all ye need to know.'"
Art and beauty, and all our words of wit and wisdom, shall be there, or here in the Ether of the Internet when we are not... mes bloggy beauties.
Please mull on that over your muffin this morning. While Fhina shall be merely contemplating her muffin-top! Salut maintenant!