Possible lyrics for 'Let me sign':
Oh, standing there by, a broken tree,
Her hands are all twisted, she's pointin' at me,
I was damned by the light comin' over as she,
Spoke with a voice that disrupted the sky...
She said, "Walk on over, yeah, to bitter shade,
I will wrap you in my arms," and you know, she said, "Let me sign...
Let me sign..."
And, do you know this one by Cream? (...and Robert Johnson!).
I'll bet Bagman and Suldog know it, definitely!
I went down to the Crossroads, tried to beg a ride...
Down to the crossroads, fell down on my knees.
Asked the Lord above for mercy, "Save me if you please."
...Mmm, the sun goin' down, boy, dark gon' catch me here
oooo, ooee, eee boy, dark gon' catch me here
I haven't got no lovin' sweet woman that love and feel my care.
...Lord, that I'm standin' at the crossroad, babe, I believe I'm sinking down.
I wandered in to see la Wiki today...
Lawd, that goddess-girl can go on and on, as can la Fhina, I hear some of you say...
The cheek of it, mes bloggy snouts...
Anyhoo, I digress, where was she...? Oh yes, I had a question to put to la Wiki about the myth about people making a pact with the devil, selling their soul in return for some favour or another...
Goddess Wiki told me, "...According to traditional Christian belief in witchcraft, a pact with the devil is between a person and Satan...
"The person offers his or her soul in exchange for diabolical favours. Those favours vary by the tale, but tend to include youth, knowledge, wealth, or power... ...The bargain is a dangerous one, for the price of the Fiend's service is the wagerer's soul. The tale may have a moralizing end, with eternal damnation for the foolhardy venturer. Conversely it may have a comic twist, in which a wily peasant outwits the Devil, characteristically on a technical point.
"Among the credulous, any apparently superhuman achievement might be credited to a pact with the Devil, from the numerous European Devil's Bridges to the superb violin technique of Paganini.
Here is some modern artwork portraying Robert Johnson standing at the Crossroads...
"MUSICIANS: The idea of "selling your soul for instrumental mastery and fame" has occurred several times within music, usually in guitar -ominated genres and more specifically in pre-World War II rural Blues. Bluesmans' crossroads, located in Tchula Junction, Mississippi, is said to be the universal meeting grounds for such exchange. It was said that in your twenty-seventh year the devil would come to collect his property.

"Paganini, the Italian violinist, may not have started the rumour concerning him, but he played along with it... It probably did his famous reputation no harm in those days before Youtube and literacy education... Guiseppe Tartini, Venetian violinist and composer, believed that his Devil's Trill Sonata was inspired by the Devil's appearance before him in a dream.

Tommy Johnson, blues musician, is alleged to have sold his soul for his talent, and perhaps most famous of all is, Robert Johnson, blues musician... Some people claimed he met with Satan at the crossroads and signed over his soul to play the blues and gain mastery of the guitar.
"The folklorist Alan Lomax considered that every African American secular musician was "in the opinion of both himself and his peers, a child of the devil, a consequence of the view of the European dance embrace as sinful in the extreme". In recorded Blues, the theme first appeared in 1924 in the record by Clara Smith
,
"Done Sold My Soul To The Devil (And My Heart's Done Turned To Stone)".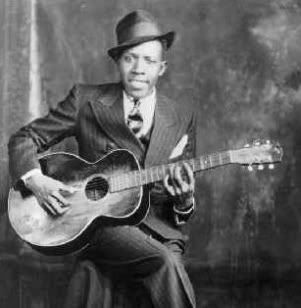 The crossroads detail was widely believed to come from Johnson himself. Johnson's high emotion and religious fervour are hard to explain as resulting from the mundane situation described, unsuccessful hitchhiking as night falls. The crossroads myth offers a simple literal explanation for both the religion and the anguish..."
This song, that you might listen to again and again, if you're like me, easily distracted by the shiny (Youtube), and prone to obsess... is from a very young English musician, Robert Thomas-Pattinson... I believe that the lyrics play out, with references to a young woman, finding herself at the Crossroads, and being tempted to sign a pact with the devil - A theme common with blues musicians.
You might know Robert better as Cedric Diggory in one of the Harry Potter films... I didn't, sorry about that... Or as the Byronic hero in the film, Twilight.
I think this soulful fragment of a song is a little piece of bloggy treasure. I hope that you like it too... La Wiki says she prefers Glenn Campbell's Wichita Lineman... I think she's getting a little too big for her Christian Louboutins, if you ask me...
Phew, it's getting all close here in Fhina's boudoir again... The windows have gone all steamy again... Is it me?!