"I agree totally..., there are literally hundreds, if not thousands, of uniquely British people that fall into this category, from William Blake, to Robert Clive, to Aleister Crowley, to Johnny Rotten, all have that peculiar English eccentricity that is found nowhere else in the world. Every country produces great men and women, but the English greats all seem to have this 'ever so slightly mad' air about them." Robert Agasucci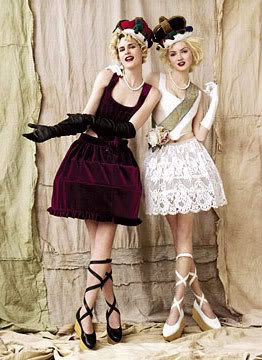 La Wiki tells me that Dame Vivienne Westwood, DBE, RDI (born 8 April 1941) is a British fashion designer largely responsible for bringing modern punk and new wave fashions into the mainstream.
She is linked with the Sex Pistols via Malcolm McLaren and their SEX boutique on Kings Road, Chelsea in London during the 1970s. The shop was at 430 Kings Road.
But Fhina always thought that Viv was the brains of that particular outfit, doncha know?!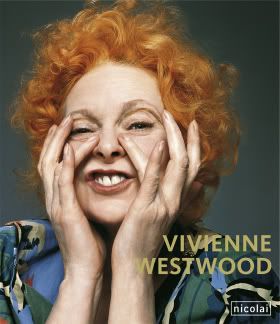 I was standing in front of her boutique in Leeds yesterday, while I was on my way to a meeting, and I so coveted her lovely tan-coloured handbag dangling from the sort of Queenly-looking globe and crown that is her motif, her brand...
I had never been in the Arcades in Leeds before, and I was impressed by their Victorian splendour, now housing the great and the good of famed designers and shopkeepers, as Napoleon mischievously once called the English!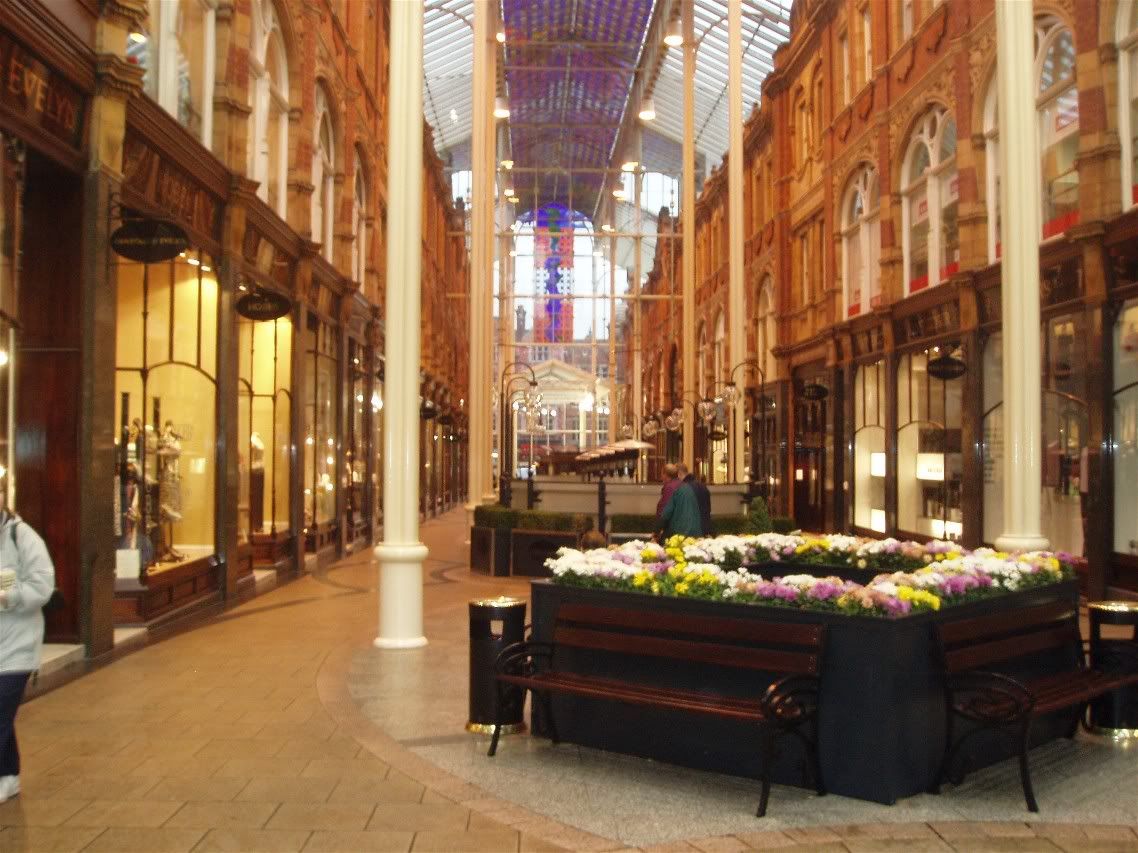 I managed to procure some of my favourite perfume, Pomegranate Noir by Jo Malone... I have worn it for a few years now, (only my, now sadly bankrupt, 'hairdresser to the stars' ever notices that I wear it!) but can only buy it from the shop in Edinburgh, or London, or Leeds as it now turns out... Buying the perfume in the shop is part of the pleasure, part of the treat, even though I could always have blagged it online when I was less mobile, and I ran out of parfum, mes bloggy parakeets...
The staff are so lovely in Jo Malone, not snooty or affected in any way, and the glass bottle of perfume is placed in its cream and black coffer-box, cream tissue is sprayed with Grapefruit Cologne to cushion it, and the matching bag is tied with a piece of trimmed black ribbon... So classy, so BCBG, non...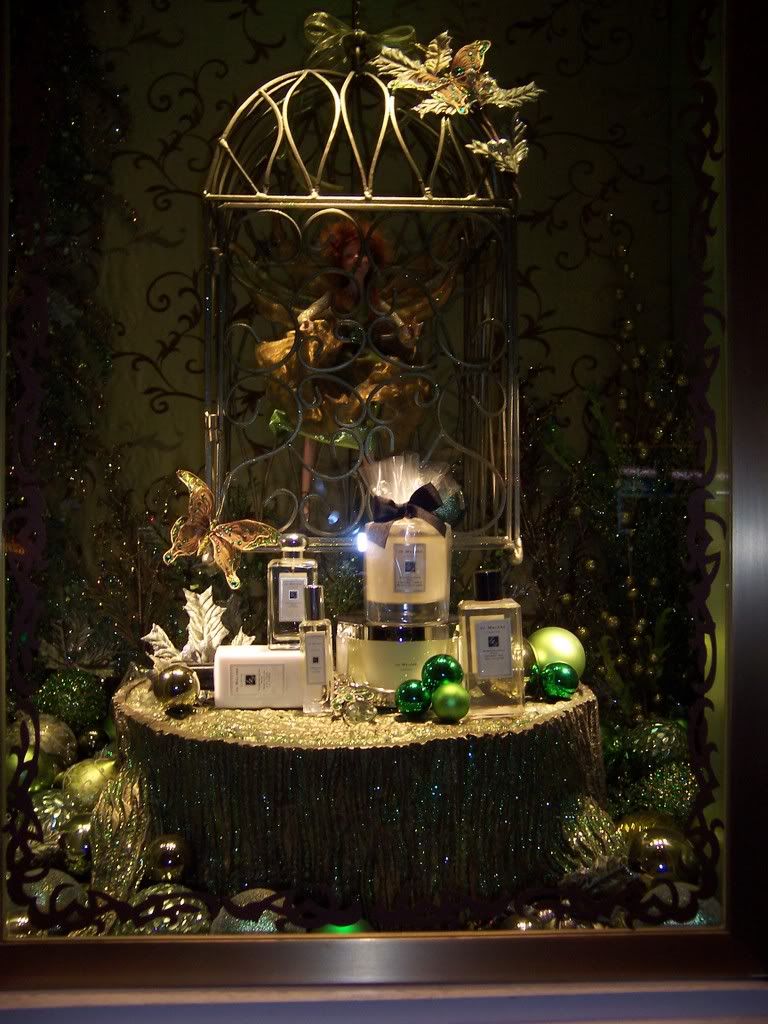 I always use the bag later to hold other things - Important Papers, scarves, trinkets; the box is pressed into service containing bits and pieces or jewjaws; the ribbons are used to mark out a variety of keys - A bow is tied around the key, and that way I am less likely to lose it... For Fhina is prone to be Bohemian and chaotic, as you have noted, despite her (at work!) co-ordinated airs and graces...) So one be-ribboned key graces my desk at work, another bow holds one of the keys for my Belgian dresser/cabinet (in fact I have two dressers (each has four keys!), almost identical, bought years apart... One from an antiques shop in North Shields, in fact - and I found out later that it had belonged to a relatively famous local radio DJ and evangelist, and the other dresser I found two or three years ago, espied through the mucky window of a real junk shop in Wallsend - And it cost a tenth of what I paid for the first, to boot!)
Wiki tells me, 'Westwood was born Robyn Norton in the village of Tintwistle, Cheshire (now in the county of Derbyshire) on 8 April 1941. Vivienne went on to attend Middlesex University Trent Park College and later taught at a primary school in North London. She loved teaching.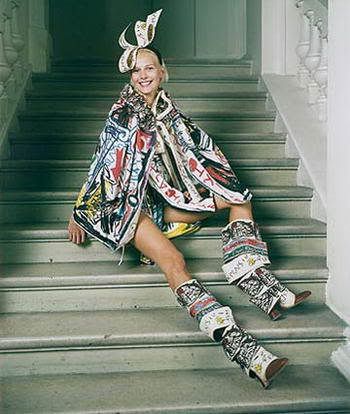 'The Punk style began to gain notoriety when the Sex Pistols wore clothes from Westwood and McLaren's shop at their first gig. The "punk style" included BDSM fashion, bondage gear, safety pins, razor blades, bicycle or loo chains on clothing and spiked dog collars as jewellery, as well as outrageous make-up and hair.
'Design elements included traditional Scottish themes, and historical patterns, including tartans. Vivienne interpreted 17th and 18th century cutting principles, and used them to revolutionize men's trousers. Traditional contrasts made her designs more shocking. Other influences in Westwood's work have been Peru, the feminine figure, velvet and knitwear.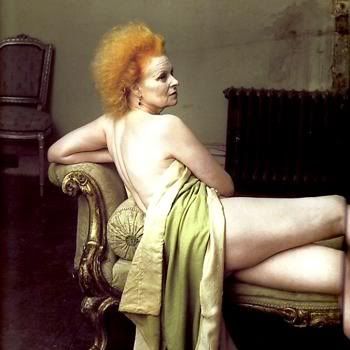 'The first major Retrospective of her work was shown in 2004–5 at the Victoria and Albert Museum, London, and the National Gallery of Australia. The exhibition was made up of around 145 outfits, grouped into themes, from the early 1970s to the present day, drawn from her own personal archive and the V&A's extensive collection. They range from early punk garments to glamorous "historical" evening gowns. The retrospective toured the world.
'In December 2003, she and the Wedgwood pottery company launched a series of tea sets featuring her designs. Demonstrating the impact of her long career, Westwood's designs were featured in the 2008 film adaptation of the award winning television series Sex and the City, in which Carrie Bradshaw becomes engaged to long term lover Mr. Big. Her editor invites her to model wedding dresses for an upcoming article called "The Last Single Girl", and one of the dresses in the photo shoot is by Vivienne Westwood, which is subsequently sent to Carrie as a gift, with a handwritten note from Viv herself.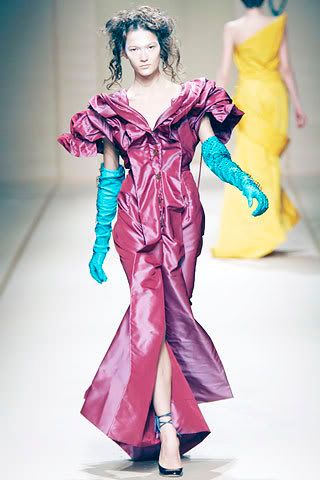 D'espite being invited to participate in the making of the movie, Westwood was unimpressed with the costuming by stylist Patricia Field, walking out of the film's London premiere after 10 minutes, publicly criticising the clothing featured as being frumpy and boring. (I've never seen either the film or the movie, so I can't comment mes dahlinks of le bon marche!)
'And yet, the wedding dress has subsequently become widely recognised as one of the movie's most iconic features and has led Westwood to approach the producers about being involved in the sequel".
I have always loved Viv, even in the depths of her 'model-wearing-chip-packet' fashions, I have adored her eccentricity and her uniqueness... I was never a punk, although I remember looking on as a young girl, when the blonde boy (a little older than me), who lived at the bottom of my street, storked past my home with his safety-pinned troos and scanty Mohican... My dad's jaw was usually open at that point...
I admire Viv's chutzpah, her style and knowledge of historical fashion design... I wish her every success, as she continues to grow and learn... She is a true English Eccentric to my eyes.
Vivienne's children are:
* Ben Westwood, son of Vivienne and Derek Westwood, and a photographer of erotica.
* Joseph Corre, son of Vivienne Westwood and Malcolm McLaren, founder of lingerie brand Agent Provocateur...
Notorious for going knicker-less, Viv caused a stir in 1992 when she came to collect the OBE, and twirled to reveal all. After being made a Dame in 2006 by Charles, Prince of Wales she disclosed that she was knicker-less again... Merveilleux, non?!
Interestingly, Agent Provocateur, was the very boutique backing on to Vivi's in Leeds - So cool - Mother and son so closely stacked... And still I wondered whether they'd even noticed that... Had they even been to their shops, a deux; Do they visit their Empires, I wonder?
Speaking of la famille! I apologise mes bloggy fruit-bats for being here so seldom this week, for not visiting your fabulous blogs as much as I should wish, and for getting back with my response comments so tardily...
This has been my first full week back in the office - And out of it, including travelling to Leeds on Thursday, et je suis tres fatiguee, mes amis, knackered in short!
Sorry old chums...
Es tut mir sehr leid...
Pardonnez-moi...
Alan Bennett said: Life is rather like a tin of sardines - we're all of us looking for the key.
While Albert Einstein once retorted: Only a life lived for others is a life worthwhile...
I am missing you already... Mwah! Once again, mes tout petits lardons... MWAH, in fact!