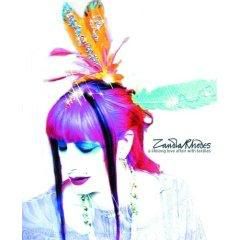 Funny Quote of the Day
Originality is the fine art of remembering what you hear but forgetting where you heard it.
Laurence J. Peter
Wiki is whispering to me again of the doyenne of the eccentric, the wonderful, Zandra (Lindsey) Rhodes, CBE, RDI, (born 19 September 1940, Chatham, Kent) is a British fashion designer.
'Zandra was introduced to the world of fashion by her mother, who was a fitter in a Paris fashion house and a teacher at Medway College of Art. Zandra studied first at Medway and then at the Royal College of Art in London. Her early textile fashion designs were considered too outrageous by traditional British manufacturers.

'She was one of the new wave of British designers putting London at the forefront of the international fashion scene in the 1970s. Her designs have always been clear, creative statements, dramatic but graceful, bold but feminine. Zandra's inspiration has always come from the organic. Her innovative approach to the construction of garments can be seen in her use of reversed exposed seams and in the jewelled safety pins and tears she used during the punk era.
'Zandra designed for Diana, Princess of Wales, the People's Princess, and continues to design for royalty and celebrities. She notably designed a lot of famous costumes for Freddie Mercury. Over the years, she has had many academic and professional honours bestowed upon her and was made a Commander of the British Empire by the Queen in 1997'.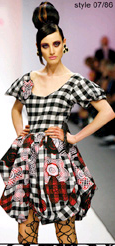 With her bright green hair (later changed to a stunning pink and sometimes red or other colours), theatrical makeup and art jewellery, she has stamped her identity on the international world of fashion.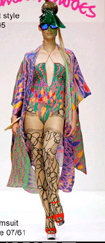 She has made San Diego her second home and it was the San Diego Opera that commissioned her to design the costumes for her first opera, The Magic Flute in 2001. Zandra is the founder of the Fashion and Textile Museum in London which was opened in May 2003 by Princess Michael of Kent.
'Zandra continued her association with the San Diego Opera in 2008 when she designed the set and costumes for Bizet's Les Pêcheurs de Perles (The Pearl Fishers) and Verdi's AIDA for Houston Grand Opera and English National Opera.

CLICKIE
While one sixties fashion icon - Barbara Hulanicki - is about to let a capsule collection loose on high street favourite Topshop, Zandra launched a capsule collection, using her creative and iconic designs as inspiration, on May 7 at highstreet favourite, Marks & Spencer'.
"Marks & Spencer does a wonderful product range and I have always wanted to design for them. I am thrilled to see my prints and their beautiful clothes reach a wide range of customers," says Rhodes, who has produced a range of womenswear, accessories, holiday pieces and lingerie.
Starting from £6 for a pair of knickers and £16 for a bra, prices go up to £65 and £89 for a jumpsuit and one-shouldered dress respectively. The range is available online and in 55 stores nationwide.
Now Fhina knows why she is on that diet, as she has so coveted Zandra Rhodes bold-brave style and her chiffon delicacies. Ahhhh, the exotic-plumaged, elegance... Don't you think, mes buttoned-up dahlinks?