I found this the other day, rooting through Photobucket, like a little Truffle-Hog, as is my wont...
I do like Prince...
"In 1985 I was contacted by Prince's management to do a painting in which little information was given, and I was not to talk about the little that I did know. I was given a one page sheet with thirteen instructions on it such as, "...a fat man hugging a tiger," and "...two men with hair shorter on one side, playing the tambourine."
After reading this I had more than a few questions but was simply told, "...use your imagination."
So, I did. I enjoyed the freedom I was given with this painting and felt that it made for a great collaboration between artist and musician...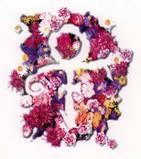 Halfway through the painting, I was told that Prince wanted to see it, "First thing when he woke up" which was in Cincinnati, Ohio where he was in concert, even though the painting was not finished, and still wet.
So, being the dedicated artist that I am, I boxed it up, put it in the airplane in the seat next to mine, and we (the painting and I) went to Cincinnati. Two bodyguards came to my room and picked it up. The next day, it returned with simple instructions: "Finish it."
I did and was told he loved it".
Jim Warren